I have so many photos to show you, that I have decided to start with our visit to Chatsworth, as it deserves a post of its own.  When you park the car, get out and look round, you might think that this is the grand entrance to the house (it was so  busy that it was difficult to take photos that didn't have people in them)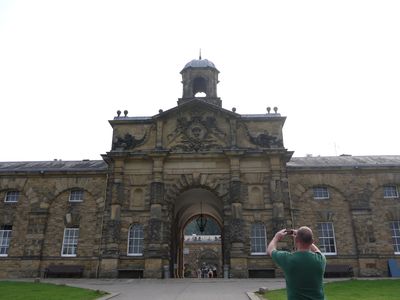 but this is the entrance to the stables!  However the only horse that you will see now is this one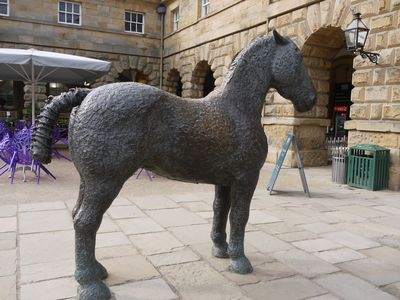 as it was an hour until the house opened, we set off to explore the gardens, and view the outside of the house.  We admired the classical statues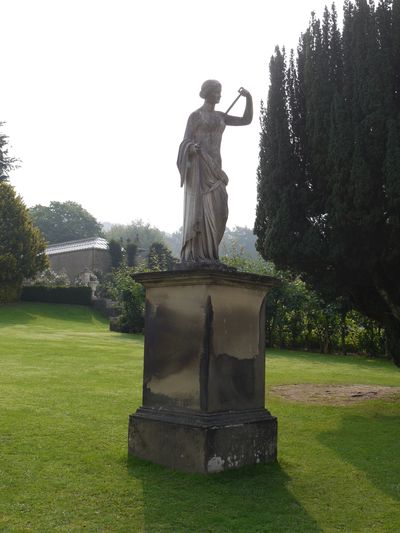 but were slightly puzzled by this one ........
....... until we read this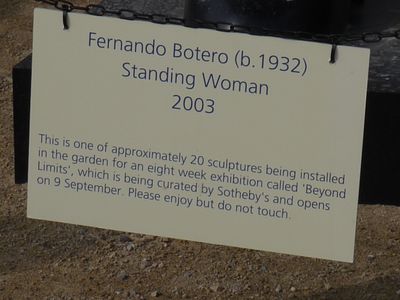 the west end of the house is magnificent, with gold-painted windows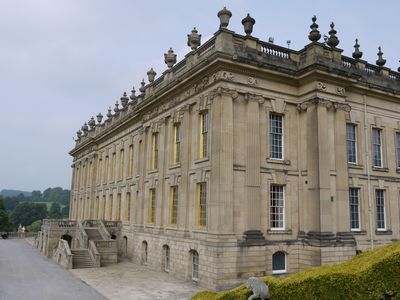 as we walked round to get a better view, we found more people taking photos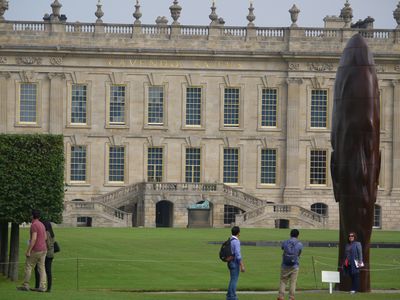 this is my favourite photo of this side of the house
we walked away from the house to admire more of the enormous sculptures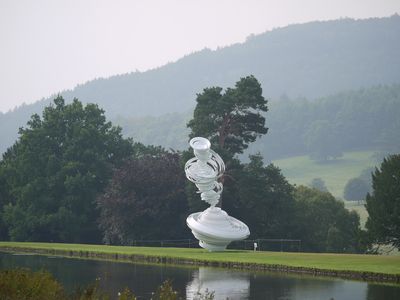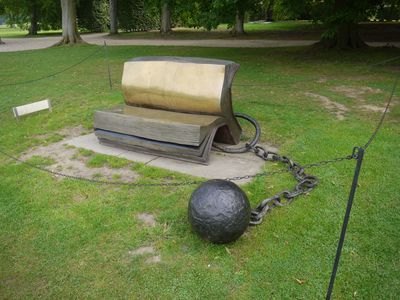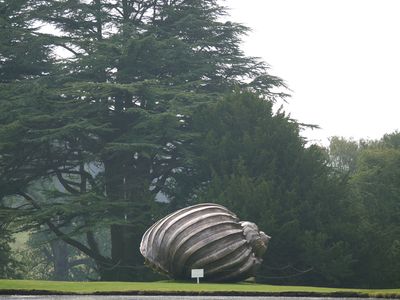 the giant shell was a beautiful shiny gold on the inside, and I like this fun photo, where it looks as if you could fit the house in the shell!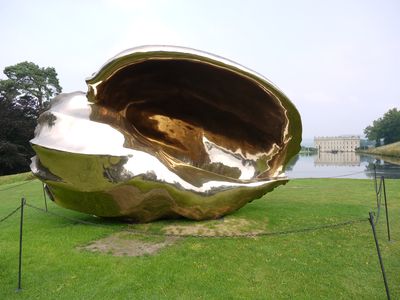 it's hard to believe that, not only is this giant rockery manmade, but all these giant stones were moved without machinery!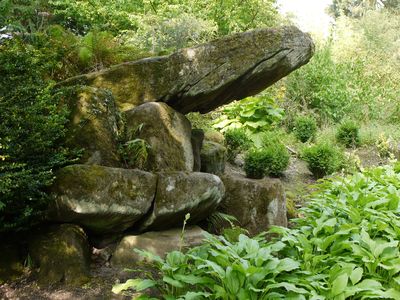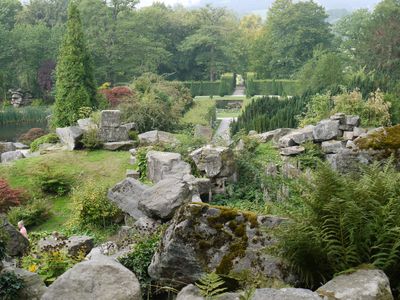 at this point we had walked a fair distance, so we stopped for a delicious icecream
we were now far enough away from the house to have a proper view of the sheer size of it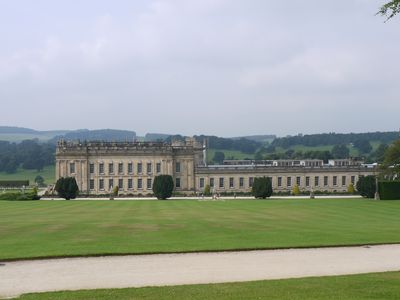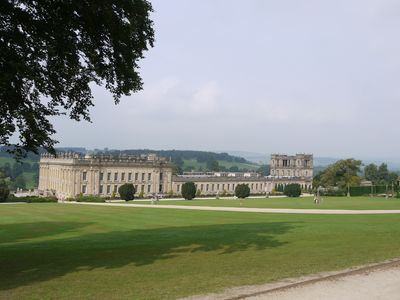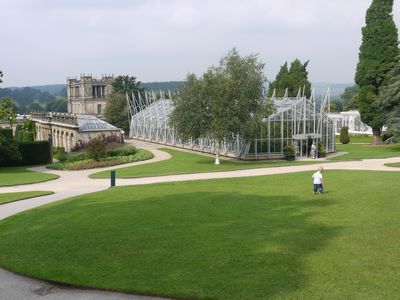 we spent so long in the gardens, it was now time for lunch.  We shared a "meal deal" - a rather posh sandwich, a piece of lemon drizzle cake (amazingly the only cake we had in all the time we were away!) and a drink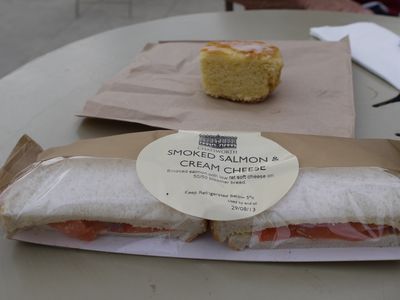 I had visited the Ladies before lunch, but had to go back afterwards to take photos of the amazing tiles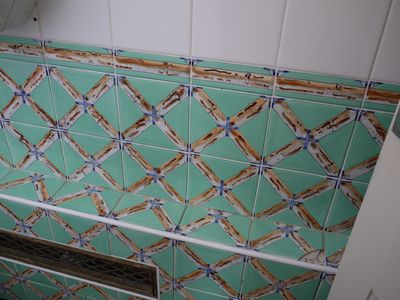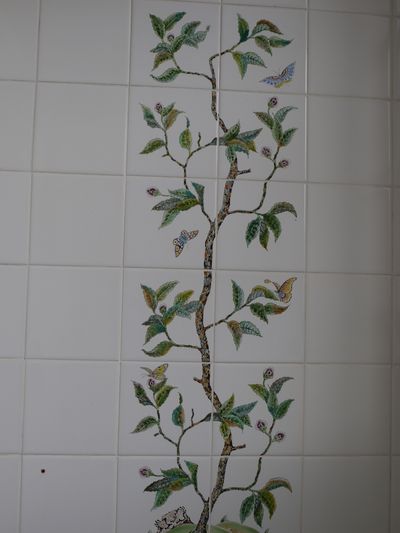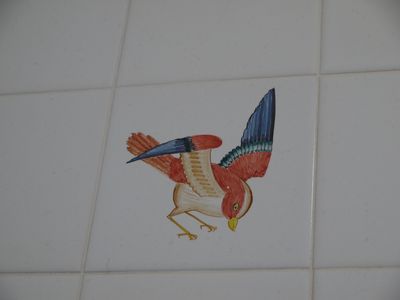 then it was time to go into the house.  I was surprised, but delighted, to learn that photography was allowed.  When Malcolm looked throught the photos last night, he said that they really didn't do justice to the magnificent rooms, but because of the low levels of light, it was hard to take sharp photos.  This is the entrance hall, and a detail of the ceiling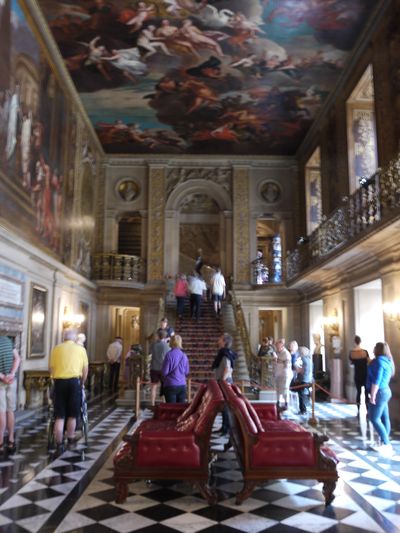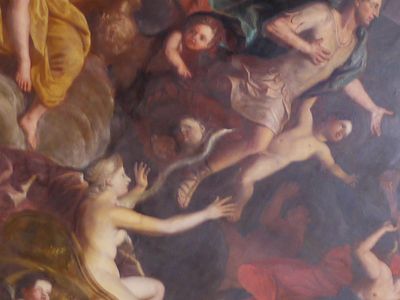 this is an inner courtyard, with more gold paint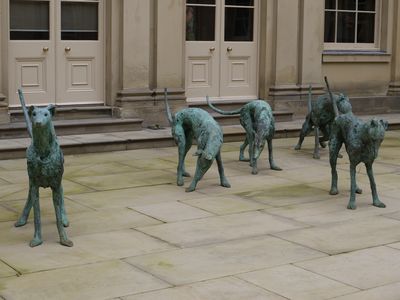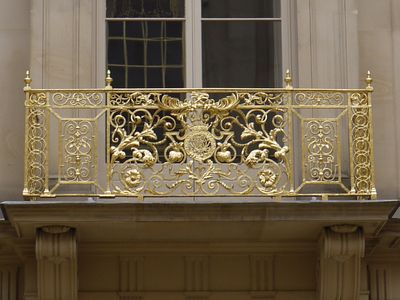 there was a queue to take photos of this!
Malcolm's foot provides the scale for this sculpture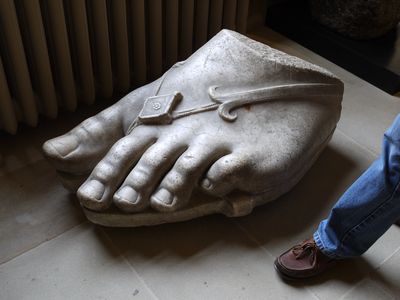 just some of the many paintings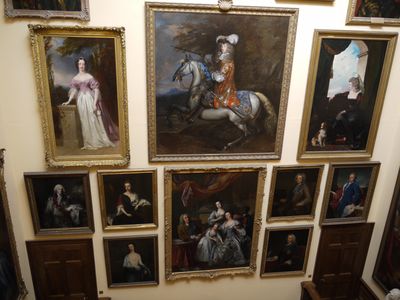 where else would you have your bath but in the wardrobe?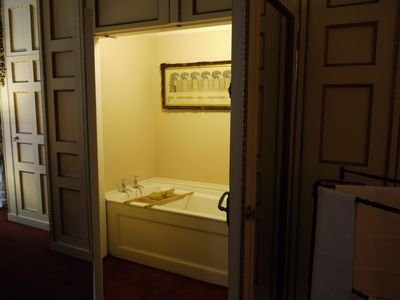 the bed hangings are sumptuous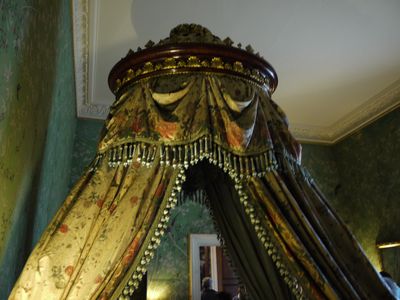 this violin hanging on a door is a trompe l'oiel (I had several attempts at taking photos, but this is the best I could do, as it was on the far side of the room, and I wasn't able to get any closer)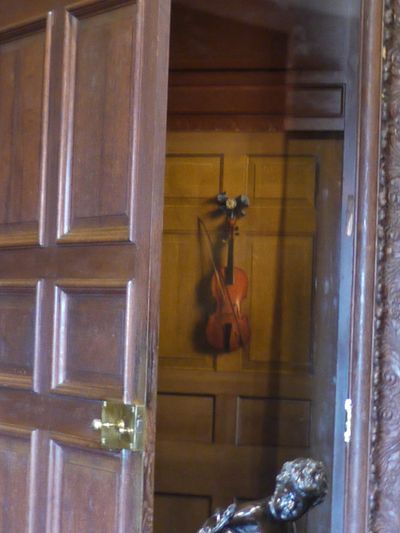 the magnificent dining room.  The table seats twenty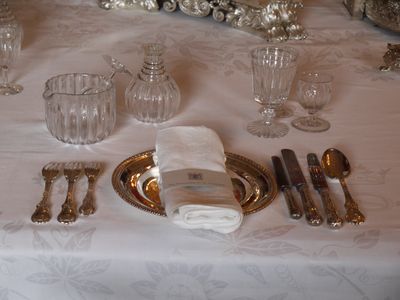 a somewhat unusual chandelier!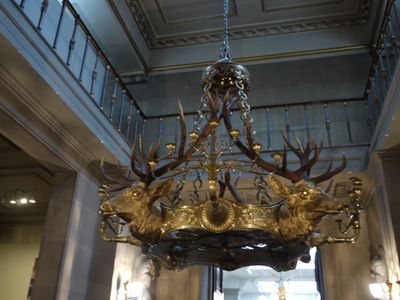 the last room of our tour was the sculpture gallery.  It was hard to take photos that didn't include detailed male appendages!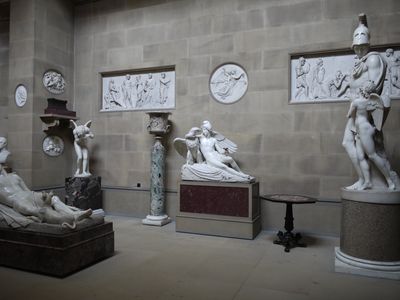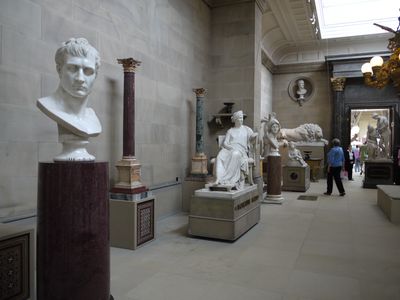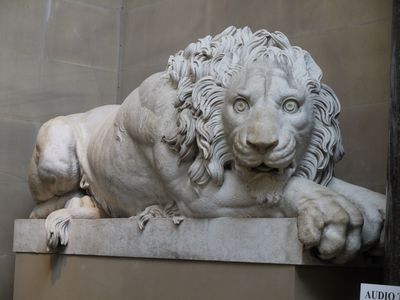 we had to leave through the gift shop - but we managed to escape without buying anything!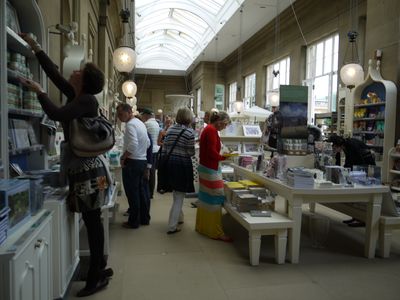 a random selection of the leftover photos!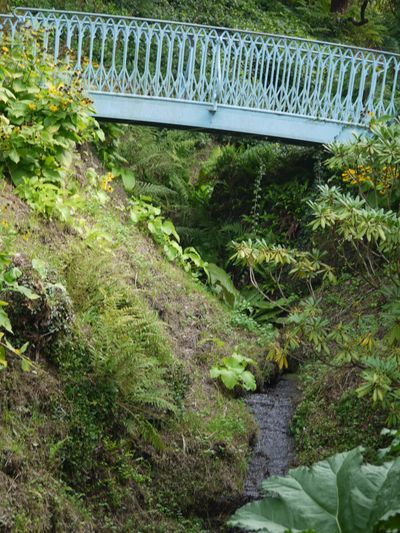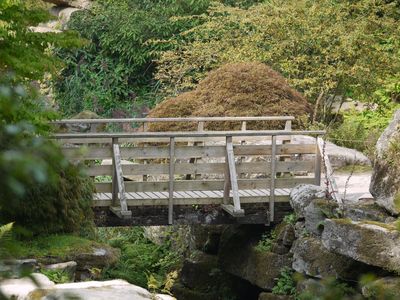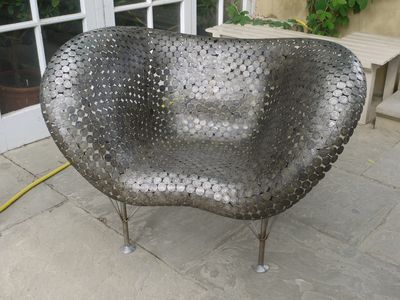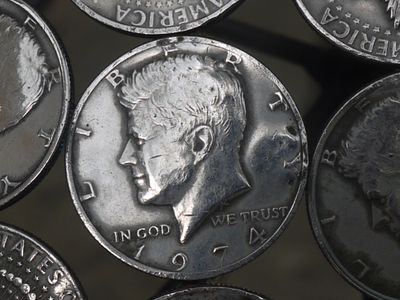 this must be the best higgledy piggledy fence in the whole world!!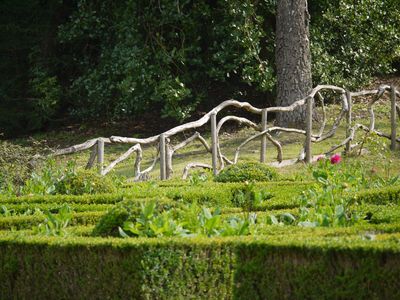 there was no patch'n'chat again this week, so no Friday cake!  I will be up at 6am tomorrow, to pick Maureen up at 7am in Jedburgh.  We'll then go to Kelso, to meet up with the rest of Abbey Quilters.  We are going to the Autumn Quilt Show at Harrogate.  It's a long way by bus - I think it's between 3 and 4 hours to get there!  Whether you are staying at home, or are out and about, I hope you have a good weekend.  I'll be back on Monday with the rest of our trip - including tales of the Black Death!  Love, Anne