We headed to the beach on Thursday, so that Malcolm could play with use the metal detector that Stuart and Alison gave him for his birthday Do you like the cute spade I bought for him to go with it?!)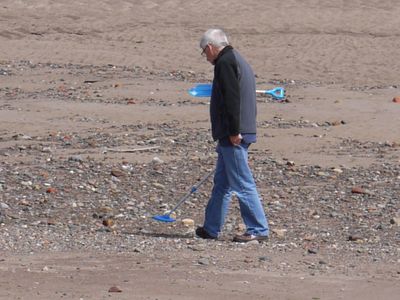 would we find a treasure trove of Viking gold?  Well, there wasn't any hidden under this plant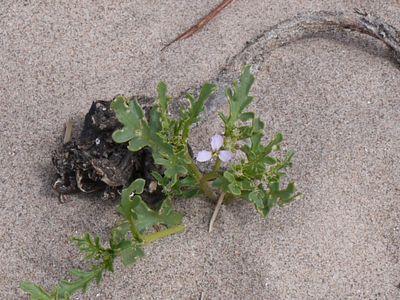 and these bleached tree trunks didn't mark the spot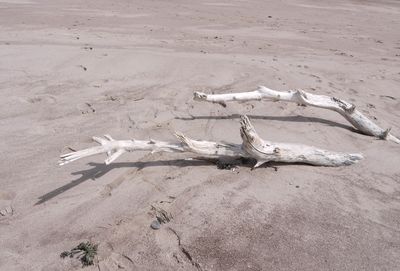 this teeny tiny (dead) crab hadn't swallowed any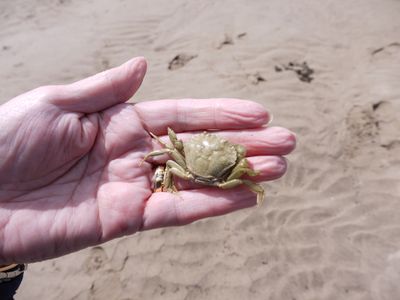 and this large crab shell was empty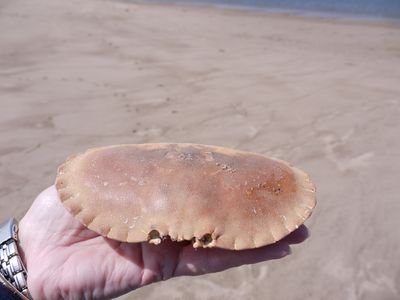 Malcolm soldiered on - yes that's him away in the distance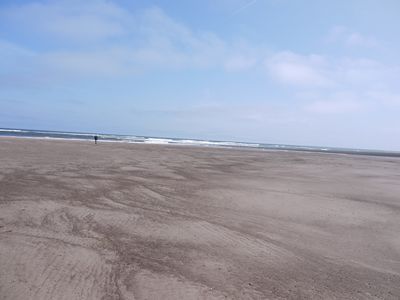 finally, some beeps ...... but it was only a rusty old bolt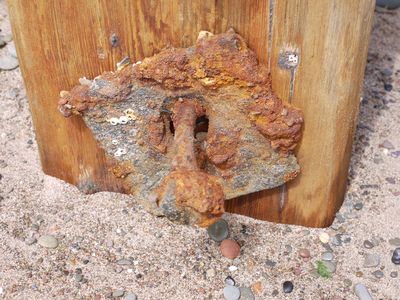 if this slimy green sea monster knew where the treasure was, it wasn't telling us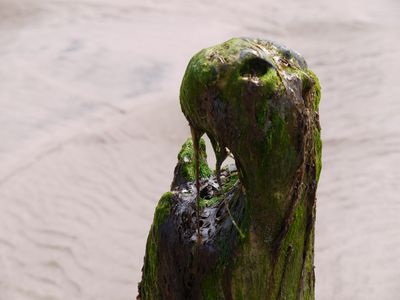 I got a bit fed up and wandered off to investigate these two feathers.  Given their size, I think they must be swan feathers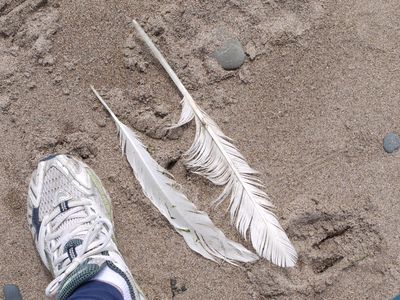 another plant growing in the sand, but still no treasure - not even a bottle top!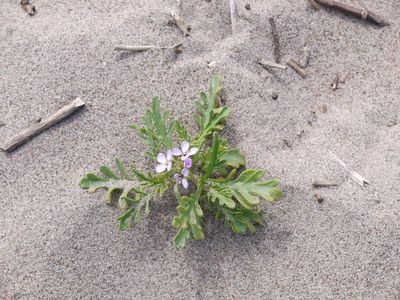 a quick photo of the lighthouse - you know that there must always be one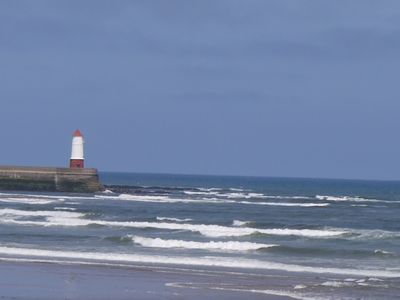 we decided to give up and go up to the cafe for a cuppa ....... and just as we stepped on to the ramp up to the promenade ........ beep, beep, beep.  But no matter how carefully we looked through the sand, we couldn't find anything!  In the end we decided that it was the re-bar in the concrete that the detector was picking up.  Never mind, we had fun and will try again another day!
no teapot, milk jug or dainty china cup and saucer  ....... but sitting in the sun made up for that
a seagull hoping in vain for some food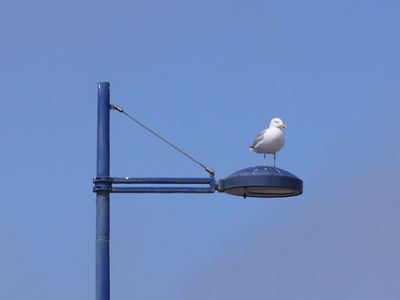 so no treasure, but at least as we walked along the path above the beach, I found an arty photo!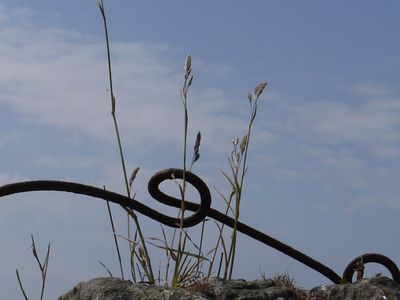 yesterday morning, we headed up to Selkirk, to the Waterwheel Cafe
it's a while since we indulged in a two-scone lunch!  (that's half each, not two each)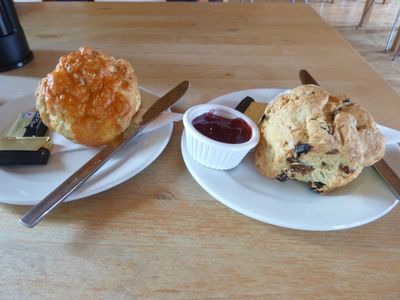 the rain had gone off when we came out of the cafe, so we decided to go for a walk along the mill lade, pausing to admire this stunning group of rhododendrons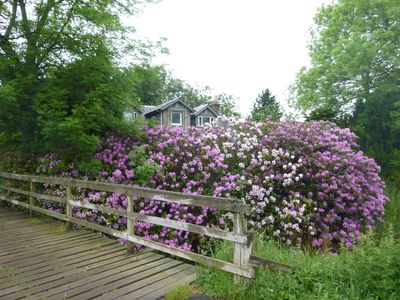 the path has been upgraded, in conjunction with new flood defences, and Malcolm was very impressed with this wooden construction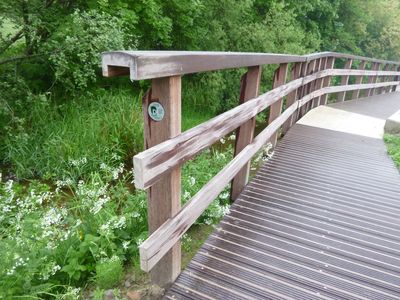 when the water is low like this, it is hard to imagine that it would come up over the bank - the new wall on the right is to protect the fields from floodwaters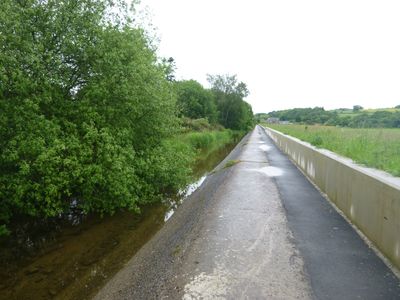 although only the tops of the walls are curved, this reminded me of the ruined building with the rounds walls that we saw recently - perhaps it looked something like this?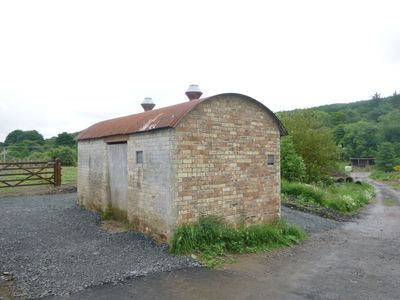 we could here fast-flowing water ahead, but didn't expect quite this much to be flowing into the lade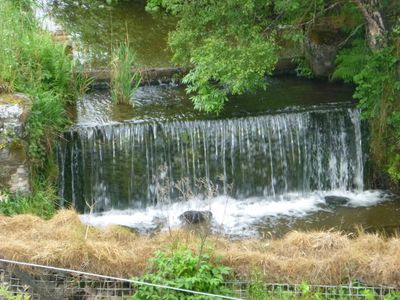 another stretch of the new flood defences - the owners of the row of houses must be delighted to be protected, after the dreadful winter floods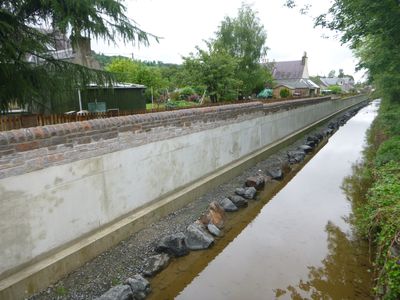 a sturdy new bridge over the lade - again Malcolm had to pause to admire its construction ....... perhaps I should get him a job with a wooden-bridge-building company? 
by the time we walked back to the cafe, we reckoned we had covered about two and a half-miles, so we must have burned off some of the sconnage!  To finish, another of my arty photos - a clump of snow-in-summer growing out of a wall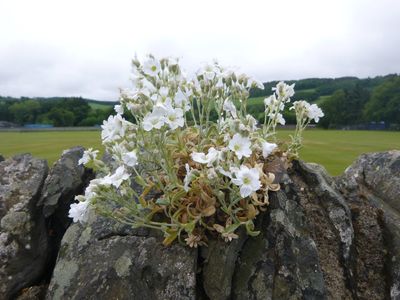 back tomorrow with some sewing