This is a slightly different report this month, but I am sure Meredithe will forgive me for going slightly off-piste from our challenge.  As I mentioned before, I have been doing a lot of quilting for my lovely friend Margaret, the Queen of Appliqué, and if you are a regular reader you will have seen the photos from the exhibition in my last post.  But I thought you might like some details of her wonderful work, and how I did the quilting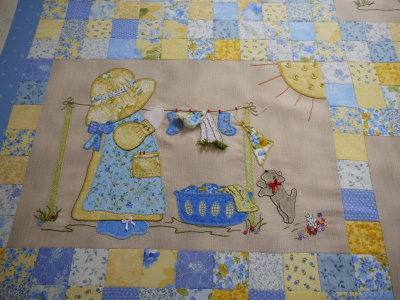 having quilted-in-the-ditch round every square (and there were a lot of squares!) I then did a very simple meander, which doesn't detract from the marvellous appliqué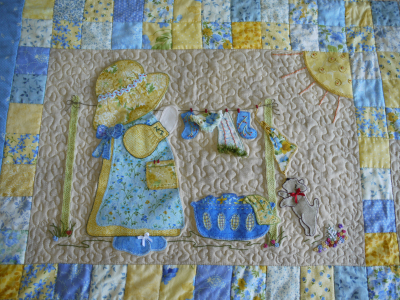 I could quite happily have kept the finished quilt on the bed in the guest bedroom!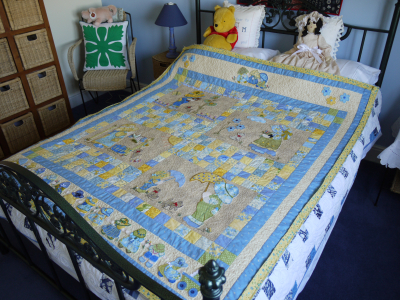 the members of Abbey Quilters wear sashes when they are on duty at the exhibition - usually just made of strips of fabric - but of course Margaret had to stamp her own style on her sash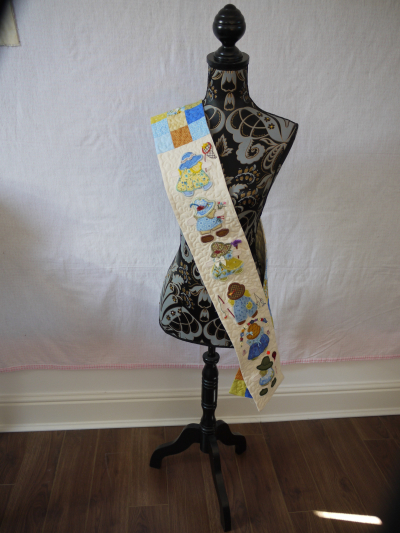 with tiny Sunbonnet Sue figures on the front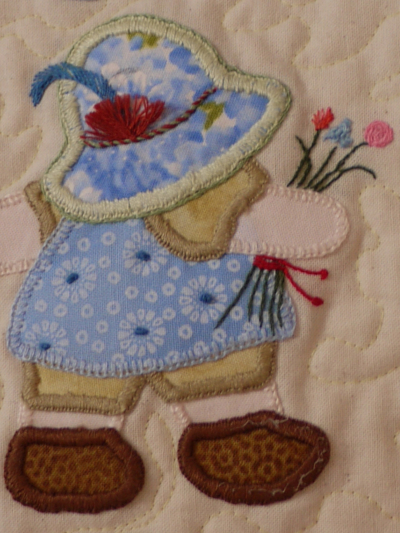 and colourful squares on the back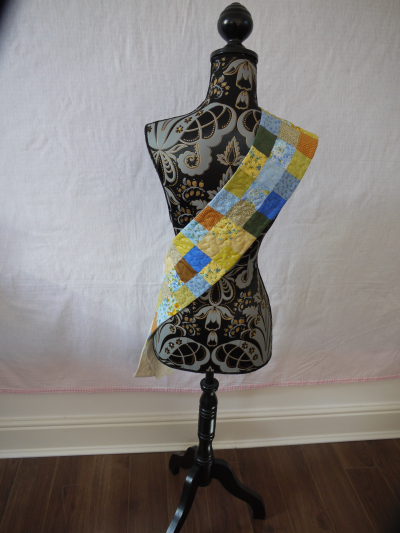 she then made this sash for her friend Ivy, who is the Queen of Hexies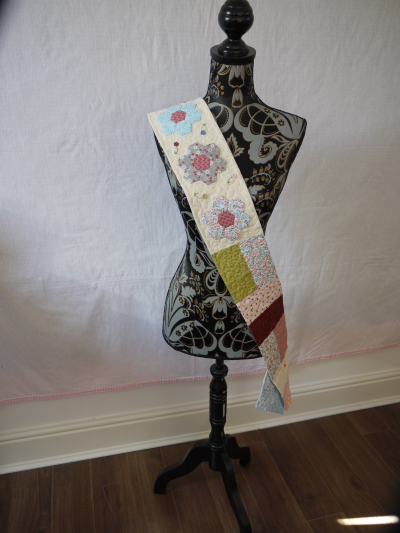 I may have uttered a rude word or two avoiding the buttons as I quilted!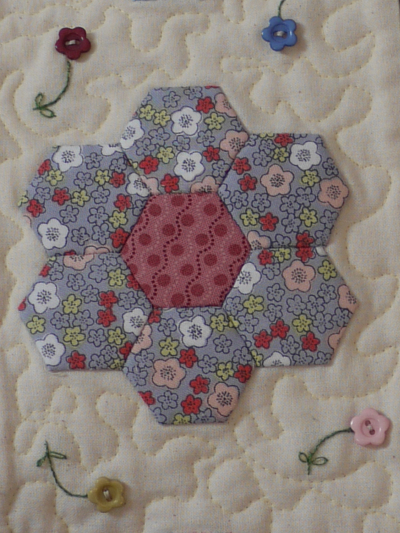 then she made a sash for Sandra, the Linus Lady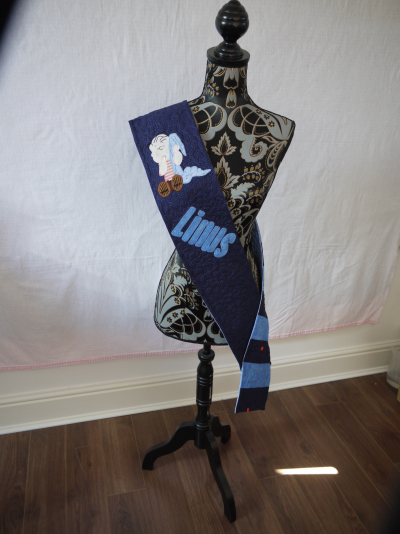 how cute is this!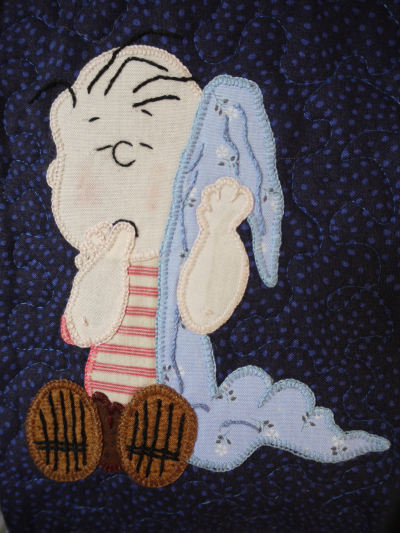 then it was on to one of her penguin quilts.  Someone had offered to quilt it for her, but she only quilted the dark green sashing and the tartan outer border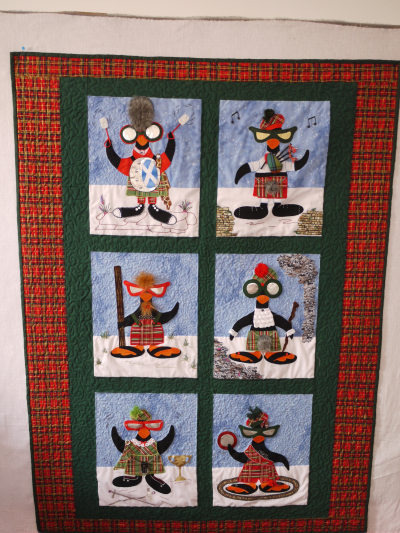 which meant the background fabric of the blocks was loose and droopy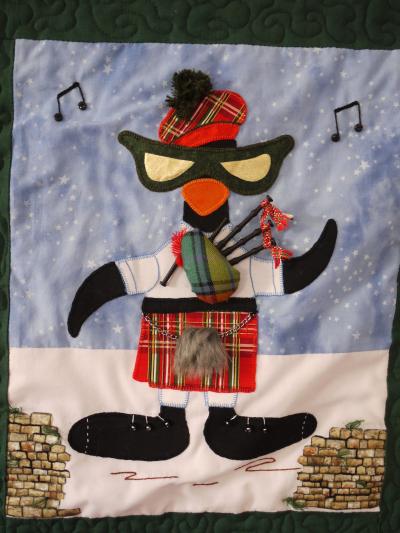 you can see the difference already, between the quilted left side, and the unquilted right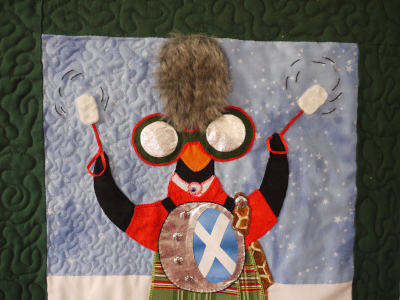 having quilted all the blue parts of the backgrounds, I then had to quilt the white parts.  This was the most wrinkled one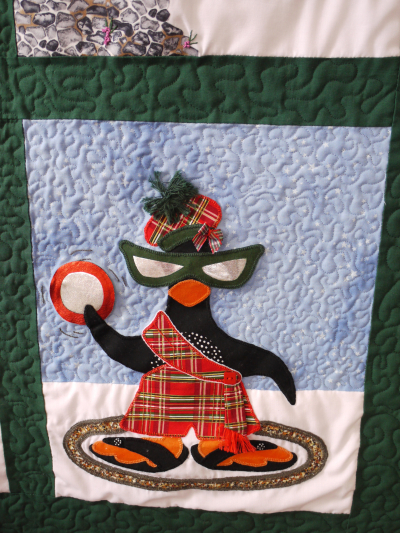 what a difference the quilting made!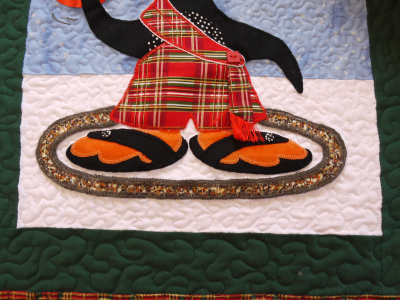 and here is the finished quilt, looking much better
if you read my last post, you will know that Margaret made this one after a chance remark from her husband Stan, who said he would need to chain her up to stop her buying fabric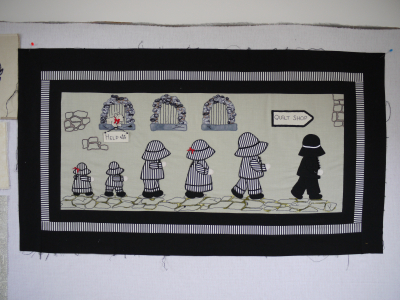 she thought it was boring with three windows with bars, so she unpicked some of the stitching on this one and added the dog!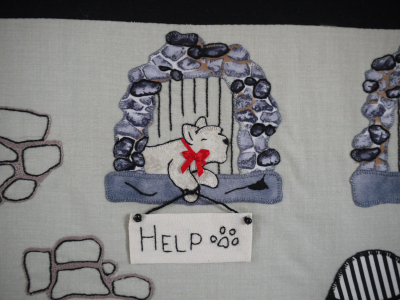 her "convict" Sunbonnet Sues are so cute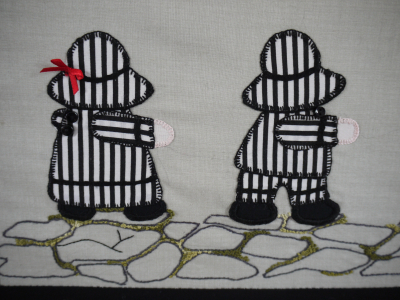 the back of the quilt shows the quilting round the figures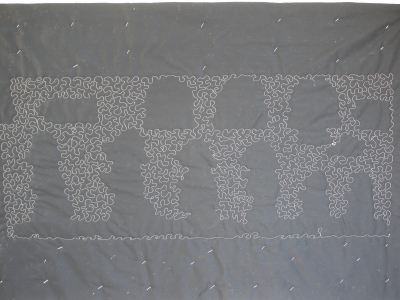 a detail of the stitching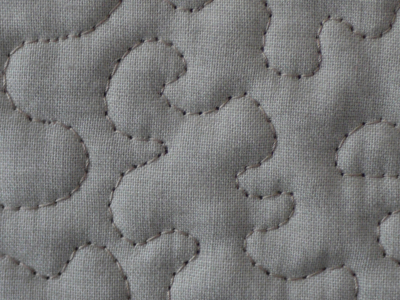 I was holding my breath as I finished the quilting on the outer black border, as the thread almost ran out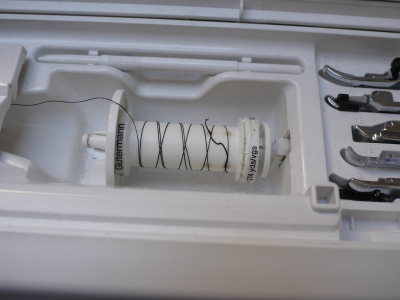 and the finished quilt hanging in the exhibition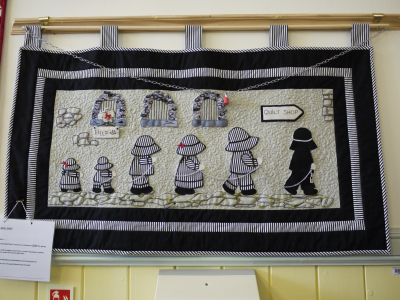 I did manage one new little project this month.  What do you think I made with some fabric and crushed walnut shells?
a little pyramid weight, for holding dressmaking patterns in place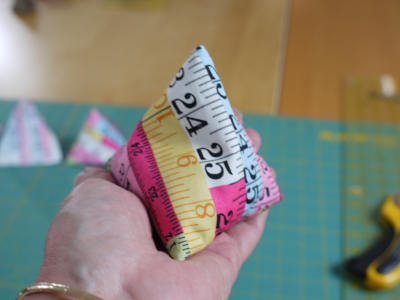 I hope you have all been busy this month - do pop over to Meredithe's blog, and after reading her post, scroll down to the linky thing to see what everyone else has achieved.