Maureen and Doreen arrived promptly on Friday morning and we set off for Edinburgh.  We encountered some heavy traffic on the way (heavy traffic in the Borders is two cars and a sheep on the road!), so were a bit later than usual getting there ....... and when we arrived, we found that the quilt show was in a different building at Ingliston, as the usual one is being refurbished.  I think there was more room in the new venue, but it was hung with black curtains and the ceiling was black, giving poor lighting conditions for viewing the quilts - and taking photos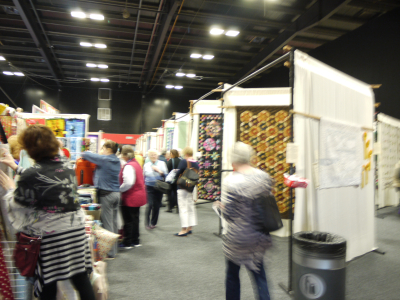 the vast expanse of black fabric was somewhat oppressive
some of the traders were unhappy with the lighting, so I think the organisers will have to address the issue for the next show (the usual building will be unavailable for some time)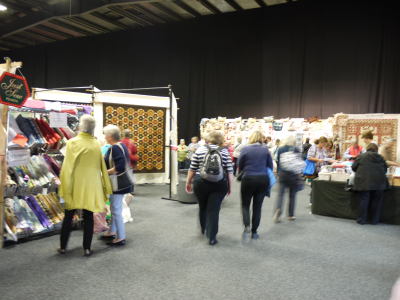 but on to the quilts!  I bumped into our lovely local longarm quilter Kay, and she was happy for me to take photos of her quilts to share with you.  This is my favourite one, as I love the look of strippy quilts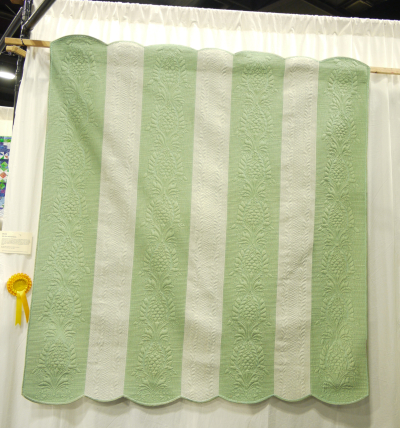 Kay's description of the quilt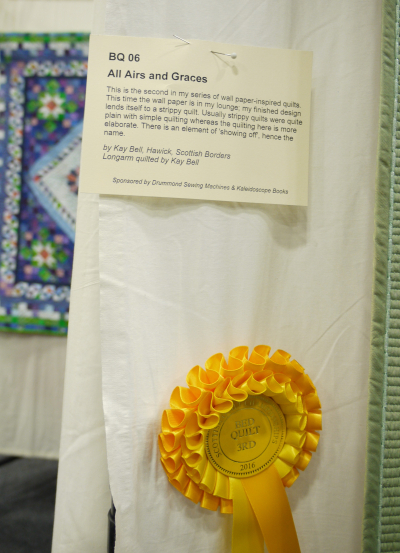 and a detail of her exquisite work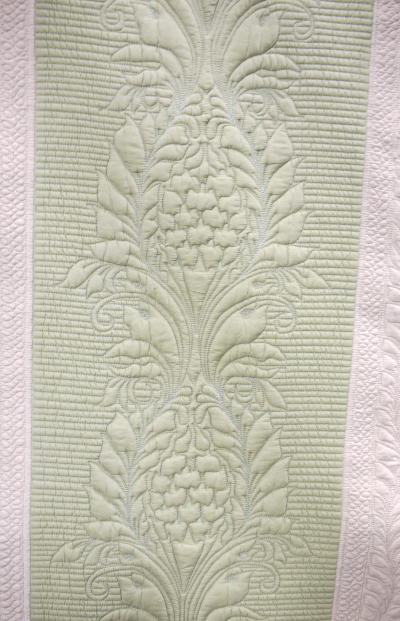 in contrast to the soft colours of the strippy quilt, this one makes my eyes go funny!  It is beautifully pieced and quilted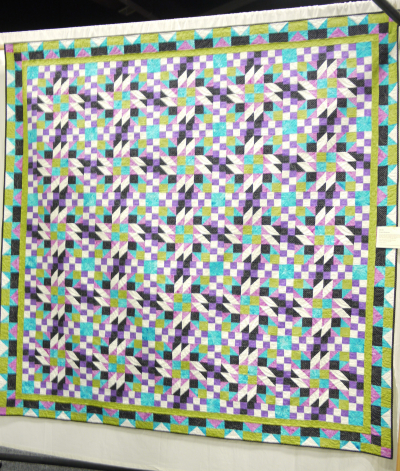 and again we have Kay's description of the quilt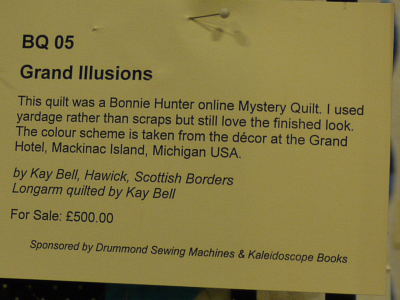 the lighting was particularly poor where this quilt was hanging - the background is much blacker than it looks in the photo, and the stars much brighter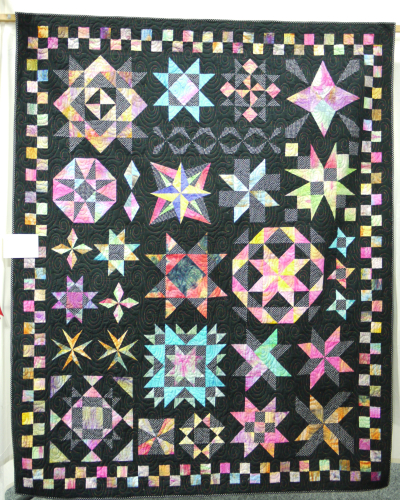 and again, Kay's description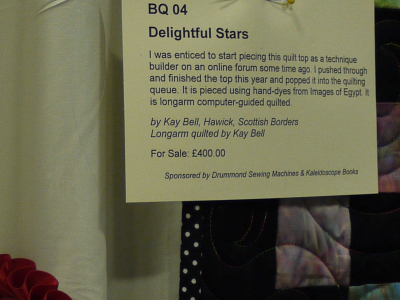 this is a small quilt, as you can see by its size next to the rosette (all of her quilts had rosettes!)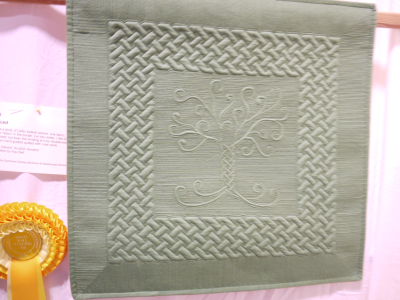 her quilting on this one is superb!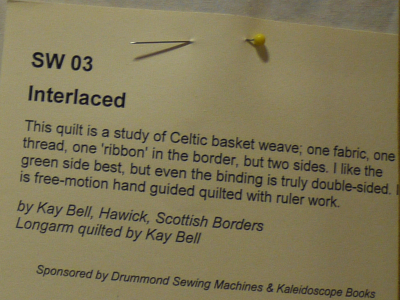 Kay also gave me permission to show you this quilt, made by her friend Linzi
this is Linzi's description of her quilt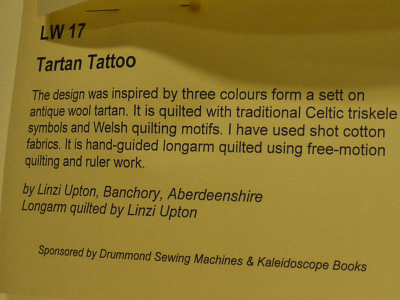 and this detail shows her quilting and beading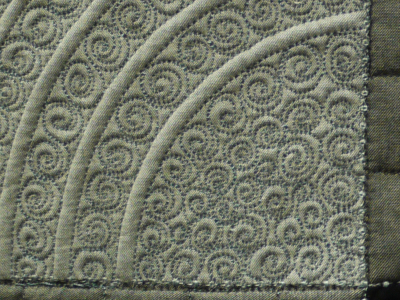 after all the hard work of viewing the quilts, I was glad to find that although we were in a different building, the catering was the same, and I was able to enjoy my usual treat of macaroni cheese and chips!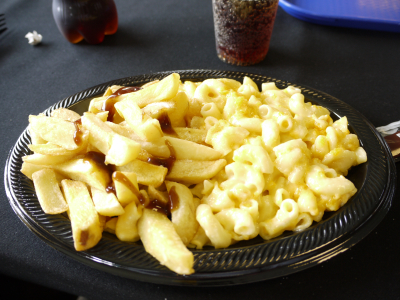 of course I did a little bit of shopping!  My first purchase was this super book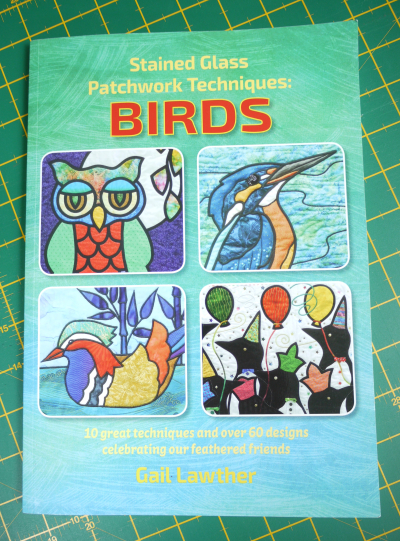 signed by the author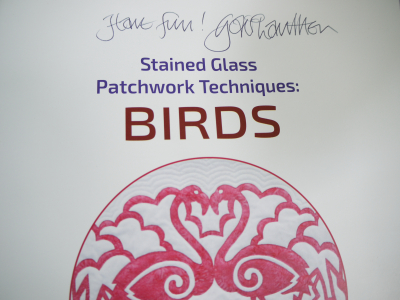 was my purchase of the book influenced by this stylish owl?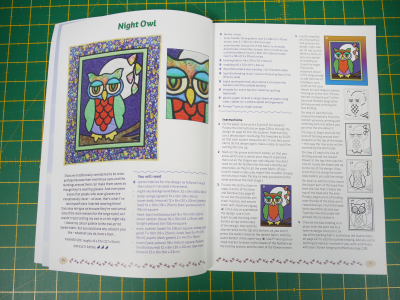 this fabric will make a good background for applique blocks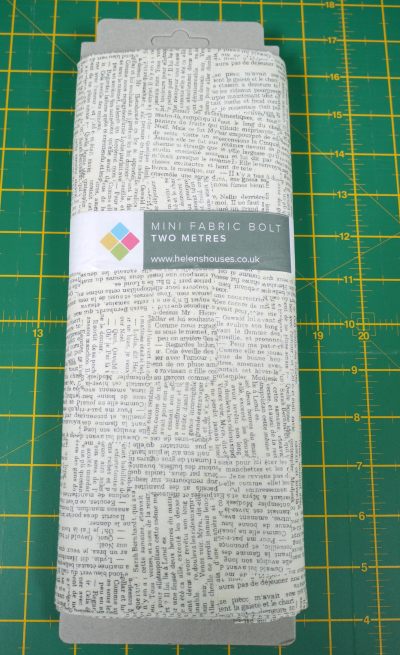 although I may have to get my French dictionary out!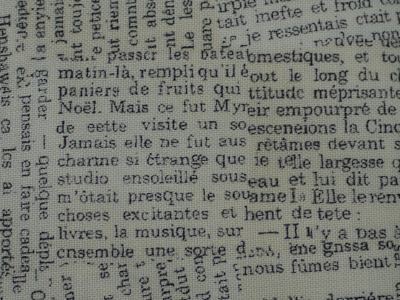 I just couldn't resist this unusual fabric - this is just a quarter of the piece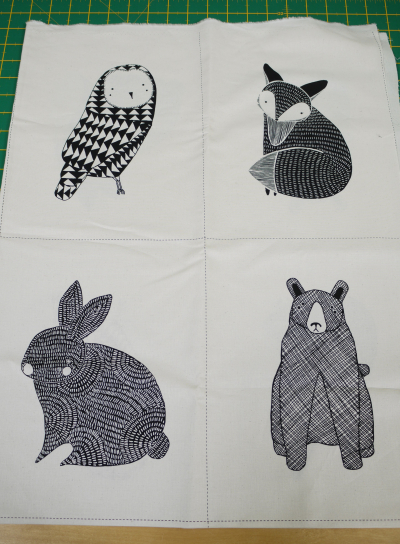 and finally ........ sheepies!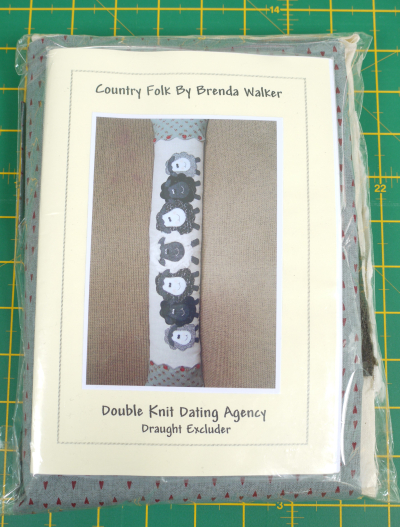 I have already done some work on this  ............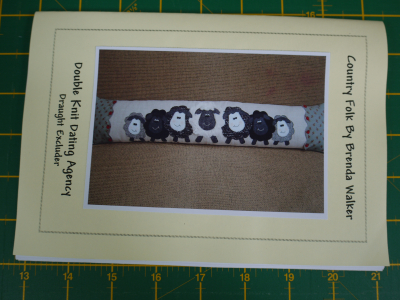 ........ but I am not making a draught excluder.  However, you will have to wait for two weeks to see what I have done ........ as we are off on holiday tomorrow!!  Yes, I can hear you all shouting that we have just been on holiday, but let me explain!  I booked our Anniversary holiday away back in March, as my present to Malcolm for our anniversary, but then several week ago, he was having a little browse online at late bargains, and found an excellent deal for two weeks in Carvoiero, in Portugal.  You may remember we had a holiday there last year.  So we are off at the crack of dawn tomorrow, to drive down to Newcastle airport.  I'll be back on Wednesday the 12th of October to tell you what we got up to - and how we celebrated my birthday, which is on the 2nd!!