A wonderful new shop opened on Tuesday ....... but I didn't go to see it until Wednesday.  Why?  Because the owner of the shop is Sue, who used to be one of the group of quilters who met in Stitchin' Heaven (which closed at Christmas) on Wednesdays ....... and the group is now going to meet at the new shop.  So I went along yesterday to meet up with them all again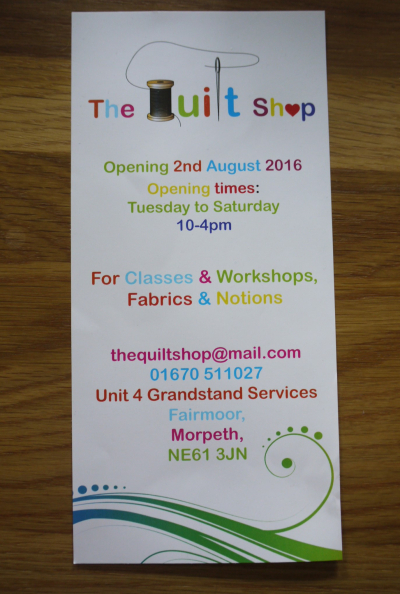 I think the best description of the atmosphere in the shop is welcoming and cosy!
there are still some gaps on the shelves, but Sue told me that she has a LOT of fabric arriving soon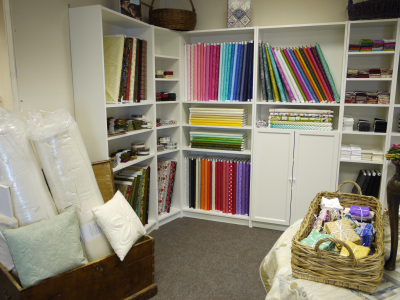 there is just something about bundles of fabrics in baskets that makes you want to buy them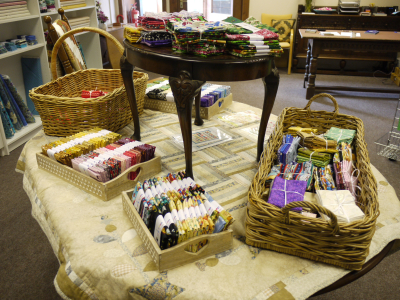 a selection of needles, pins and other sewing aids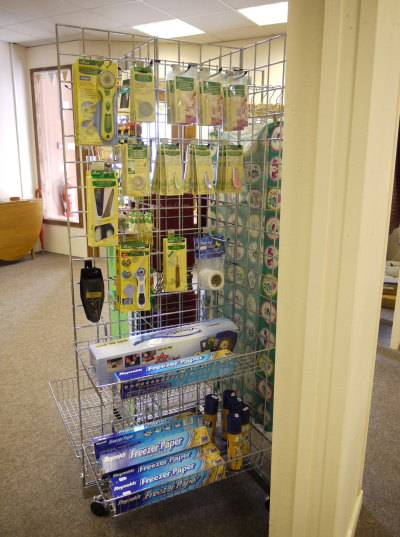 looking through from the shop area to the classroom ....... can you see what is hanging on the wall in the top left hand corner of the photo?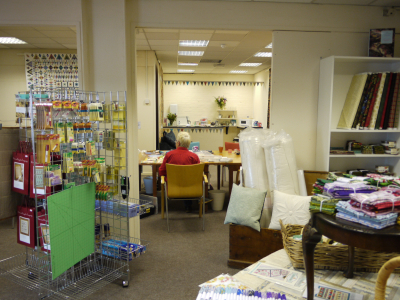 it is Sue's absolutely stunning Mrs Billings!  Malcolm had come into the shop with me, and impressed everyone that he knew it was a Mrs B ....... then he told everyone about the sorry state of my effort!!
these two lovely quilts are also Sue's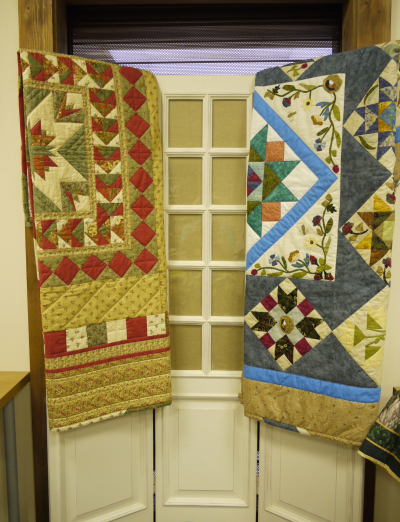 beyond the classroom is an area which has been dubbed "the husbands' crèche"
with comfy sofas for them to relax while their wives are shopping (it's a lengthy business, buying fabric!)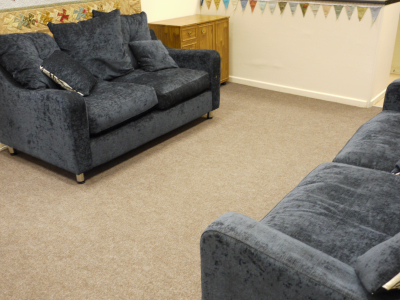 they can have a cuppa and browse through some manly magazines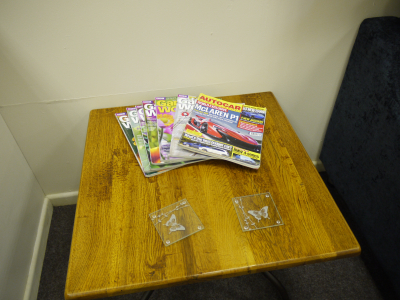 and last, at the back of the shop, is the kitchen area ....... you know we quilters need to be regularly refuelled with cuppas and cake!
another two views of the shop area, taken from slightly different angles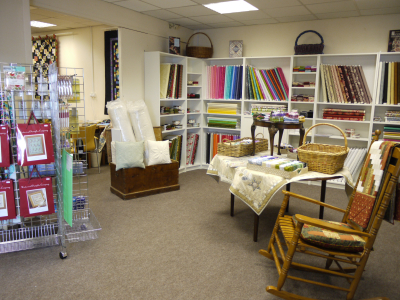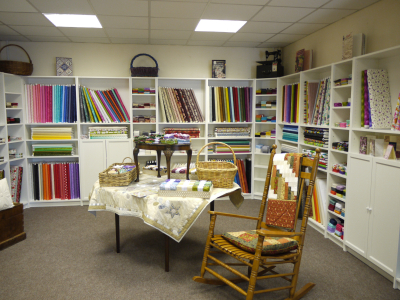 it was so good to catch up with all the news from the other Wednesday ladies, and as always they were happy to share their projects with you.  Margaret's hand piecing is so neat and accurate
Annie was prepping apple cores in her favourite Japanese fabrics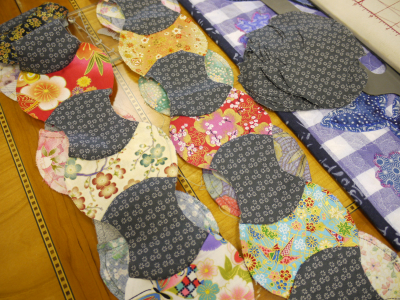 Ros was prepping hexies (and I was delighted to see how well she looked, as she had been in a terrible car accident since I last saw her)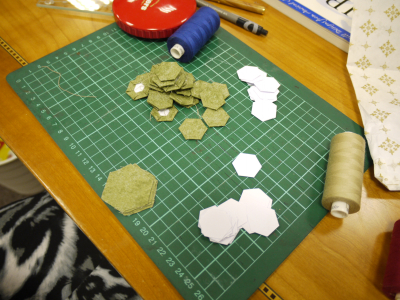 Carolyn was working on a redwork stitchery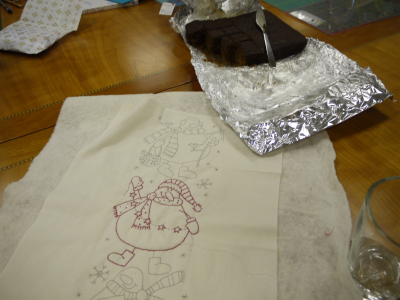 Avril, who had joined the group after I stopped going, was also working on stitcheries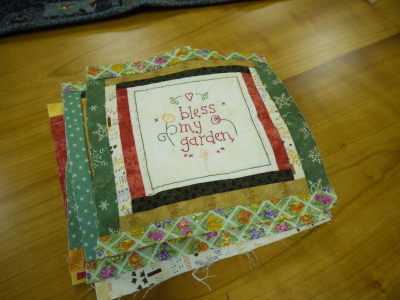 and Frances ...... well Frances as always was working on a spectacular hand-pieced project!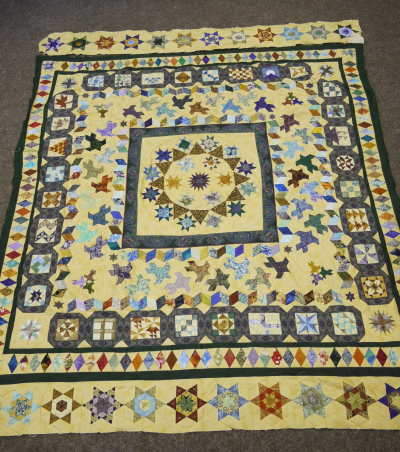 I didn't sit down for the first two hours that I was there!  I was so busy exploring the shop, drooling over the fabric and blethering not only to the Wednesday ladies, but also to the steady stream of customers.  And in that time I had two cuppas and a piece of cake!
did I buy anything ..... well of course I did!!  First, a bundle of Moda fat quarters, which I just couldn't resist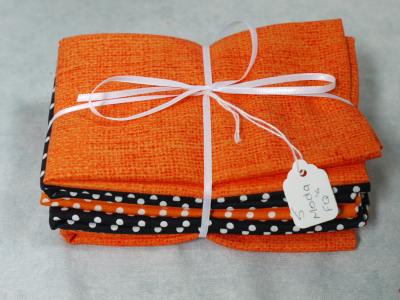 then these four delicious fat quarters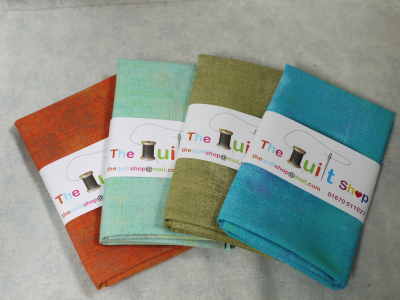 which are from this range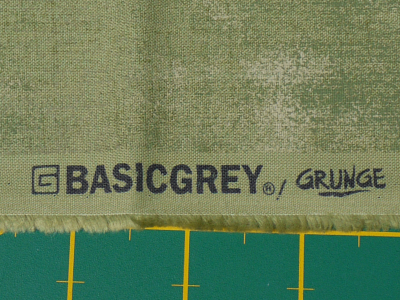 and finally these super fat quarters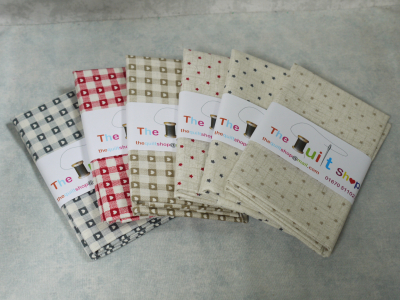 which are from this range ......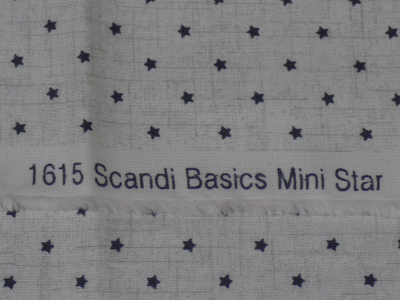 ....... and this range.  And the good news is that I had a chat with Sue on the phone this morning, and if you are in the UK and want to buy any of these fabrics, give her a phone  (the number is on the leaflet in the first photo), as she can process a credit card sale over the phone with you, and then post them to you!!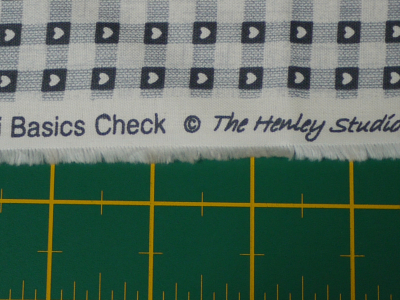 I thought it might be helpful for those of you not familiar with the area to take a couple of photos of where the shop is, should you want to visit.  It is just behind this petrol station - this is the view if you are heading towards Morpeth
and this is the view if you are approaching from Morpeth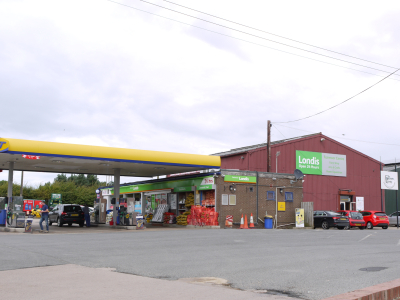 there is plenty of parking, and you go through the arch and in the door
passing the shop sign on the way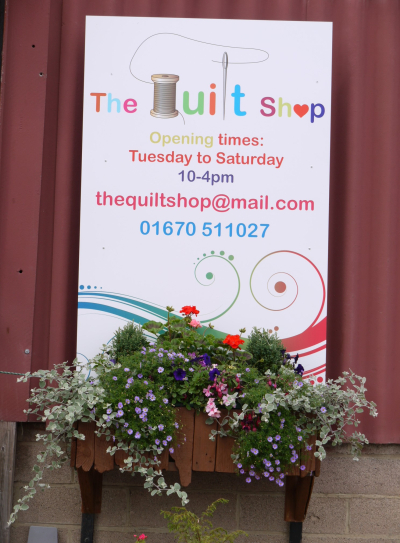 once in the door, the shop is on your right ....... only go through the door on the left if you want to buy supplies for your ponies and your pets!!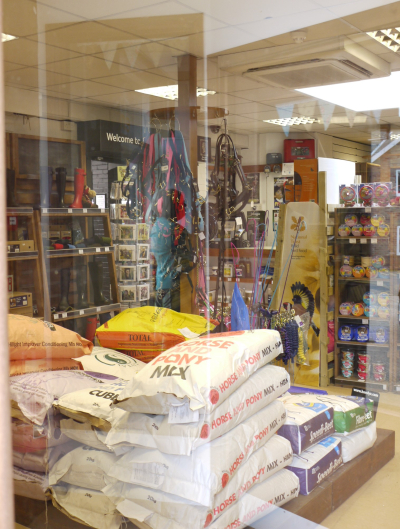 it really is a lovely shop, and I am going back the Wednesday after next for another visit ....... and I can highly recommend a visit if you are in the area.  Just up the road is Heighley Gate Garden Centre, where you can have a lovely lunch, or you can go on into Morpeth, which has an excellent selection of independent shops.  And to finish ...... I took this photo when I was outside - do you think Malcolm may have something to tell me??!!