While Rattling On and Emily were running round their gardens in the middle of the night, rescuing things being battered by the wind, Meredithe was melting away to a greasy spot - what a pity we can't mix the weather in a large pot and get rid of the extremes!  It was very windy, wet and generally miserable here, so it was definitely a day for lighting the stove and having fun in the studio.  Having watched quite a lot of television over the holidays, I decided to have a day of listening to music.  I like all sorts of different music - here is what I listened to  ....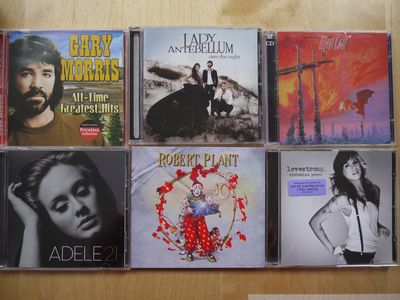 It was a busy day, doing a little bit of lots of things.  I have started the machine embroidery on my landscape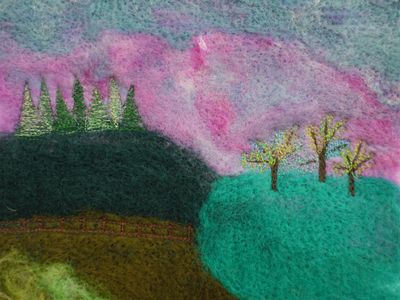 I had added quite a bit to my other experimental piece ......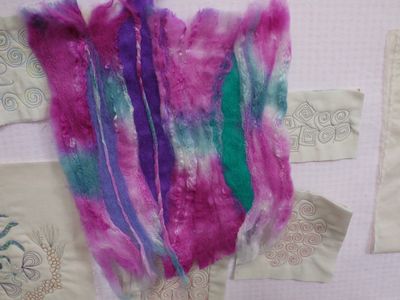 ....... and today looked out a fancy yarn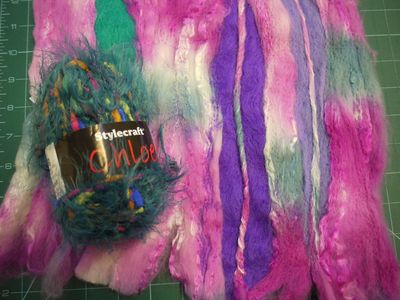 which I needle felted on to the background
I think I might add some beads next ...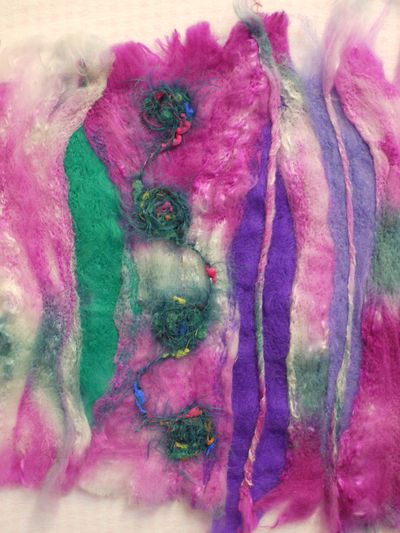 I also did some more prep for the next Baltimore block
I made this throw the other day - I bought the fabrics in San Antonio, Texas, in 2005, so I thought it was time that I made it.  You should have seen the mess when I cut the pieces!  The animal prints are a sort of velour and a huge amount of bits came off all the cut edges, then the candlewick fabrics shed fluff everywhere.  It took ages to vacuum all the bits off the carpet!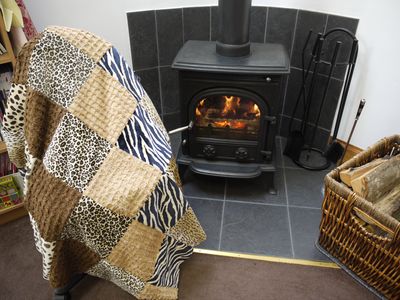 Although the weather has been miserable, it has been very mild.  When we went for a walk in the park the other day, the daffodils had grown  quite a bit since our previous walk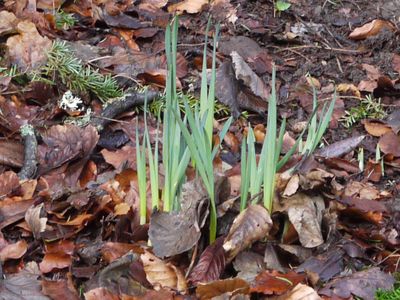 I would have got closer to take this photo of a lone snowdrop flower - but you can see that the ground was very muddy!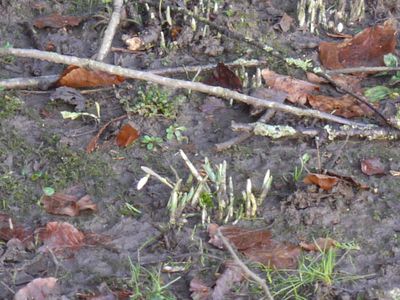 Now, the moment you have been waiting for ....... the swap!!  It is very simple - make a postcard and send it to your swap partner, along with a postcard of your home town.  The postcard can be made using any method - this is a fabric one that I received in a swap some years ago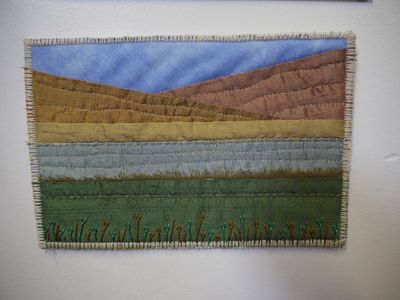 this one was posted just as it is, but you may prefer to put both postcards in an envelope to send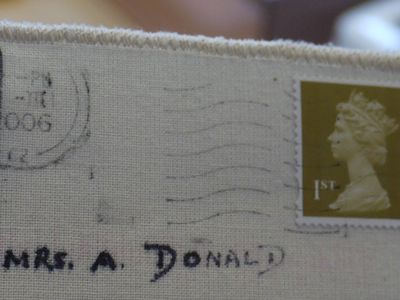 Why did I pick postcards?  I wanted something that could be made by anyone - you could draw, paint, collage, glue on fabric or a photo......  also, it will be cheap to send the postcards - I know that some people are put off joining swaps because of the high cost of postage.  The swap is open to everyone who reads the blog - you don't have to have a blog of your own.  If you want to join in, send me an email (there is a link at the top of the right hand sidebar) with your name and address.  I'll put all the names in a hat and  pull out pairs.  I'll let you know next week who your partner is.  To show how simple it is, I took a piece of card this afternoon, and cut out three cards, measuring 6"x4"
I used a fine black marker to draw a line down the centre and write Post Card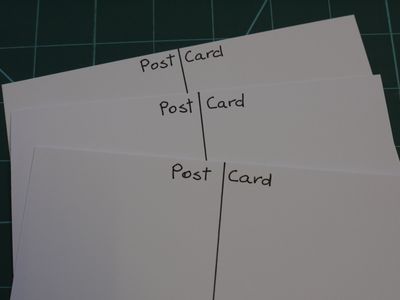 I'll have a bit of fun decorating the fronts tomorrow - I might get Malcolm to do one, as he is much better at drawing than me!  I do hope lots of you will join in!!