....... have been breeding!  There seemed to be a never ending pile to prep - but eventually they were finished.  I wondered just how many there were - a quick calculation gave me the answer of 950 - no wonder it took so long to prep them!  The next stage was to lay them out ...... I could picture the pattern in my head, but I thought I should lay them out to make sure that it would work out ok.  I started by laying out one hexagon of each fabric .....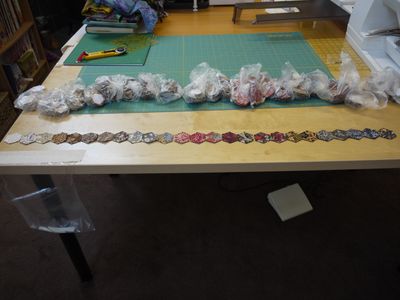 .......then added more rows, each time moving the fabrics one place to the right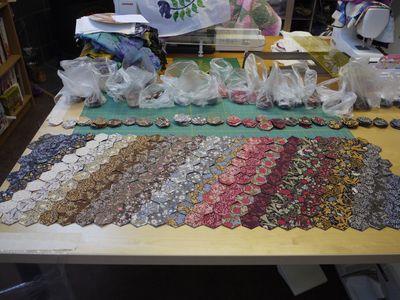 I wasn't happy with the placement of the very dark red row, so after consulting with Malcolm, I moved it along two places to the right - much better!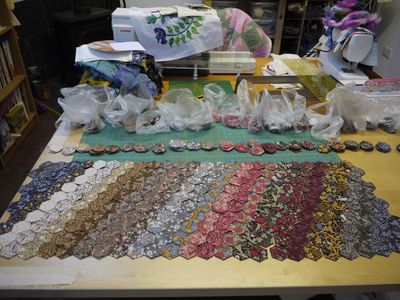 The next stage was to number one of each of the different  hexagons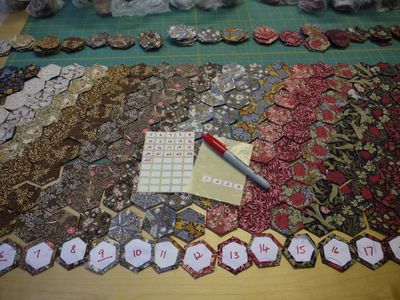 and pop them into numbered bags, held shut with  tiny pegs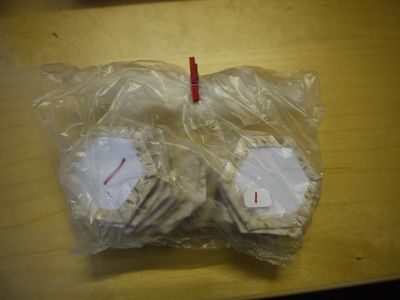 All packed up, ready to take on Friday to the first patch'n'chat of the year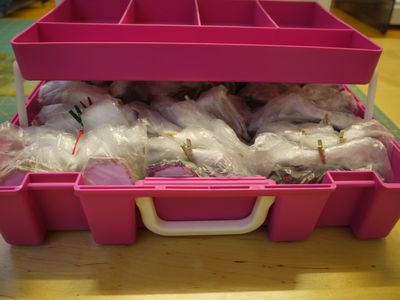 Thank you for your response to the swap - quite a few of you have signed up already!  Several of you have asked if there is a time limit for sending the postcards, as you are busy with all sorts of things.  I woud suggest that they should be posted by the end of the month, which will give you about three weeks to make then after you receive the details of your swap partner next week.  This afternoon I looked out this curtain sample from my stash, and a packet of Stix2Anything (yes, it does!)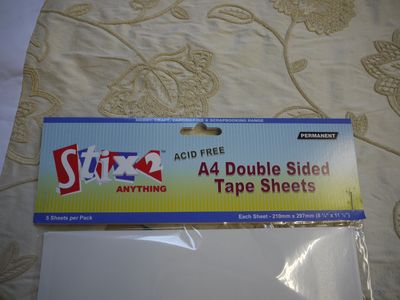 I fussy cut a flower from the fabric, stuck it on the postcard and added a bit of ribbon round the edges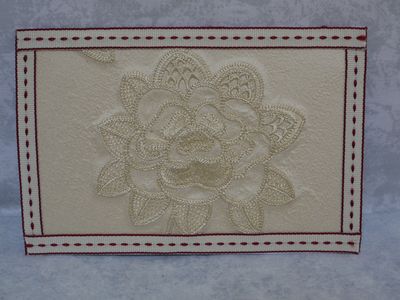 For the next postcard, I looked out the old road atlas that I had bought last year to make bunting with.  I still had the page with Hawick on it, so it was a simple job to cut it out and stick it on.  I then drew a circle round Hawick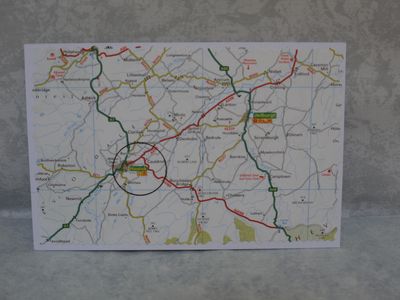 I had given the third postcard to Malcolm to draw something on - he produced this, which rather puts my efforts in the shade!!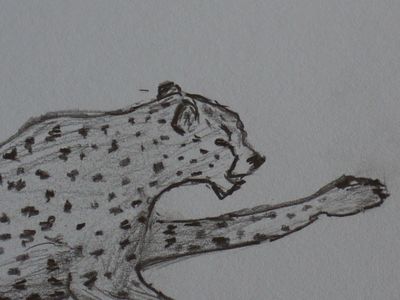 The full details of how to take part are at the end of yesterday's post, so if you missed it just scroll on down.
To finish - the wind may have dropped, but it was a raw, miserable day, so we were glad to have a warming bowl of lentil soup and a delicious piece of cheese bread when we were out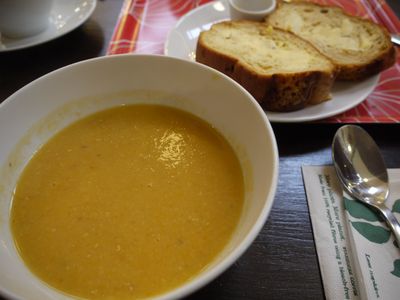 ps - do let your friends know about the swap!