We got up on Tuesday morning to a world that had turned white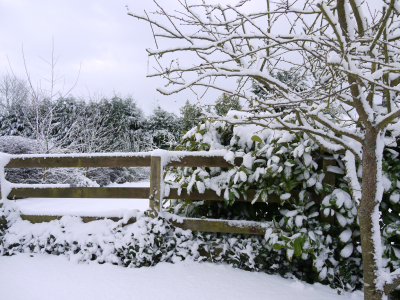 with more snow than we have seen for some time,  going out in the car was ruled out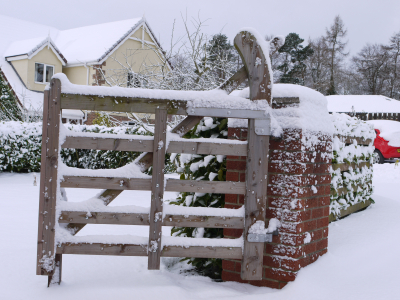 after lunch we went out for a walk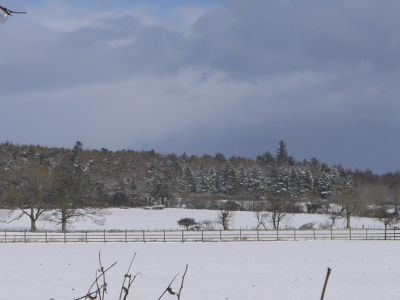 enjoying the scenery
and pausing to take an arty photo ....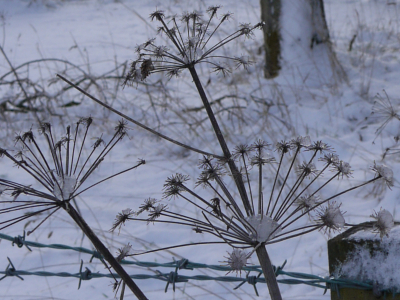 ....... or two
we headed down the hill out of the village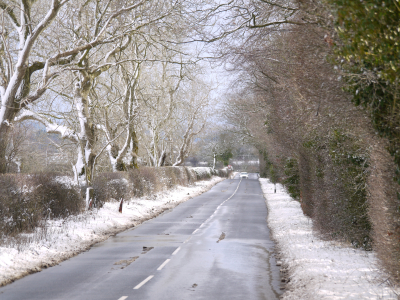 until we reached our destination.  So what was so special about this stretch of hedge?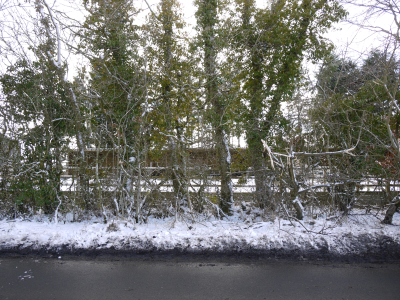 because on the other side of the hedge there are alpacas!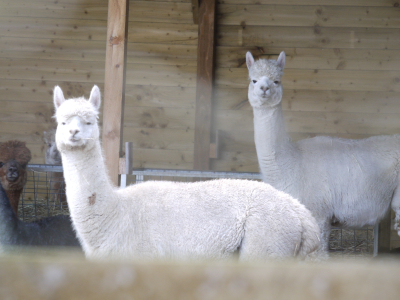 who were watching us watching them
on Wednesday morning we got up to a lot more snow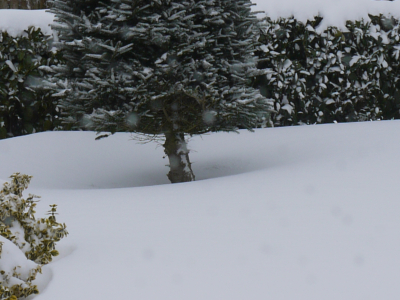 our next door neighbour had groceries delivered ....... but the van got stuck!  After all efforts to dig the van out had failed, Malcolm applied a bit of sideways thinking to the problem.  This is him, wearing my "foul weather" jacket, heading out with a watering can full of hot water.   He melted an area around the wheels, allowing the driver to get traction to drive off, an hour after he arrived!  You can always rely on an engineer to find a solution to a problem Sorry for the poor photo - I took it from the attic - not only did the window have snow on it, but you might have noticed a bird had splattered it as well!)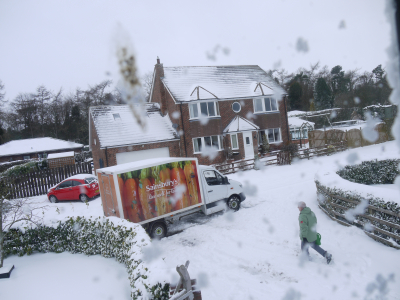 later in the day, the sky cleared and the moon appeared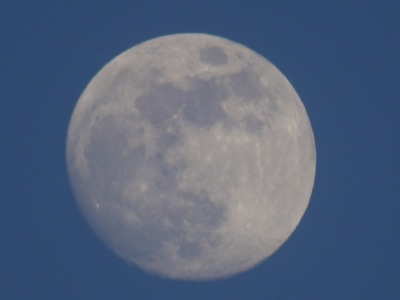 we had even more snow yesterday morning, so I decided to be brave and go out to take photos, but I don't have long boots.  It's not just engineers who can find solution - I simply wrapped my legs in clingfilm ......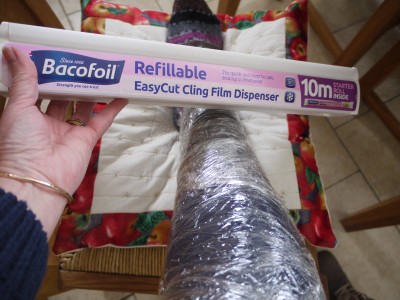 ...... then wrapped more round the top of my boots
it worked - my legs stayed dry as I waded the snow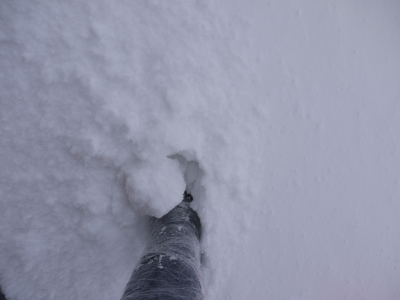 I stuck my yardstick in the deep drift in front of the hedge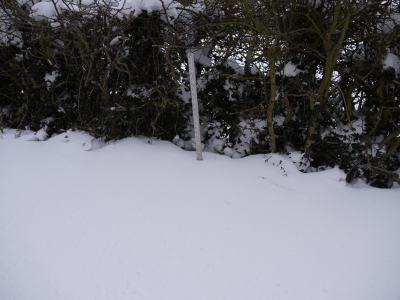 a mere 18 inches!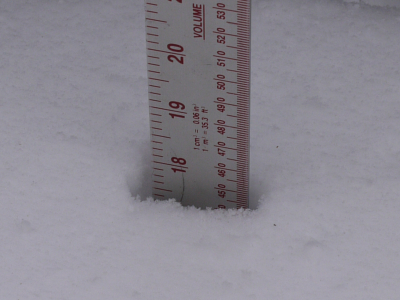 I won't be sitting here any time soon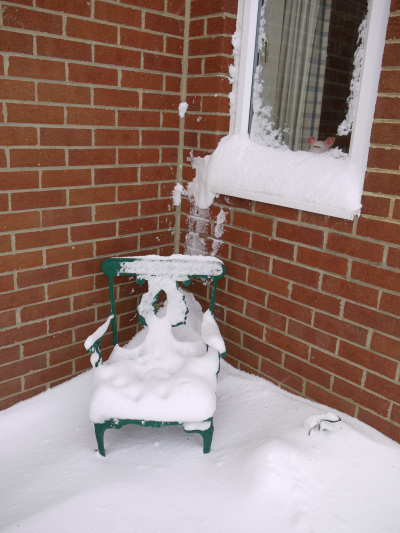 we brought these birds home from Indonesia - I am sure they wish they were back there in the sun!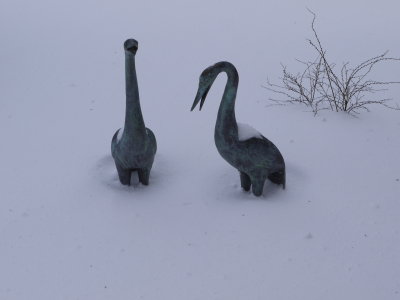 it may look lovely, but I wish it would go away
back indoors, I took a photo of an icicle hanging in front of the lounge window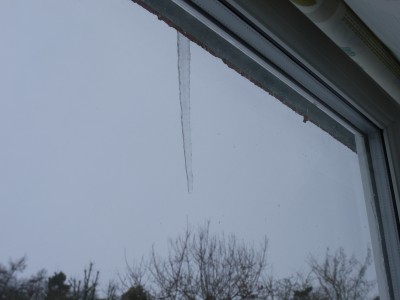 later in the day, it had grown quite a bit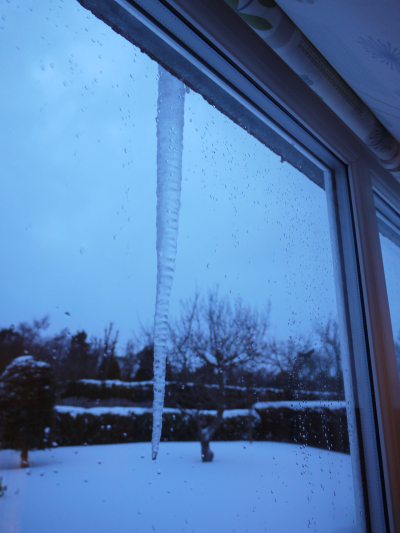 then early this morning, it had grown and twisted - it was easily 24 inches long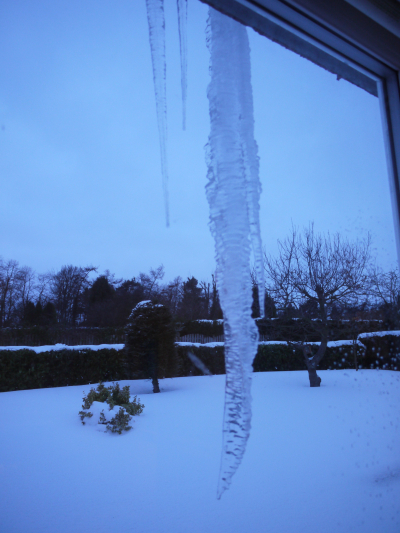 and was sprouting sidekicks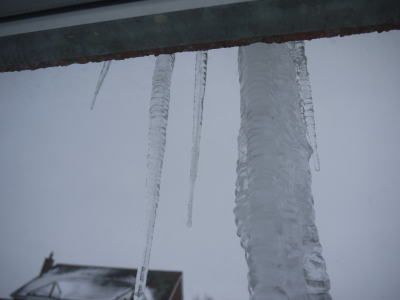 it had been shaped by the wind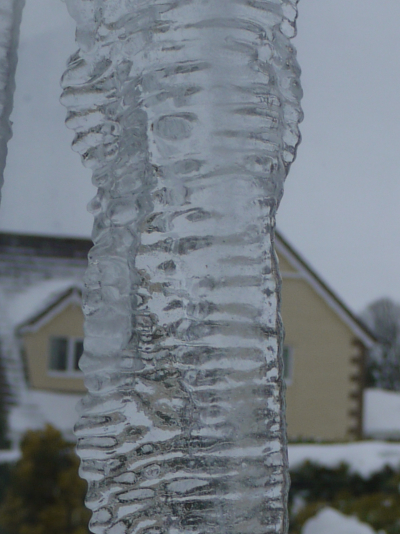 which was strong enough to blow the bird seed out of the ground feeder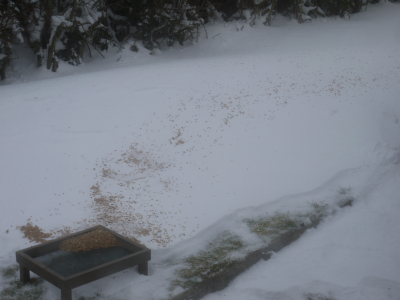 and blow over the heavy wooden plinth the bird bath sits on.  Fortunately the bird bath didn't break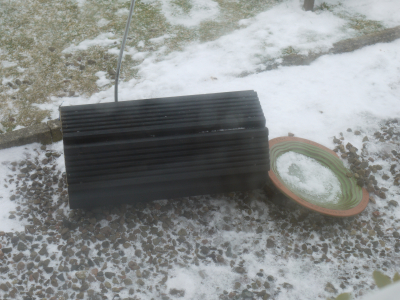 we may have been stuck in the house since Tuesday, but don't worry, we didn't have to do without  scones.  Fortunately there were two emergency ones in the freezer ....... I enjoyed a mug of hot chocolate with mine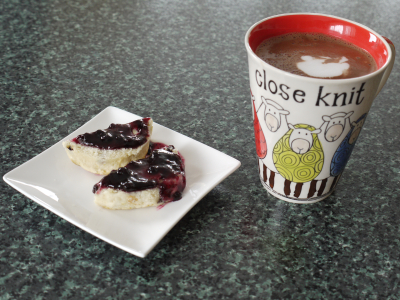 As I write this, I am watching the local news bulletin, with film of the main A1 closed for 30 miles between Alnwick and Berwick.  Hundreds of people were stranded in their cars overnight!  So I think we will be staying home for the weekend!  Whatever your weather, have a good weekend, love Anne