When we arrived at the flat last Thursday, there were lots of swans in the dock, and as the gate was open (it is normally only open at the weekend), I sneaked in to take some photos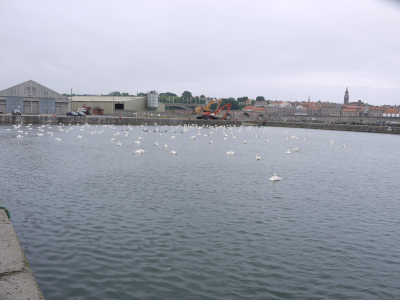 there were also quite a few geese amongst the swans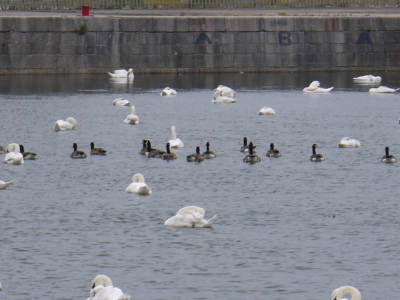 although this duck was content to sit on the edge of the dock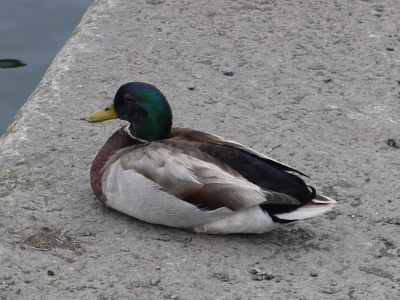 but the swans peace and quite was about to be well and truly disturbed, as this VERY large ship came into the dock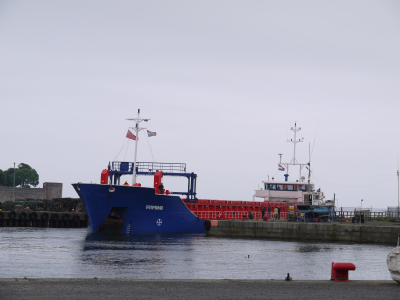 at first they headed to the far end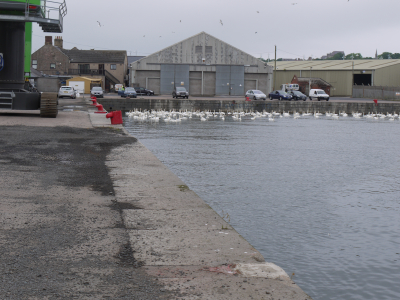 but then decided they would head out into the river ...... their upright posture shows that they were travelling at speed to escape!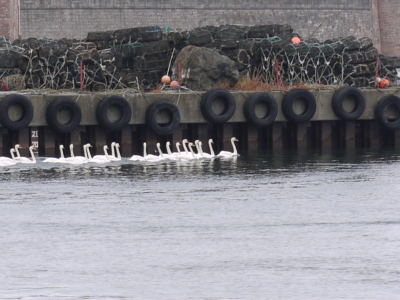 the ship was so big that it needed help from the pilot boat to berth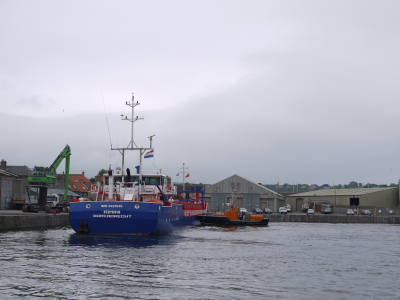 and in no time at all, the lorries were rolling in to take away the cargo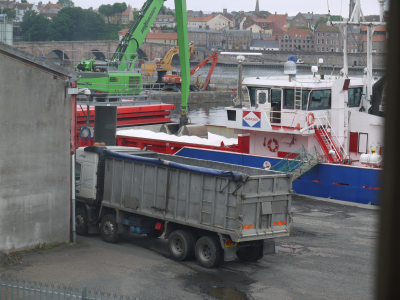 after all that excitement, we headed out for a walk to town.  As we crossed the old bridge, there was a great flapping noise, and half a dozen swans flew over us
work has ground to a halt on the money pit.  It actually looks more shabby now - I hope that they will eventually clean the stonework so that the repairs are less obvious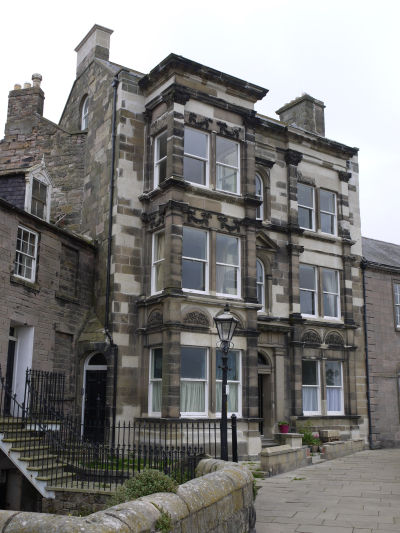 a pause for an arty photo, with rusty barbed wire
and of course there has to be a view of the lighthouse!
I'm sorry, but I think this man looks ridiculous, with his pretend kilt, half-mast socks and the pony tail.  As we walked along behind him, I said to Malcolm that I would have to take a photo of "kiltie kiltie cauld bum" ........ it turned out that Malcolm hadn't heard this expression before.  Well, Scotsmen traditionally don't wear anything under their kilts, so of course they have a cauld (cold) bum!!  I suppose I could have offered to knit him a proper pair of kilt socks.........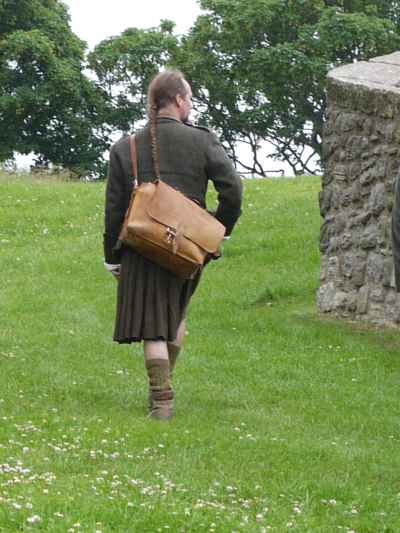 walking back across town, I spotted this gate with thick overhanging ivy
a new gallery has opened just along the road from the flat - it might not look anything much from this photo, but it is a listed building, so they are limited as to what they can do with the outside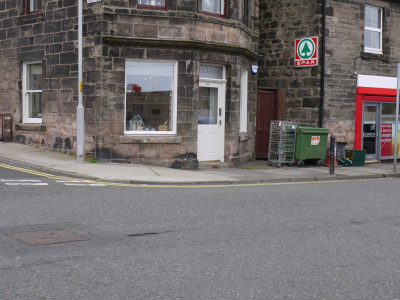 but the stylish door leads into ........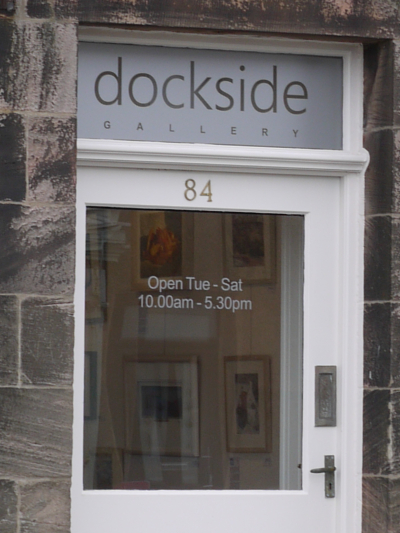 ........ a cornucopia of arty delights.  If you are going to be in Berwick, email me and I will give you directions to the gallery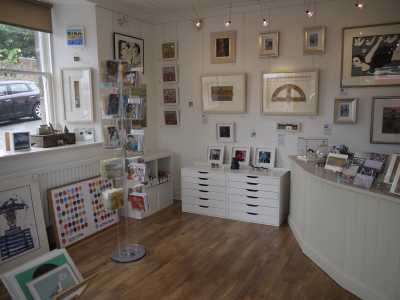 I took this photo of the salmon fishermen  at 10o'clock on Thursday night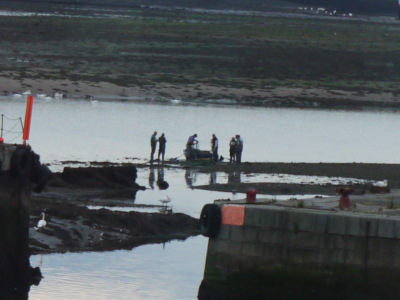 then I took this one on Friday morning, as we walked over the old bridge in search of a cuppa and cake (more of that later!)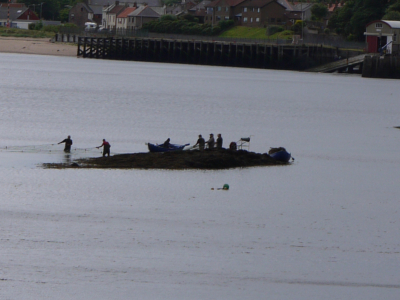 after lunch we went for a walk on the beach, but it started to rain!  So we got back in the car and drove up the coast to St Abbs, where we went for a walk round the harbour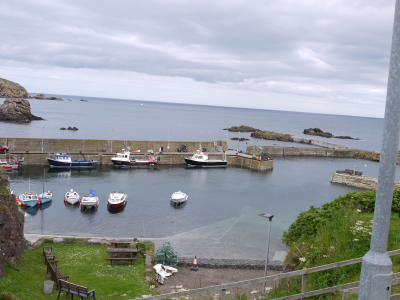 I am always tempted to acquire a lobster pot to put in the garden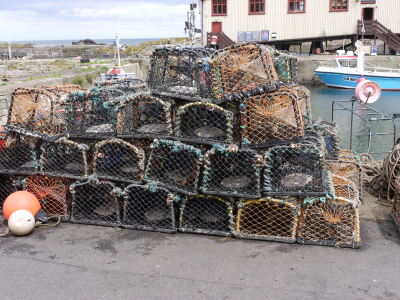 one of a row of fish hooks on a boat ready to go out to sea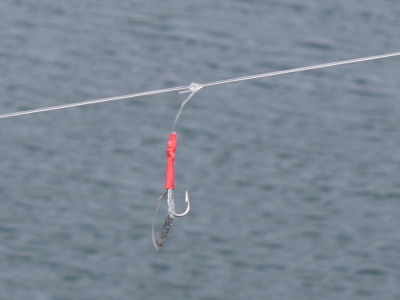 but this gull didn't need to go fishing - he had found something tasty to eat in this box on another fishing boat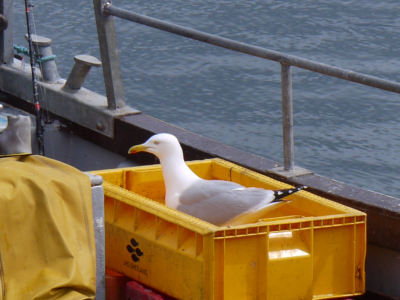 almost back at the flat, Malcolm spotted this view of the fishing boats, seen through an arch of the old bridge.  He dropped me off to take the photo ........ leaving me to walk the rest of the way!!
but then that meant I also took this photo - perhaps one of the most photographed views of the old bridge and the town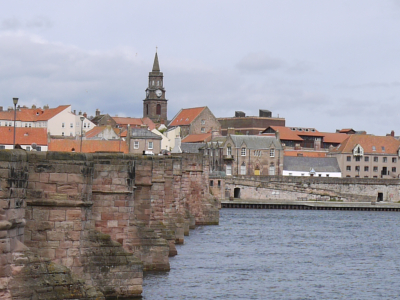 and so back to the cuppa and cakes.  Malcolm chose this delicious cheese and leek scone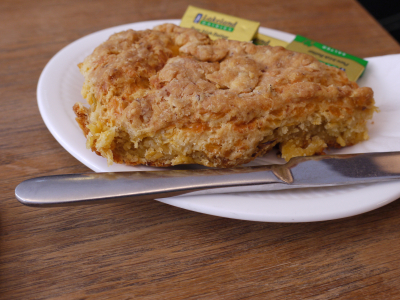 while I indulged in a slice of gooey chocolate cake!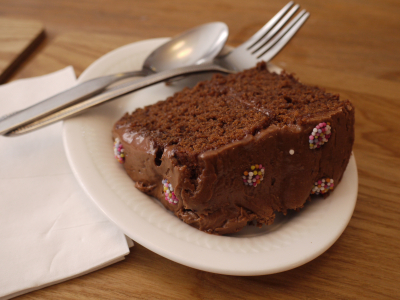 do you remember some weeks ago Anne made this cute sheepie for me?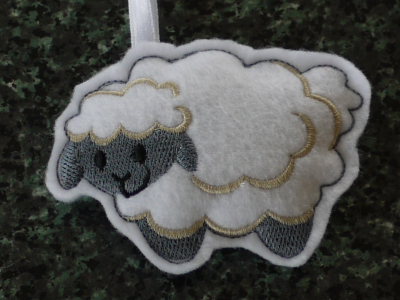 of course that meant that I wanted to send her something in return, and knowing that she collects cruets sets, this pair of cuties was just the perfect present!
and do you also remember the happy mail from Kelly, which included the fun piece of John Deere fabric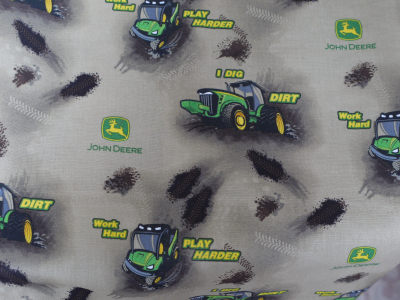 Kelly had recently managed to open an old family trunk, which she knew contained some old family quilts,  However she was disappointed that the Sunbonnet Sue quilt that she remembered from years ago wasn't there, so what better thing to send her than a little Sunbonnet Sue cushion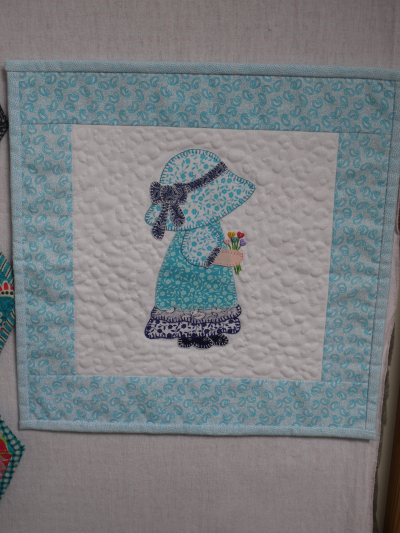 I'll be back on Friday with my end of the month report on 17UFOs in 2017 ........ and I have lots to report this month!!