How many fans of One Foot in the Grave had Victor Meldrew's voice in their heads when they read today's heading?!  So what is it that I don't believe?  TOOTHACHE!!!!!  It started at lunchtime on Saturday and got worse over the weekend, so this morning I phoned the dental centre at 8.30 to get an emergency appointment.  Fortunately there was one available at 1.15.  The dentist poked at the tooth (ouch!) and declared that there was a big hole under the filling right down under the gum (double, if not triple ouch!)  So why didn't he see it when I was there last Tuesday?  I didn't ask, as I just wanted him to fix it. Sounding like a villain from a Bond movie, he declared that "ze longterm prognosis for ze tooth eez not good" - he is Polish and his name would earn lots of points at Scrabble!  He drilled it so much I thought he was going to end up in Australia!  He has put a dressing in, and I have to go back at the start of September for more treatment.
But the toothache didn't stop me having fun with our visitors.  Saturday afternoon was hot and sunny, but we were worried when there was a brief heavy shower just when Malcolm was ready to light the pizza oven.  Fortunately the rain cleared and the sun shone again.  I forgot to take a photo of the starter, but you can admire my lovely serving platter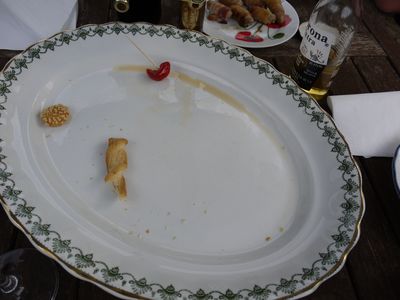 after the difficulties with the big pizza, I made small ones, topped with passata, mozzarella, salami, chorizo, proscuttio and onion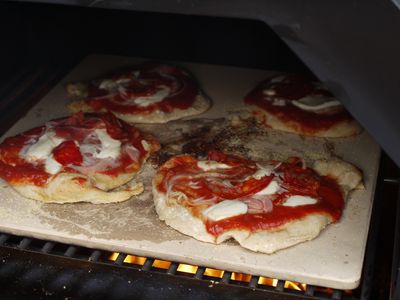 I need to work on producing neat circles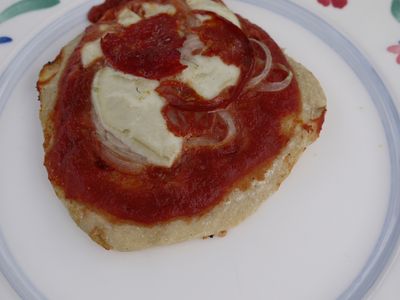 Stuart managed to snap me with a mouthfull!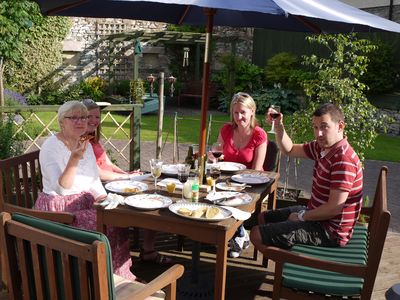 the Youngsters brought the pudding - I wonder what's in the box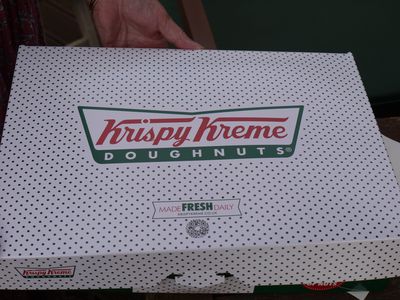 on my - just look at these delights!
Stuart has dared me to include these photos!!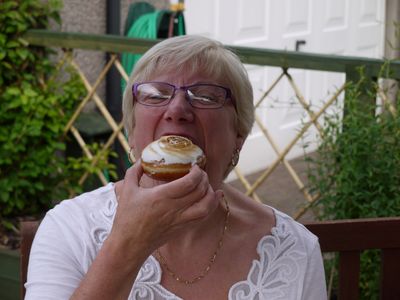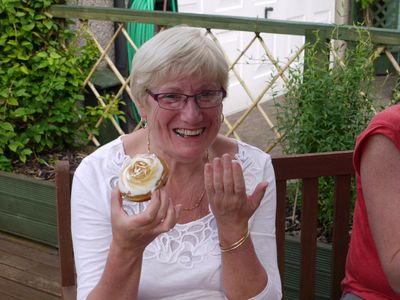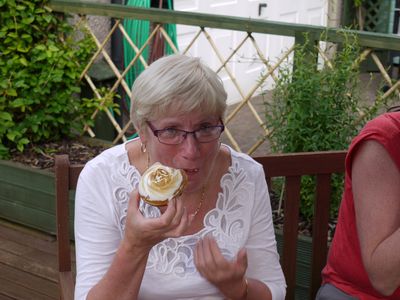 it didn't take long to finish the doughnuts - they were delicious!!
they also brought a box of plain doughnuts - certain people ate one for an early breakfast ....... all I'll say is that Malcolm and I didn't have one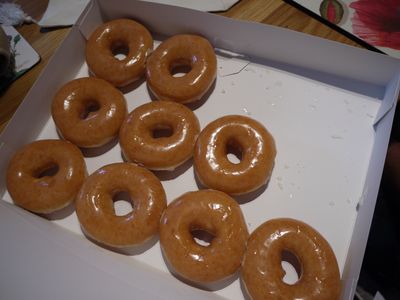 we went out for breakfast in Melrose, but unfortunately it was raining heavily so we didn't get to walk round the town.  After waving goodbye to the visitors, Malcolm and I headed to "The Whole Lot", a quirky shop that is part gifts, part antiques, part junk.  I spotted this wonderful fabric, which will make sumptuous curtains for the dining room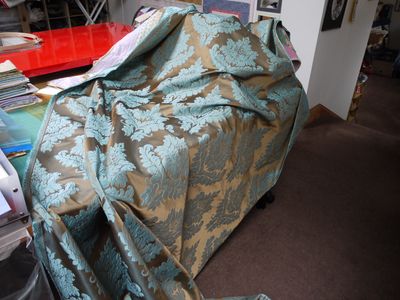 we were relaxing in the back lounge, reading the Sunday papers, when it started to rain ......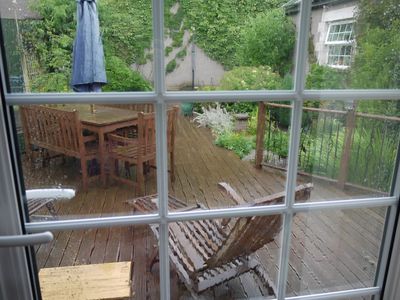 ....... and rain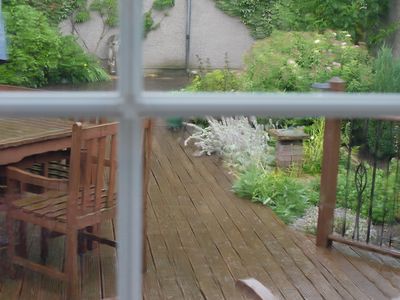 the garden had benefitted from the rain - Malcolm's bargain olive tree is thriving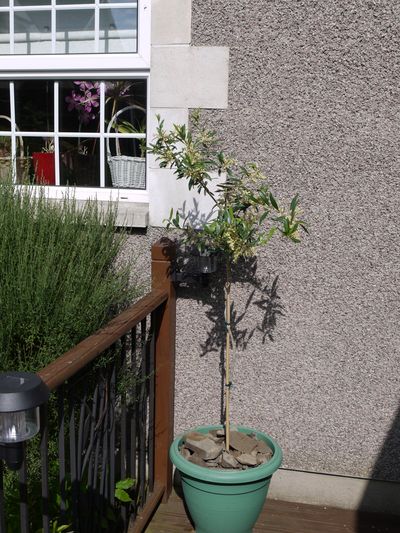 and is now flowering
to finish - Stuart couldn't resist trying out the hammock on Saturday afternoon