I set off earlier than usual this morning for Borderland Fabrics, as we were having a very special day.  People all over Britain were today hosting coffee mornings for The Macmillan Fund - but instead of just a coffee morning, we had a soup, sandwich and home baking extravaganza!
Things got under way not long after we arrived, when we were presented with a plate of goodies to have with our morning cuppa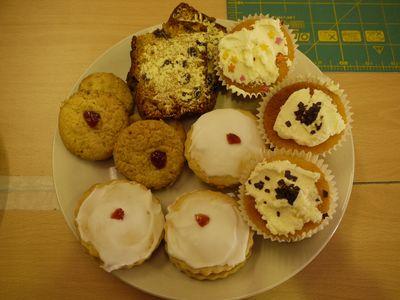 For lunch. there was a choice of sweet potato and parsnip soup, which I had (absolutely delicious) .....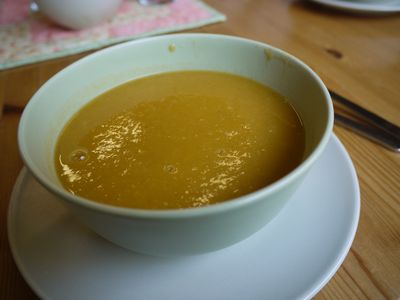 ...... and leek and potato - also declared delicious by those who chose it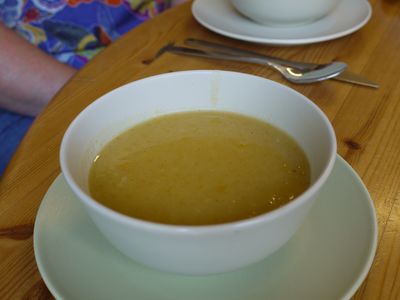 Then a selection of sandwiches - I had mentioned to Malcolm that there would of course be  cheese savoury sandwiches.  He asked why I was so sure.  I replied that there would be a riot if there weren't any, as we all like them (they are the ones at the top of the photo)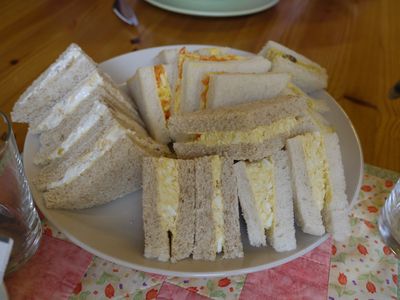 Then more cakes appeared - but I have to admit I had an extra sandwich rather than a cake, as I prefer savoury things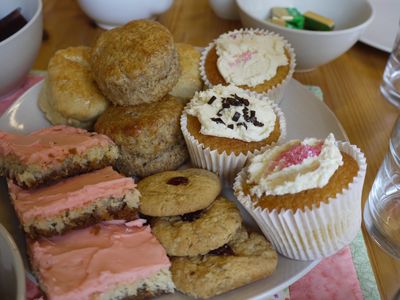 We had just recovered from lunch, when afternoon tea was announced!!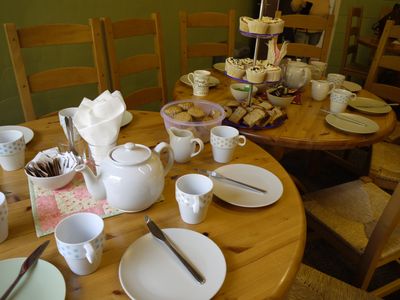 Of course we all made a donation to the Macmillan Fund for such a wonderful day  ........ then Annette, the owner of Borderland Fabrics, said that she wasn't taking the usual payment for our Friday session, but perhaps we would like to donate that as well - which of course we did.   Many thanks to Annette and her helpers for providing us with such a wonderful day, in aid of a very good cause.
Back home, the robin was ousted from the bird bath by a sparrow!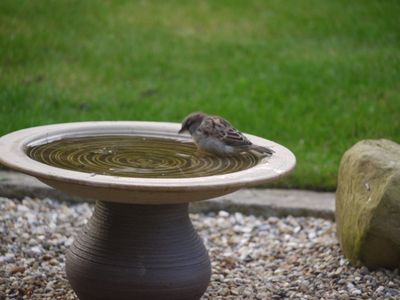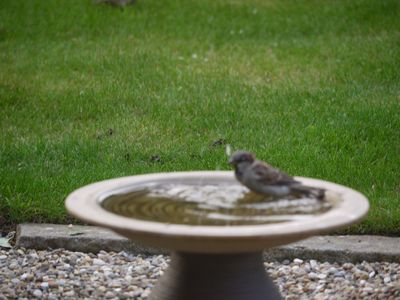 While the sparrow was having his bath, a great tit was tucking into the peanuts (you can see that all the fat balls were eaten while I was out)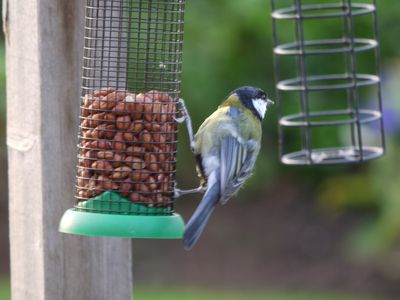 This is a special weekend ..... it's my birthday on Sunday!  Stuart is coming down on Sunday and staying until Monday, but unfortunately Alison can't come as she has to work on Monday.  For my birthday dinner, Malcolm is cooking venison (because Stuart likes it) and for pudding he popped up to M&S in Galashiels this morning for their wonderful lemon meringue pie (yes, you've guessed - it's Stuart's favourite!!)   I hope you all have a wonderful weekend, love Anne