I've just been sent a review copy of this book .....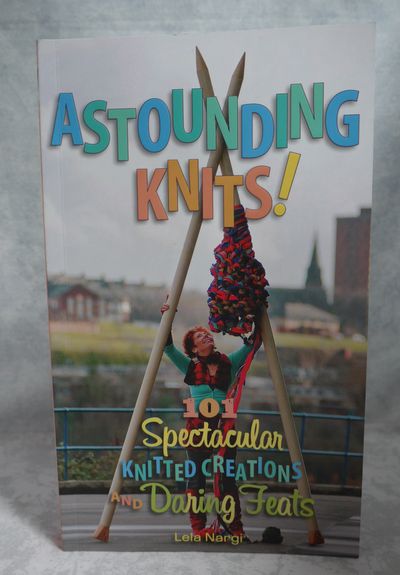 ........ and I'm enjoying it so much, I thought I would share it with you now, rather than waiting until I have finished it (I have skimmed through to the end).  It is full of all sorts of knitted wonders, lots of facts and figures about the design and construction of the projects, and profiles of some of the knitters.  Some of you will recognise the knitter on the cover, as she has been at Woolfest.  Ingrid is famous for her large scale knitting - read more about her here.  The next photo shows one of her amazing creations - a 21-foot historical coble boat ....... and Ingrid looks charming as a mermaid!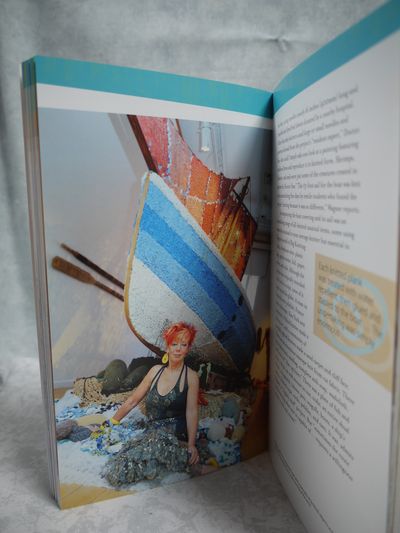 At the other end of the scale is this teeny, tiny sweater knitted by Annelies de Kort, which fits on the head of a pin
This tiny cardigan is also one of Annelies' creations - you can see from her hand just how small it is
How much do you love the man in your life?  Would you spend ten months knitting twelve miles of yarn to make a Ferrari for him!  That's what Lauren Porter did (although it was a project for her degree)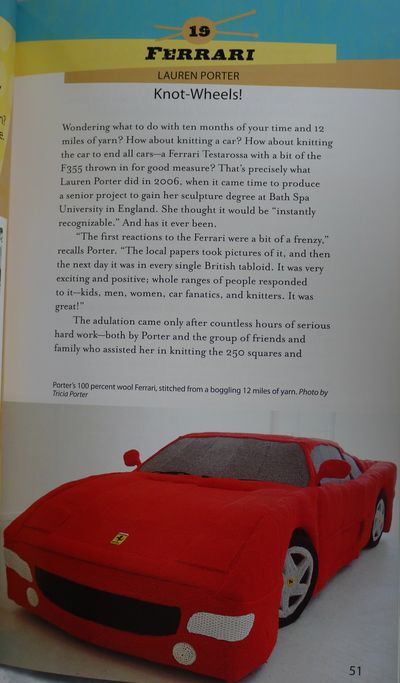 It was very difficult to pick things from the book ....... but I think everyone will go aaaah at the next photo!  There is even a pattern for the jumper if you want to knit one for the penguin in your life!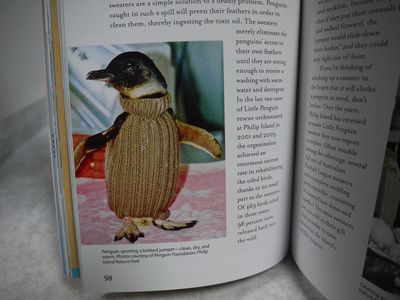 Having recently killed off two cacti in my bathroom, perhaps I should simply knit replacements, like these amazing ones by Irene York!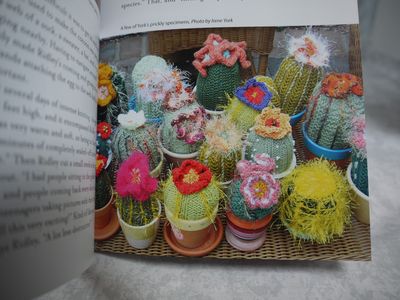 The last piece of knitting I picked to show you has me completely bamboozled!  I have just re-read Alasdair Post-Quinn's explanation of how he has a different pattern on either side ....... and my brain is hurting!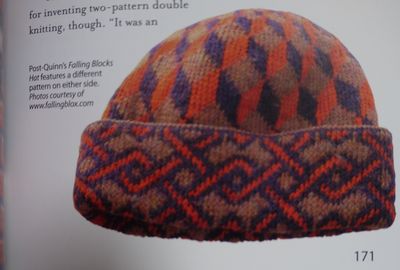 If, like me, you enjoy knitting and somewaht daft things, then pop the book on your wishlist!  (The photos were used with permission from the publishers)
I am almost embarrassed to show you my knitting - it doesn't really stand up to comparison with the wonders in the book!  I have finished another baby blanket for Project Linus.  For this one I used a lovely yarn in white and blue (I also have a ball in white and pink!). 
I like the diamond pattern, but I had to pay more attention to knitting it, comopared to the other blankets with the squares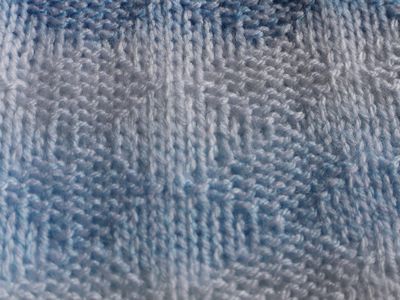 A rather sad little tale to finish (and if you're squeamish, don't scroll down to the photo!)  I was in the kitchen this morning, while Malcolm was through in the back lounge.  I heard a bit of a commotion, then he appeared holding something, saying ' you'll never guess what I've just found'.  I could have gone on all day with guesses - but this wouldn't have been one of them ........ he had found a tiny dead bat in the big plant pot that the yucca is in.  We have no idea how it got there, and it must have been dead for some time, as it was completely dried out (don't worry, I washed my hands thoroughly after taking the photo!)