....... about snow!  We are very, very fed up with the stuff!  Yesterday, I should have been going to the last Woolgathering of the year, but I got up to find it had snowed again, and had to stay at home.  Then yesterday evening we should have been going to visit friends, but between the snow and the freezing temperatures, we reluctantly had to cancel.  And lastly, we should have been going up to Falkirk to visit Stuart, but with the threat of more snow to come, we were worried that, although we might get there, we might not get home!
But, on the other hand, it does makes for good photos!!  We had unusual visitors in the garden this morning - starlings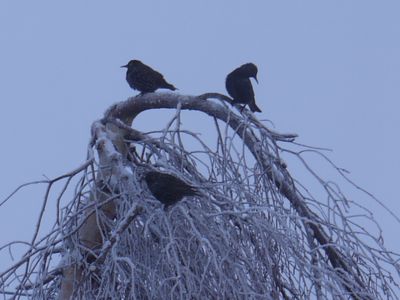 Malcolm had some errands in Hawick this morning, so I decided to go with him.  It was quite misty when we arrived, as you can see in this photo of the Town Hall
When I stopped on the bridge to take a photo of the river, I was delighted to see the heron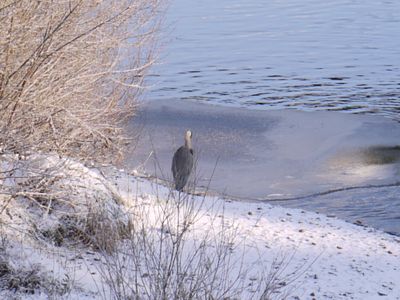 Remember the mountain of snow in the car park?  It has grown even higher ..... I think it will be a long time before it melts!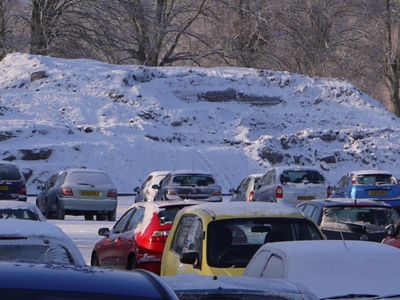 Later in the morning the mist cleared and we had blue skies and sunshine, so after lunch we decided to go for a walk.  This was the beautiful (but chilly) view as we set off towards the church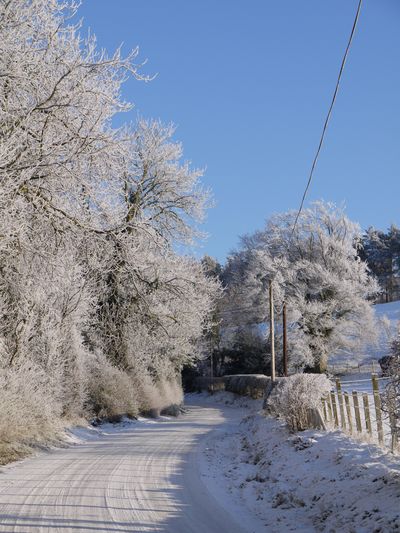 But at least we could head back home and warm up after the walk, unlike these gorgeous girls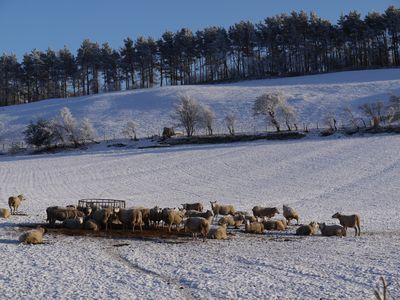 The church looked lovely in the sunshine - but I am keeping the photos for Shadow Shot Sunday!  We walked back down the hill, past the house, as there was a large fallen branch that Malcolm wanted to bring home to cut up for logs.  While he was dealing with the branch, I found more sheep!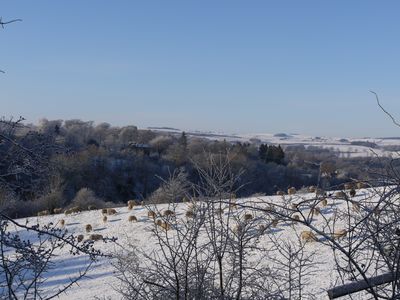 We had a detour on our way home from Hawick this morning, as Malcolm wanted to call in to Homebase.  I was quite happy with this, as it gave me the chance to take a photo of the view across the valley to our house
The camera did suggest that I altered the settings for the 'white balance', but that would have meant taking my gloves off, so there isn't a lot of contrast in the photo!