Oh dear, this is a very meagre report!  Regular readers know that I have been very busy all month doing a lot of quilting for my friend Margaret, Queen of Appliqué.  I'm not allowed to show you what I have been doing for her until after Abbey Quilters' exhibition, so you will have to wait until next month to see her wonderful quilts.  But I can show you this very simple piece of fmq that I did for her.  She had added two borders to this panel of rugby players, and appliqued the rugby balls.  The quilt is going to be auctioned tonight at a fund raising event organised by Margaret's son, to raise funds for the local Mountain Rescue Team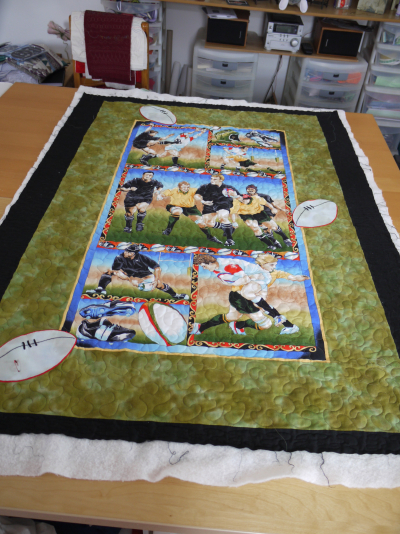 I used a large , loopy meander, so that your eye is drawn to the subject of the quilt, and not the quilting
all trimmed, ready for the binding.  I haven't seen the quilt since it was finished, as Margaret took it away to handstitch the binding on the back.  I hope it raises lots of money for such a good cause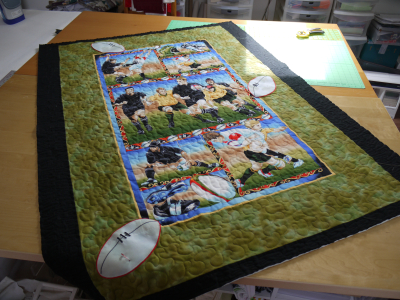 the only other thing that I have worked on this month (I have spent a fair amount of time working in the garden) is some knitting.  I bought three balls of this yarn in a sale ……. oh dear, probably ten years ago!
I am knitting a shawl - what else would you knit in the middle of a heatwave!  There are too many stitches on the circular needle to lay the whole thing out flat, but you can see that it is very basic.  When I get to the last few rows, I plan to add some beads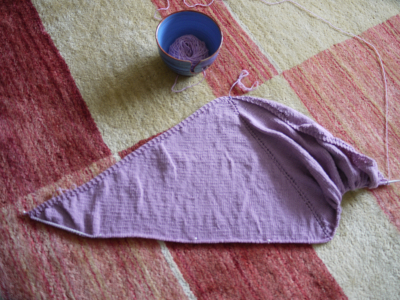 so that is my rather poor report.  To see what everyone else has achieved this month, pop over to Meredithe's blog, and as usual, after you have read her report, scroll down and click on the linky thing.