It's time for the next round up of progress on my 17 projects.  (remember to head over to Meredithe's blog to see what everyone else has achieved this month)No finishes this month, but lots of progress!  First up on the design wall, the William Morris hexie wallhanging
I auditioned red and black for the border, deciding on the black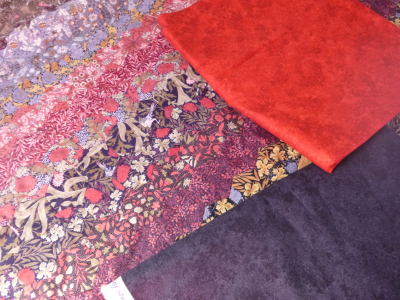 but before I could applique the hexie centre to the borders, I had to remove the papers.  This was a bit of a bind, as I had prepped the hexies quite a few years ago, before I saw the method of only stitching the fabric at the corners, not stitching through the fabric and the papers.  So there was a lot of tedious unpicking to do before moving on to the next stage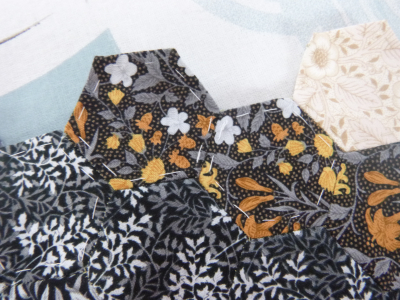 checking the distance from the edge of the hexies to the edge of the fabric, and folding in the corner to mitre it
the plan is to applique hexie flowers round the border, then randomly scatter single hexies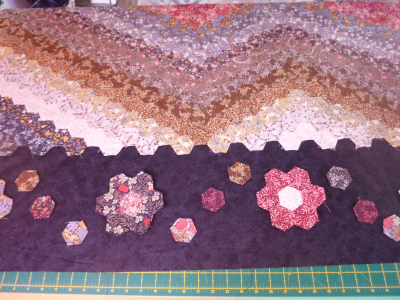 I've done a bit more since this photo was taken - most of the flowers are now stitched in place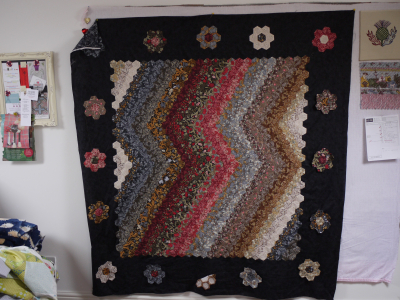 next, Mrs Billings ........ or should I say, Not Quite Mrs Billings!  I decided to give up struggling on with it, and got out the hexie pyramids which form the outer border.  I will add calico borders to the centre, then applique the hexie pyramids in place.  I feel much happier, now that I have a plan and the end is in sight.  I had been so looking forward to making it, but quickly discovered that drawing round templates, cutting out the pieces, marking the seam allowances then stitching the bits together by hand was just not for me - give me my rotary cutter and sewing machine any day!!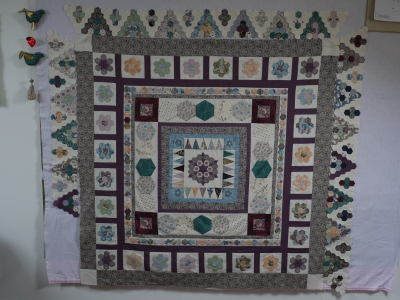 I was given these blocks when I left Greenpark Quilters, when we moved to Hawick (11 years ago!!).  I had pieced them together, started marking out a quilting design on the sashings ....... then ran out of steam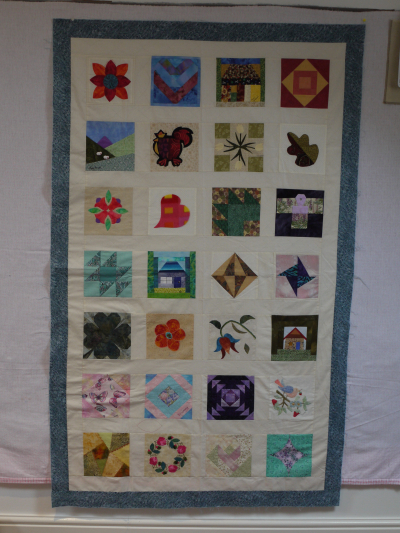 I couldn't fine the template I had made for the quilting design, so I had to make another one, and have finished the marking.  The next stage will be to layer it up, and then get on with the quilting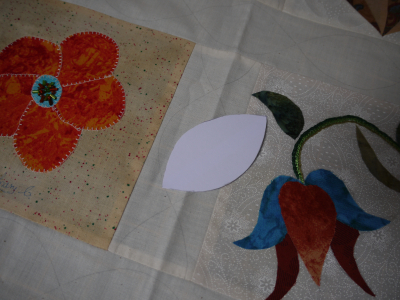 The Aunts' Quilt is so big that it trails on the floor, so I had to put a chair under it!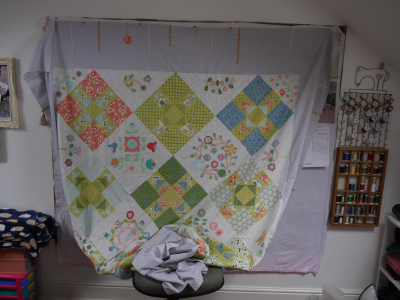 I prepped a lot of circles for the lollipop flowers and pinned them in place - a small job, but at least it is some more progress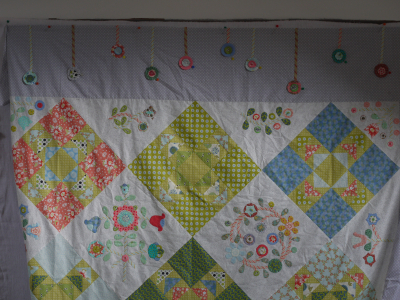 on to the gorgeous owl wallhanging, which my fellow "Squealer", the lovely Helen, gave me the last time we visited Melbourne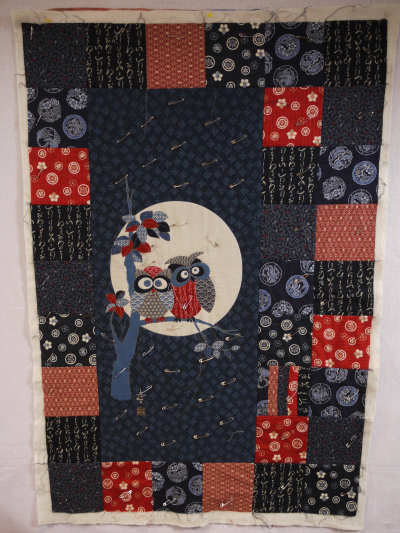 you can just about see the in-the-ditch machine quilting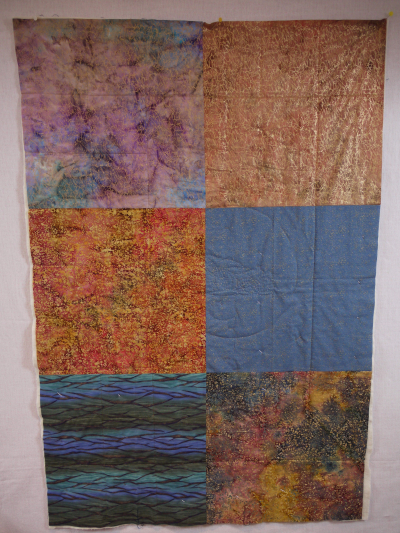 and I am now hand quilting with crochet cotton and big stitches - a favourite method of the "Squealers".  (why are they called "Squealers" ......... simple - they squeal with delight at seeing their friends, at seeing each others' projects ....... and of course the wonderful food they have when they get together!  When I first met them 5 years ago in Melbourne, they graciously made me an honorary member, and when we visited again two years later, they stole me away from Malcolm for 5 days to go on a retreat with them.)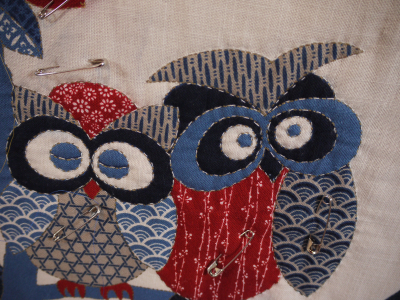 in other sewing news - I have prepped my latest 2 Potty McDotty blocks.  I am amazed that I have managed to keep up-to-date with the blocks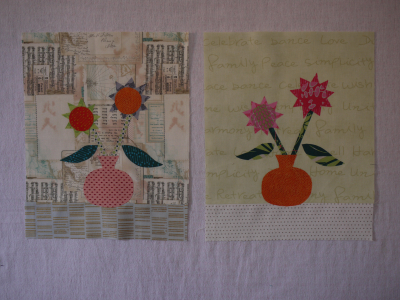 of course we have to have some foodie photos!  We didn't have breakfast this morning ....... instead we headed over to Longframlington mid-morning, to the Running Fox, for brunch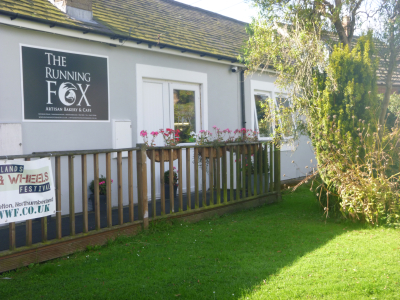 Malcolm had the "small" breakfast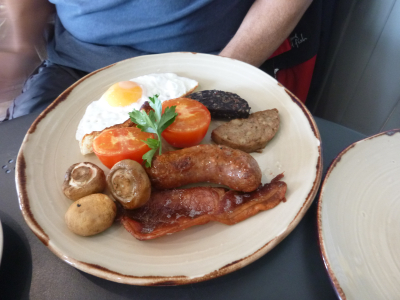 and I had eggy bread and sausages.  It was delicious!!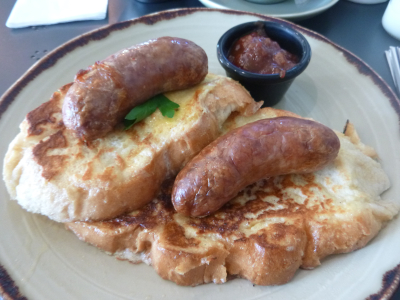 and now for the continuing celebrations ......... we are heading to South Wales tomorrow for a week's holiday, to celebrate Malcolm's birthday.  It is a special birthday, as after being "retired" for 12 years, he officially becomes a pensioner, having reach the age of 65!  My birthday is in October, and I don't care what it says on my birth certificate, I am really only 29, not the same age as Malcolm at all ....... and in defiance of the passing years, I have just had pink streaks put in my hair!!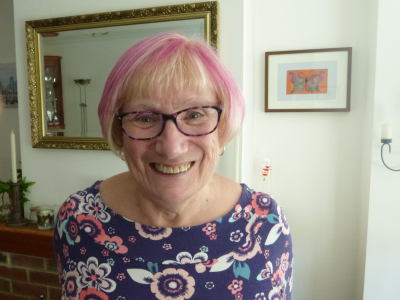 when we get back from Wales, I am going to resume my normal schedule of posting on Mondays, Wednesdays and Fridays ....... so do pop in on Monday 11th, to find out what we got up to in Wales!!