Oh dear, my best intentions to shed a few pounds keep getting thwarted!  First, it happened on Thursday, when we were heading up the A1 to Berwick.  Some miles north of Alnwick, just where the road becomes dual carriageway again, you pass this sign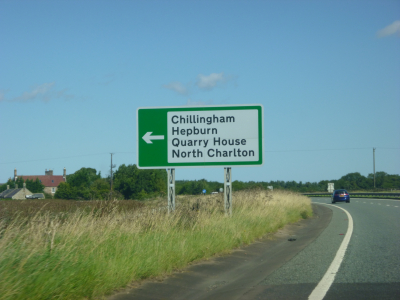 then a little bit further on you pass this sign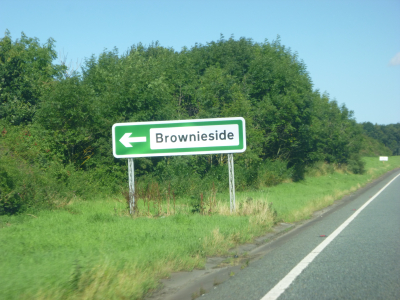 and having taken the next turn on the left, you can enjoy (half, we shared it)a delicious bacon sandwich for an early lunch (we were too early for the lunch menu) at Carnaby's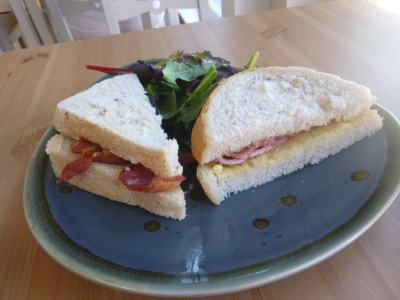 I've mentioned before that my rule of thumb for buying a bottle of wine is the appeal of the label ........ so of course I had to buy this one - a sparkling Italian wine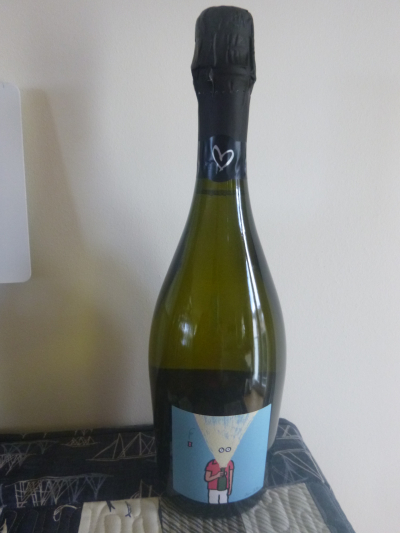 and this one - a pinot grigio to drink day or night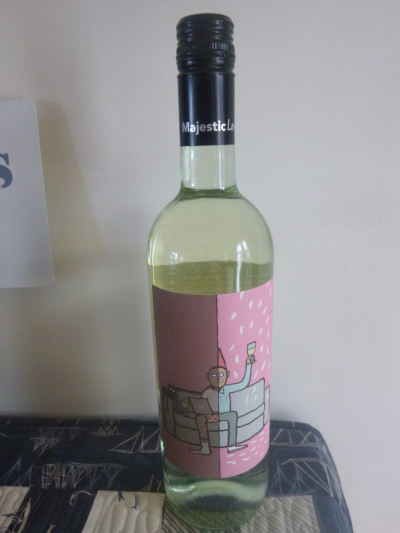 but I bought this one because we first drank it in our favourite restaurant in Pollensa, when we were on holiday in Majorca  (don't worry, we haven't drunk all of them, two of them are still in the wine rack!!)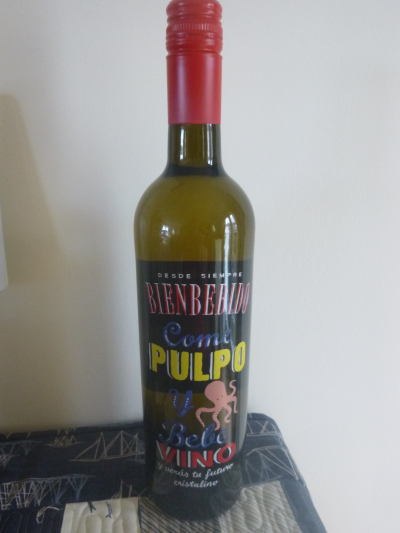 the big green machine had been moved on the dockside so that it was opposite the flat's front window ...... nicely placed for a photo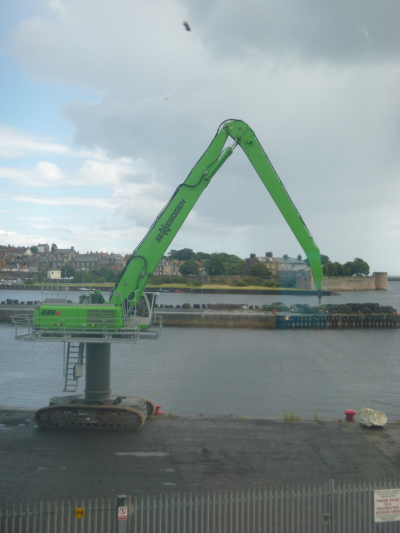 this is one of our favourite coffee shops in Berwick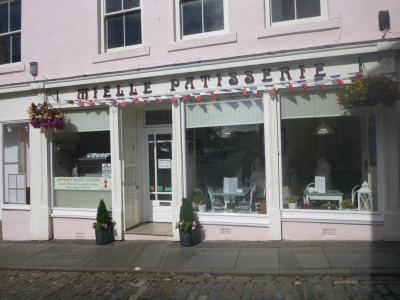 and we can recommend this Provence scone, rich with the flavours of sun dried tomato, feta cheese and olives ....... and the coffee shop scores extra points for giving us two plates, knives and napkins when we say we are sharing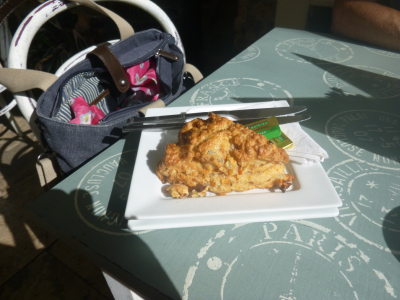 back home, Malcolm has been busy demolishing the top section of the deck, after he discovered that some of the boards and the frame underneath were rotten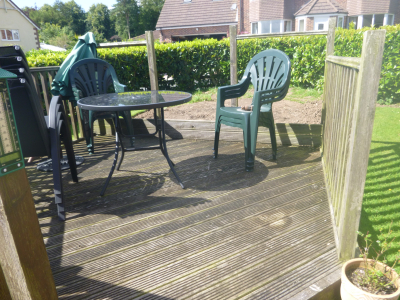 the plan is to turn this area into a gravel garden, with planters and seating round the edges
on Sunday we popped over to Warkworth for a stroll.  Malcolm spotted these two old chimneys, butted up against each other, on adjacent properties
walking along the river, we were surprised at how red the rowan berries are - we wouldn't normally see them so red until at least next month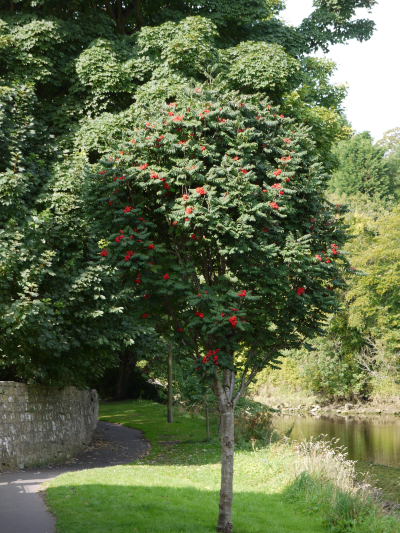 leaving the town behind, we walked down to the beach.  This is Coquet Island in the distance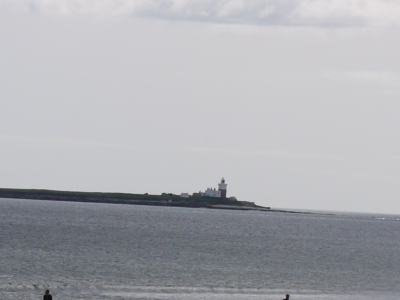 on our right we could see Amble
and on our left, Alnmouth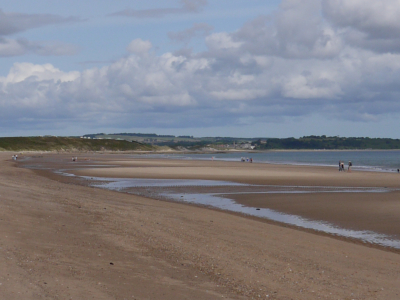 this dog had been sitting, waiting for his owner to call him.  Once he called to the dog, he started to run towards his owner, then stopped and posed handsomely for a photo.  His owner said he is a very vain dog!!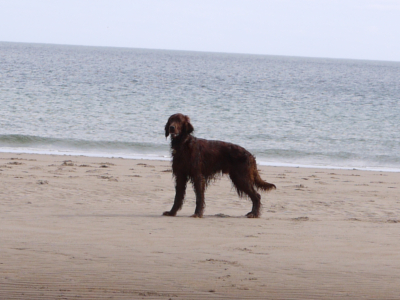 this big black lump on the sand is sea coal, either washed out of coal seams under the sea, or dropped overboard way back when Amble exported coal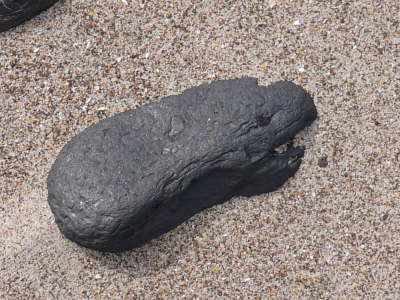 in contrast, this little crab has been bleached white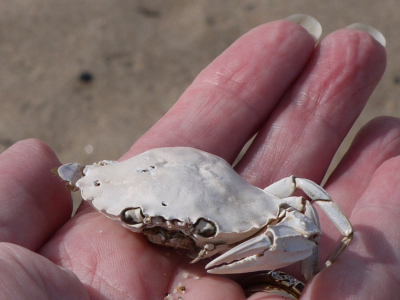 yesterday, Malcolm's sister, Jennifer, popped up from Morpeth for a visit, which of course meant we had to have a stroll along to Nelson's.  As it was a lovely afternoon, we sat out in the sunshine to have a cuppa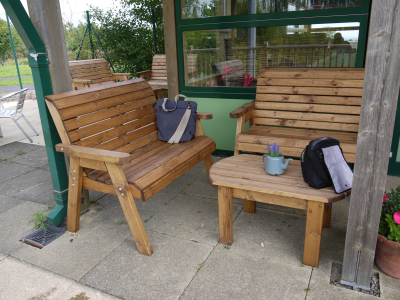 afterwards, we walked round to see these birds, which we were originally told were emus .......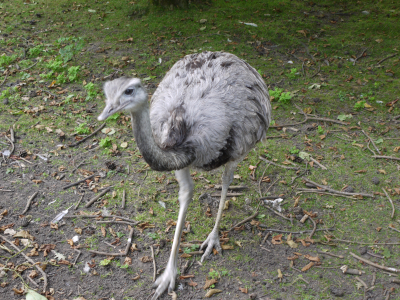 ..... but have subsequently been told are rheas
and to end, another scone.  I had a quick trip to Alnwick yesterday morning for some shopping, and popped into the Olive Branch for a cuppa and a scone (yes, for once I had a whole one all to myself).  It was described as a cheese and sun dried tomato scone, but had no real taste of the sun dried tomato.  When the waitress asked me if I had enjoyed the scone, I said that I was a bit disappointed at the lack of flavour.  She went through t the kitchen, and came back to say that they hadn't wanted to make the taste of sundried tomato too strong, in case people complained that it was stronger than the taste of the cheese ....... so in that case, why not just make some ordinary cheese scones for those who don't want the taste of sun dried tomato as well?