Meredithe and I are enjoying our UFO challenge, and we are delighted that so many of you have been inspired to join in - remember, you don't have to finish things, just make significant progress, so why don't you get busy working on that pile of UFOs!!  First up for this month's report, the Best Friends Forever hexie quilt.  Here it is hanging over the back of a chair in the flat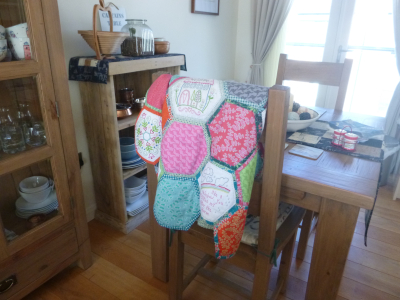 and then back home pinned on the design wall.  YES!!  It is finished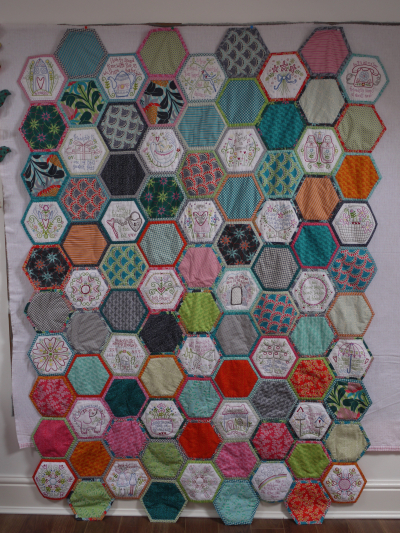 a little detail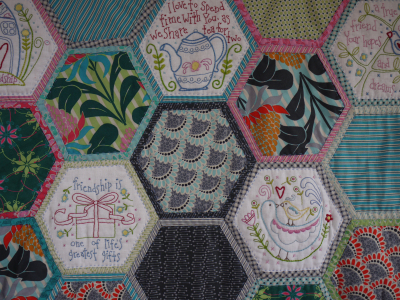 and the back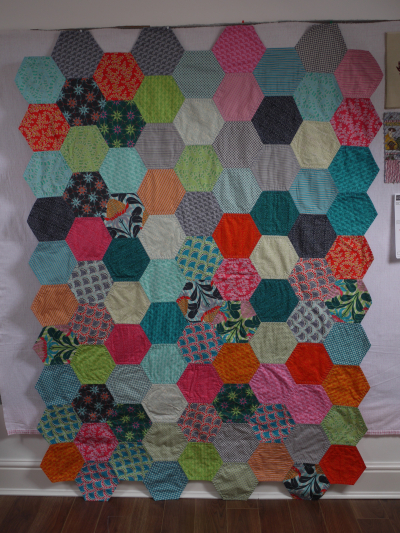 but that's a bit boring, so here it is on the guest bed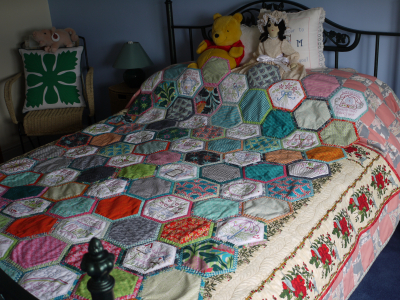 and of course that means Pooh and Jemima have to be in the photo!  There are now five quilts on the bed, but don't worry if you come to stay, I do take them off!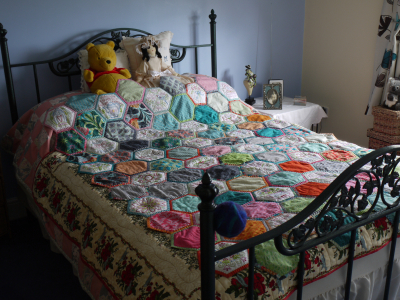 and what's this?  YES!!  Another finish!  The batik Baltimore bed runner is finished and on the bed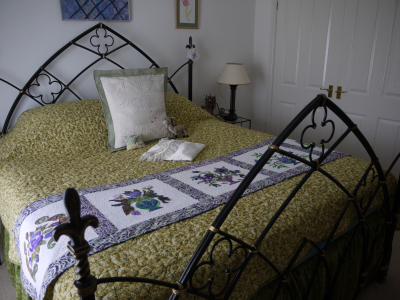 it was going to be a quilt, but I ran out of steam before I had stitched all the blocks, so decided to make a runner instead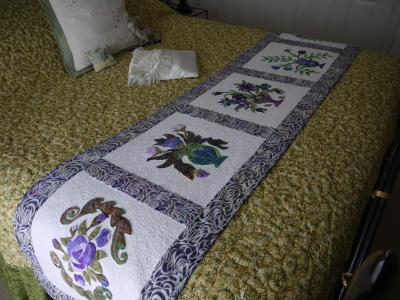 I love the colours, and the room looks brighter, as the batik bed-topper quilt which was previously on the bed was quite dark
because I haven't been blogging as often over the summer, you haven't seen the other quilts I have made, so I thought I would sneak them in at the end of my UFO report (I am sure Meredithe will let me off!).  I was having a bit of a tidy, and came across a piece of Star Wars fabric - I had been asked to make a quilt for someone, but then they changed their mind and I had put the fabric into my stash.  So a few weeks ago, when I found it, I made it up into a snuggly quilt
with this lovely sheepie fleece on the back.  The little boy I gave it to was delighted with it - I gather he even tried eating his dinner wrapped in it!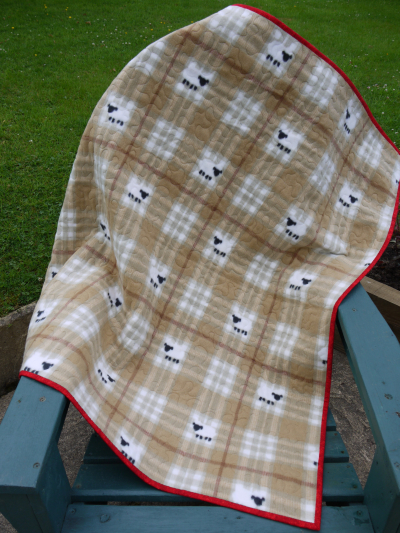 then I made this little baby quilt, which only takes four fat quarters, plus about 10cm for the binding .....
and on the back this snuggly new sheepie fleece which Sue has started selling in The Quilt Shop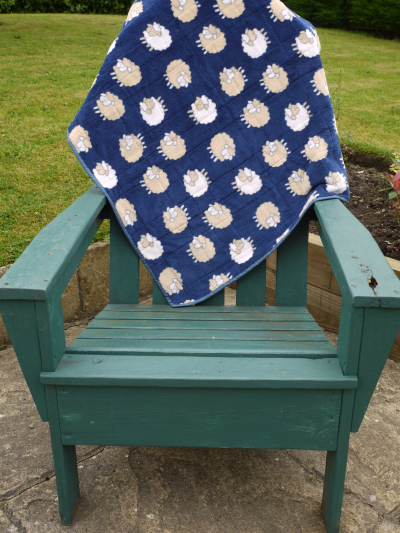 there was also some major non-quilt sewing ....... I made these smart new curtains for our bedroom.  They have blackout lining on the back, so we are no longer woken at 4.30 by the early morning sun streaming into the room!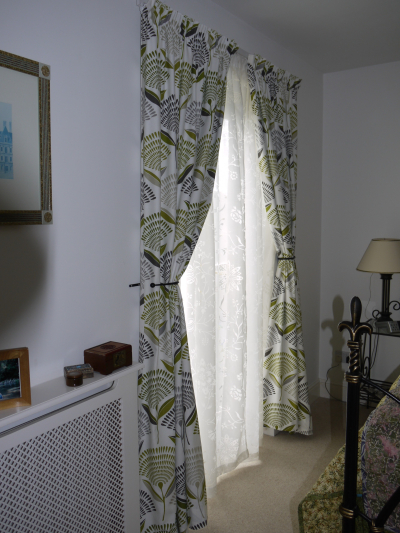 and finally, I know you won't believe it, but I agreed to turn this cat (yeugh) block into a small wallhanging for Margaret, the queen of appliqué, with the addition of these fabrics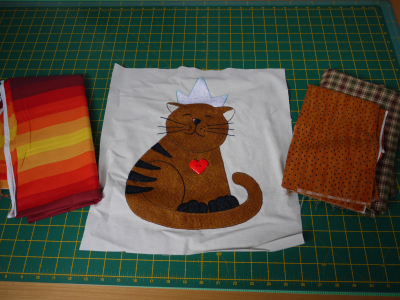 I added two borders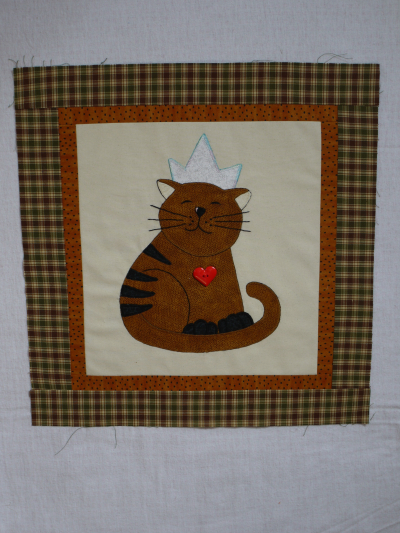 layered it up and quilted it, with the bright stripey fabric on the back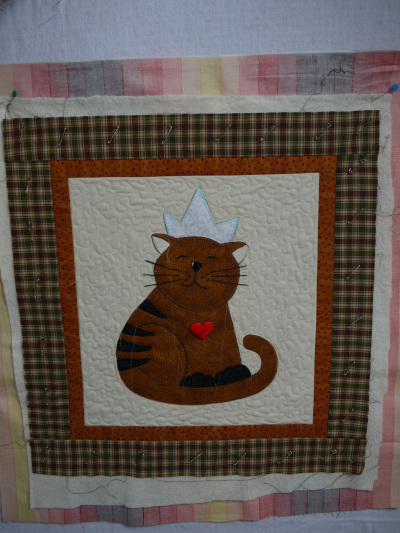 a detail of the quilting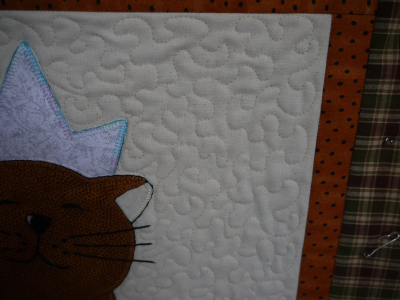 and the almost finished wallhanging - Margaret has some bling to add to it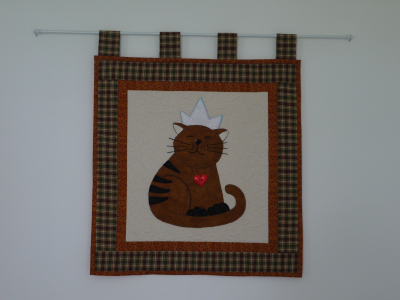 to see what the other participants in the 17 UFOs challenge have achieved this month, pop over to Meredithe's blog, and once you have admired her achievements, scroll down and click on  the linky thing.
We were out and about over the weekend, so do pop in again to see where we went ....... and there may be a scone to enjoy!!