I am still working away on my hexies, and now only have the eight on the right still to quilt
when I was at the Abbey Quilters' UFO day at the start of the month, I laid the hexies out to see how the finished quilt might look
it will take a bit of work to sort out the layout - you can see from this photo that I have two with the same fabric centres in one of the rows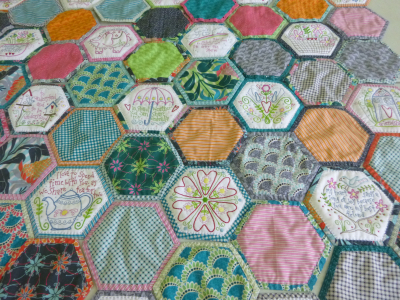 as that is the sum total of my progress this month (not very significant, is it?!), I am going to cheat and show you two things that I have been working on, but as they were both done this year, they don't count for the 17 in 2017 challenge.  First is the scarf that I knitted from the little kit that I bought on our last visit to Eyemouth.  It still has to be blocked, so I pinned it to the rug so that you can see how it will look!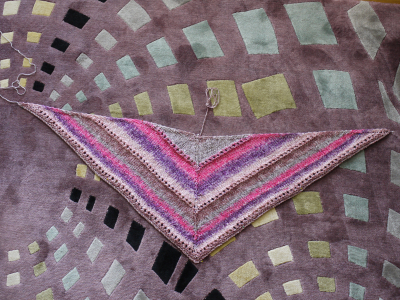 I like the soft colours.  It was a very quick and easy knit, and I may do another one, once we have moved and my stash comes out of storage!
on Saturday, I was at another Abbey Quilters' event.  This one was a crewel embroidery workshop with Susie Finlayson, a wonderful embroiderer who lives in Hawick.  She worked on the  Great Tapestry 0fScotland, and had given the group a talk on the tapestry some months ago.  We asked her to come back and do a Saturday workshop with us.  We all got a kit to stitch a thistle. I enjoyed the day, and I know I have a frame that is the right size for the thistle - but again that will have to wait until we move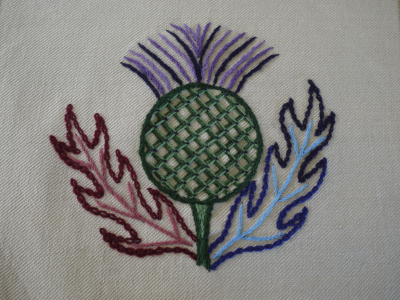 so that's my rather short report of February's progress!  Do head over to Meredithe's blog, where you can see not only her report, but if you scroll down to the foot of her report, you can click on the link to see what the other participants have achieved.