Hello my lovely Peeps ...... thank you all so much for your good wishes for my recovery from the very nasty bout of flu - and a special thank you to Dawn, who sent me a lovely get well card.  Three weeks on I still haven't fully got over it!  But the good news is that our house is sold, and as from yesterday we are living in our little flat in Berwick, until we can move into out new home.  So I will be able to go for long walks on the beach to get fit again.
Unfortunately, being laid low by the horrid flu has meant that I didn't do an awful lot of work on my UFOs ........ although I am sure Meredithe will let me off with a "do better next month" warning!!  I had made a good start on substantially progressing my BFF hexies, and slowly but surely reduced this pile .........
...... first pressing and pinning the borders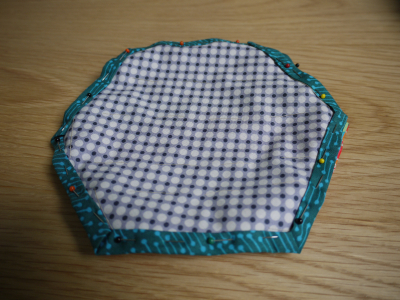 then securing them with big stitch quilting (which presents a challenge, as my stitches keep getting smaller!)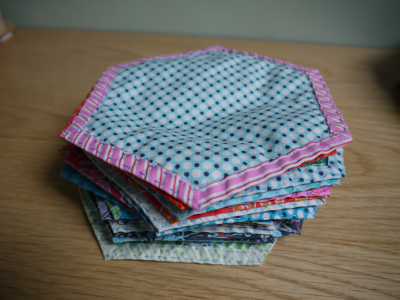 I am really looking forward to finishing the plain hexies, so that I can stitch them together with the stitcheries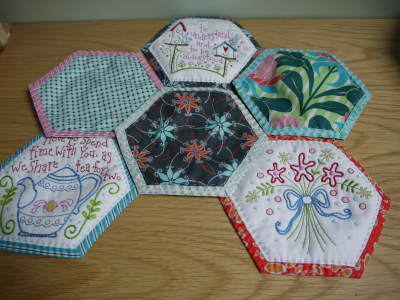 I have also been working on my William Morris hexie wallhanging when we have been at the flat.  Having decided the wallhanging was big enough, I started stitched hexie flowers.  I brought it all home to pin it on the design wall.   I have decided that I will add borders, although I haven't yet decided on the colour for the borders, then I will applique the hexie flowers in place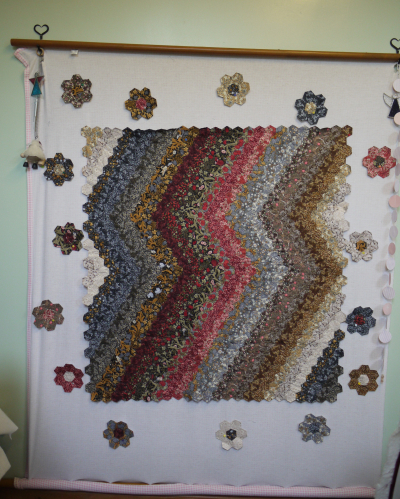 I still have hexies left, so I will add them as stepping stones between the flowers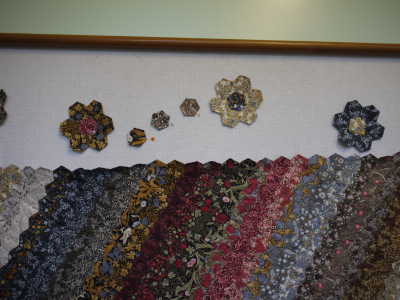 I did also cut out lots of circles for the outer border of The Aunts' Quilt, but, I have to admit, I forget to take a photo (oops).  
So that is my first progress report of reasonable substantial progress on some of my UFOs ...... some of my nominated projects won't be worked on until we are in our new house, as most of my sewing stuff has gone into storage, including my sewing machines.  It was a bit upsetting seeing them being loaded on to the removal lorry yesterday - I did ask the nice young men to take good care of them, and they assured me they would be careful not to damage them!  (they were probably thinking, silly old woman, getting upset at being parted from sewing machines for a few weeks!!)
Do pop over to Meredithe's blog (click on the link above) to see who has joined in this month ........ and remember, you too can join in, and have fun making progress on neglected UFOs!!