I recently had an email asking me if I would like a review copy of this book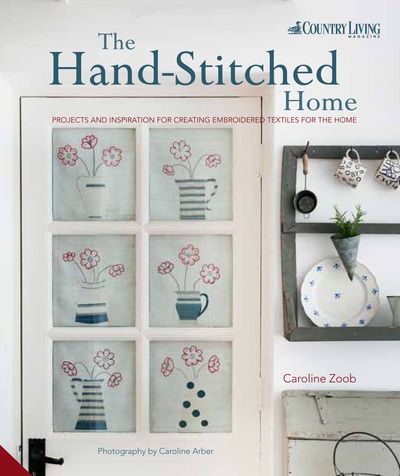 (photo suppled by the publisher)
being cautious, I replied asking for more information about Jessica, the sender of the email, and the comany that she works for.  I received a prompt reply from Jessica, telling me that she is the Marketing Manager of Jacqui Small.  I had a look at the website, and seeing that it was a genuine company and not someone trying to get personal info from me, I decided to go ahead.  When I browsed through the website, I spotted that they also published a quilting book, so I asked if I could possibly have a copy of that to review too.  The books were dispatched promptly, and as soon as I took them out of the package and had a quick look through them, I thought .... yum, yum!!  Jessica gave me permission to take some photos to use in the reviews (remember, you can click on the photos to enlarge them), so this afternoon I headed out to the garden
Caroline Zoob, the author of The Hand-Stitched Home has had a rather varied career, training as an opera singer, before qualifying as a solicitor.  She now works as an embroiderer and designer of china and textiles.    She hopes to inspire people who want to sew, and I think the book will certainly do that.  There are projects to appeal to all tastes and budgets, and it was hard to choose which ones to share with you, but of course this one, with the fluffiest of sheep, went straight on to my to-do list!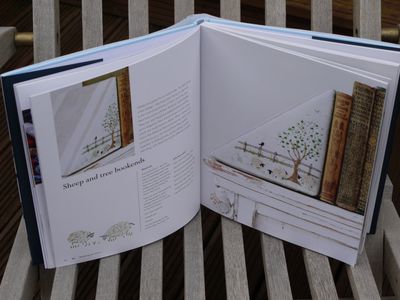 There are large projects like this throw which has been embroidered with delicate flowers.  This would be a good project to work on over the winter, as you could snuggle under the throw as you stitched!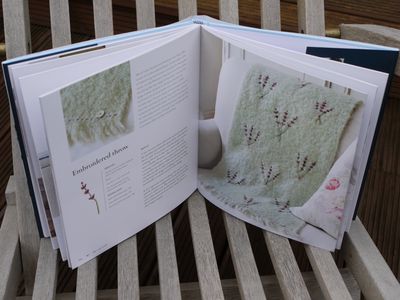 Then there are tiny projects, such as using scraps of embroidered fabric to make buttons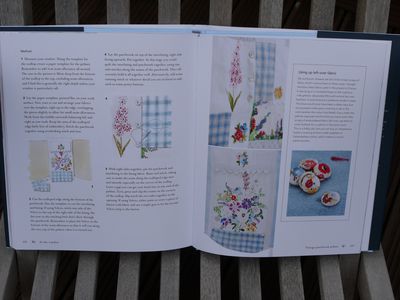 At the back of the book, there are clear instructions for the embroidery stitches, and templates for all the designs.  There is also a list of suppliers, which is very good, if, like me, you live in the country and don't have ready access to vintage fabrics.
Even if you don't sew, this would be a lovely book just to dip in and out of, for inspiration for accessories for a stylish home.  If you do sew, this is definitely one for your wish list ....... and at the end of the post I have a special offer for you!
Cassandra Ellis, the author of Quilt Love, is a designer and maker of quilts and homewares, and also teaches.  This is her first book, and what a delightful book it is.  There is a wide variety of projects, ranging from a simple pet blanket to full-sized quilts.  Again it was hard to choose which projects to share with you, but this is my favourite ....... I have already been looking out blue fabrics from my stash!
Cassandra says this would be a good project to do with friends, possibly while enjoying a drink, but I think it would also be a good one to do with children, making quirky friendship bracelets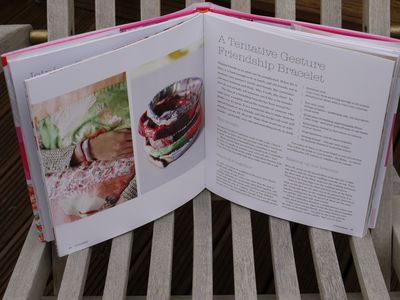 We quilters do like our bags, and this one is very stylish.  And even better, it is reversible!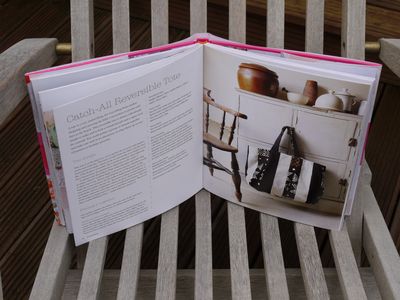 Each project has clear, well written instructions and easy to follow diagrams.  At the back of the book there is an excellent how-to section, a comprehensive list of suppliers and photos of all the quilts.
I have enjoyed reading both books and am looking forward to making some of the projects, and am more than happy to recommend them, either for you to give as presents, ot to buy as a treat.  And to encourage you, Jessica has arranged for my readers to enjoy a very generous discount on The Hand-Stitched Home ......
To order The Hand-Stitched Home at the discounted price of £16.00 including p&p*, telephone 01903 828503 and quote offer code JS221. Or send a cheque made payable to: Littlehampton Book Services Mail Order Department, Littlehampton Book Services, PO Box 4264, Worthing, West Sussex BN13 3TG. Please quote the offer code JS221 and include your name and address details. *UK ONLY - Please add £2.50 if ordering from overseas.