It's hard to believe that it is 25 years since we got married - the years have just flown by!  We were living in Hampshire at the time, and instead of weather like today's, which is a bit chilly, we had a beautiful sunny day.  Stuart was seven (it was second time around for both of us), and I am sure he would have preferred for us to wait a few weeks, so that he could then have had a day off school!  Looking back at the photos, I was amazed to say how blond Stuart was, and how dark Malcolm and I were (although mine had a little help!).  Now I'm blond, Malcolm is silver and Stuart is very dark!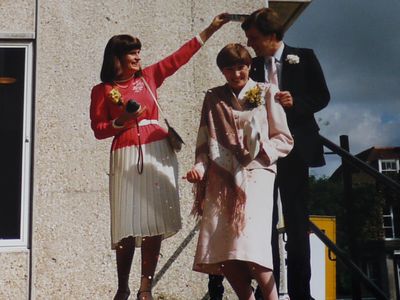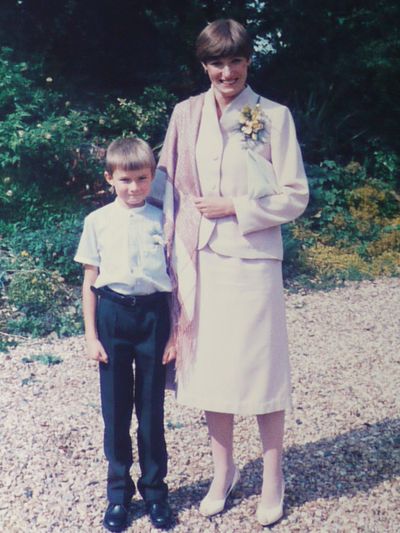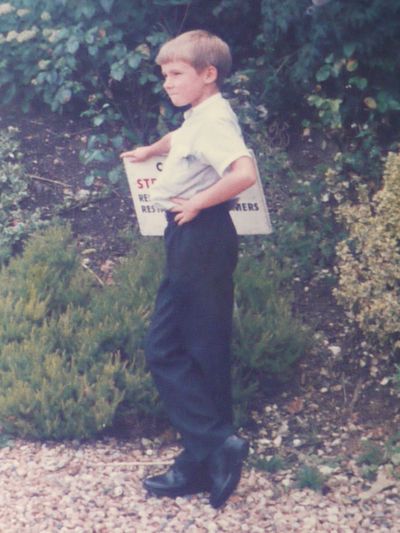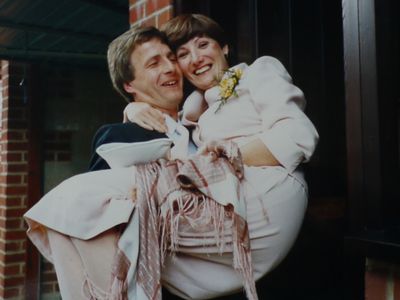 I don't think Malcolm would attempt this now!!
On Saturday, we went up to Falkirk to go out for dinner with Stuart and Alison.  Just before we went to get changed to go out, Stuart opened a bottle of fizz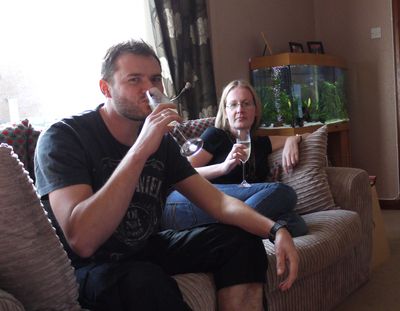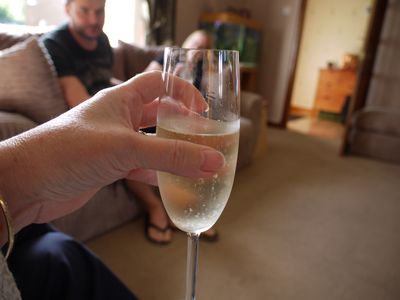 and cheers from me too!
I just remembered at the last minute before we went out that I had to have my photo taken with my new dress on, so Stuart took this hasty photo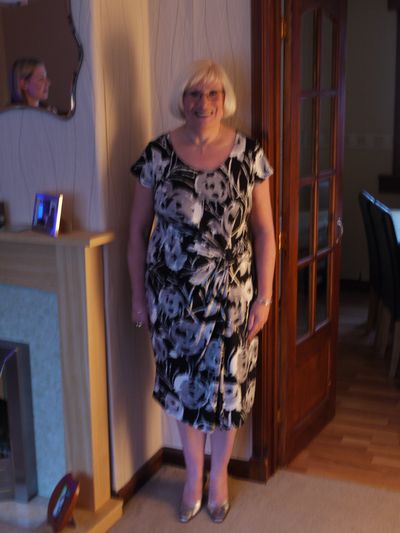 We went to Casa Espanola (I would have put in a link to their website, but it is somewhat out of date).  Sorry there is no photo of the outside of the restaurant, but it was absolutely pouring down, and we had a mad dash from the taxi to the door!  We were a little bit early, so had a drink in the bar, which of course has a Spanish theme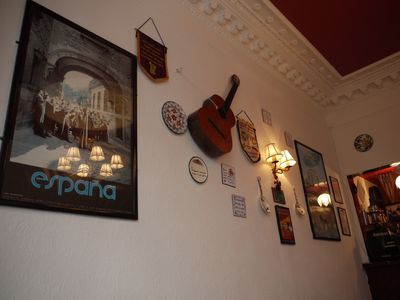 The food was fabulous, but it would take so long to show you all of it, I will just share my meal ...... calamares, venison and lemon meringue pie!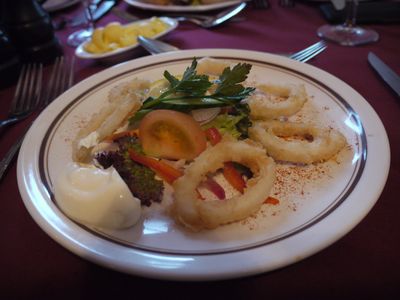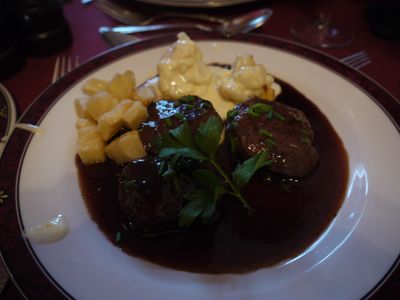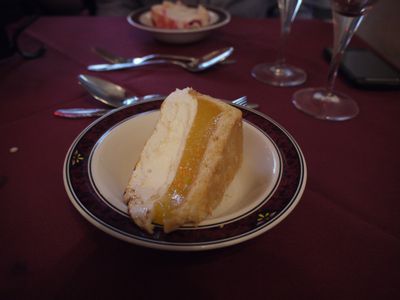 I still had the bill for the meal we had after our wedding, so I got it out to compare with Saturday's bill ....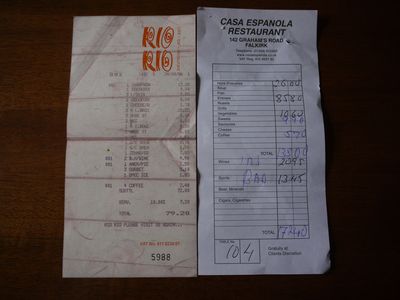 We then went for a drink in La Banca (the building used to house a bank!), where we shared a very nice bottle of the house red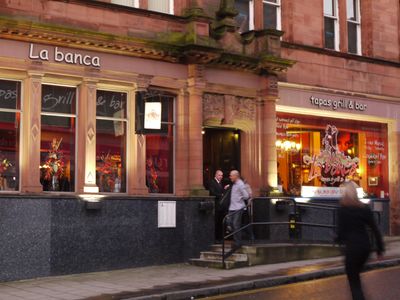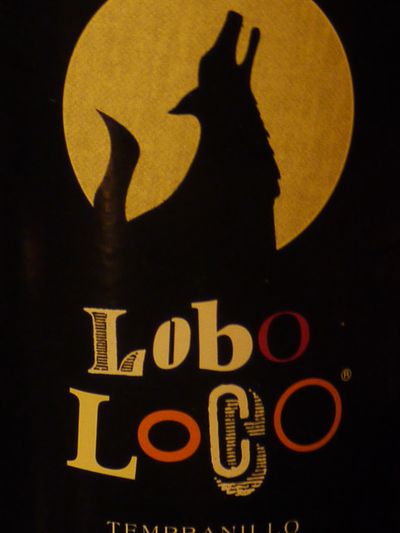 Stuart and Alison gave us two lovely presents ...... a very striking glass hotplate and gorgeous unusual crystal glasses (which are full of fizz at the moment!!)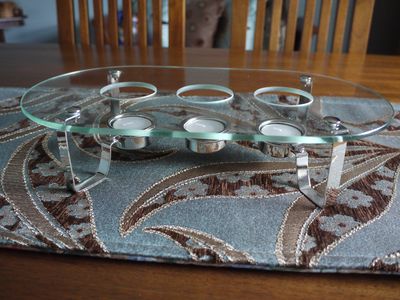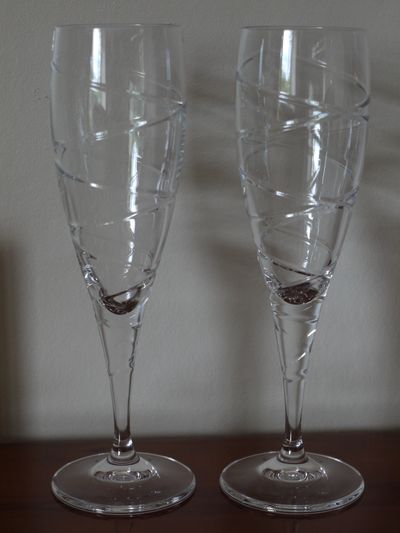 We have had a lovely day today, with our cards on the mantelpiece ......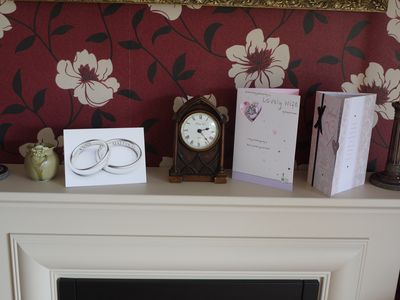 ........ and lunch out - sorry didn't take photos, but it was wonderful lentil and bacon soup, then when we were lazing about this afternoon, I realised that we hadn't had a photo taken together ...... so I quickly set up the camera on a pile of books on the coffee table, set the timer, and threw myself onto the sofa beside Malcolm (where did those double chins come from!!)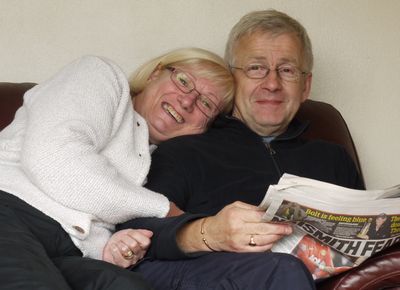 To end ...... please tell me how my gorgeous little blond boy of 25 years ago turned into this joker??!!