Some time ago, I had a post called easy peasy tutorial - it didn't attract a lot of interest at the time, so you can imagine my surprise, when in the last few weeks it kept showing up in my stats.  A little bit of investigation has revealed that the tutorial is listed on this blog, which comes from Buenos Aires, Argentina!!  I have no idea how I ended up on the blog (I don't mind!!) - so I have e-mailed the writer of the blog to ask how she found out about me - I'll let you know if I get a reply!
Today had been another miserable day, grey, wet and increasingly windy, so this afternoon I was quite glad to retreat to the studio, especially as the Malcolm had lit the log burner for me!  Last night I finished the tea cosy - here it is sitting on the teapot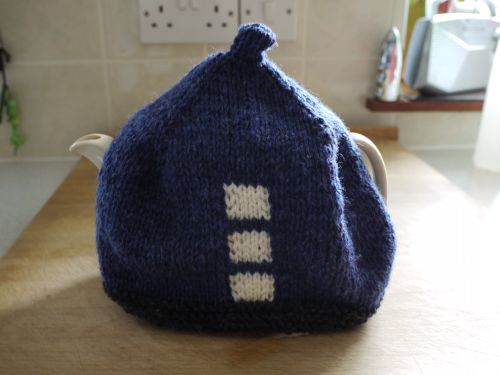 As you can see, it is a little bit big, so I decided to felt it - I put it in a bowl of hot soapy water, then gave it a good pummelling (for once ignoring the rule about only squeezing handknits!)  I also washed (but not in hot water!) the baby hat and socks that I knitted recently (the baby is due next week).  I took them all out to the studio to dry in the heat of the stove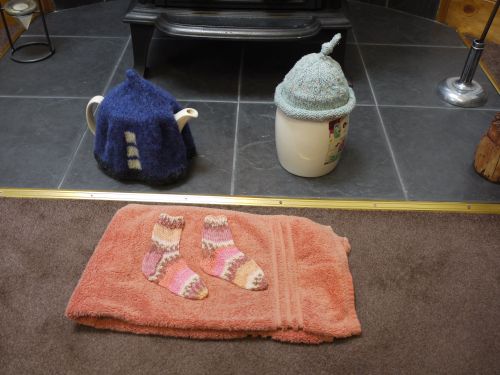 Oh dear,  Typepad had thrown one of its periodic hissy fits and won't put in the photo - but I think (I hope) if you click on the red cross you will see the photo!  If you can't see it, it shows the tea cosy, the socks and the hat warming themselves in front of the stove - the best place to be on a miserable afternoon!  The tea cosy still isn't quite the right shape/size, so once it's dry, I will use a bit of needle felting to tweak it into shape!!
Malcolm made the dinner tonight and I wondered why he was shouting at me to bring the camera, when he was dishing up .... well this is why - he was so delighted with how his fish pie had turned out!!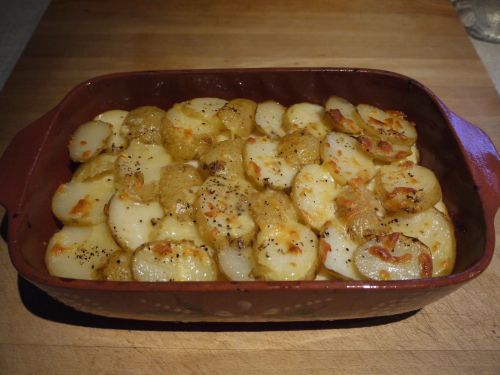 mmmmm - it was delicious, and the sliced potato was a nice change from mashed potato on the top!!  And on the subject of food - of course there is a photo of yesterday's cake - the patch and chatters think it's hilarious that Annette's cakes have a fan club!!  So here it is - a yummy peach flan with cream .....