I could just recycle a previous post about taking Malcolm's Dad to Newbiggin-by-the-sea (we took him there today for lunch) - but instead I took some photos to show we really were beside the sea!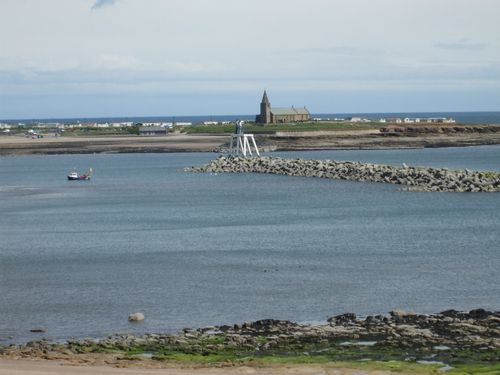 You can just make out 'The Couple' on the platform beside the new breakwater, which was put in to try to prevent further coastal erosion.  The church on the headland wasn't quite so close to the edge when it was built.  Behind the church, you can just make out a caravan park - Malcolm and his family went there for a holiday one summer when he was little - it's about 5 miles from where they lived.  He never dreamed then that in years to come he would travel round the world!!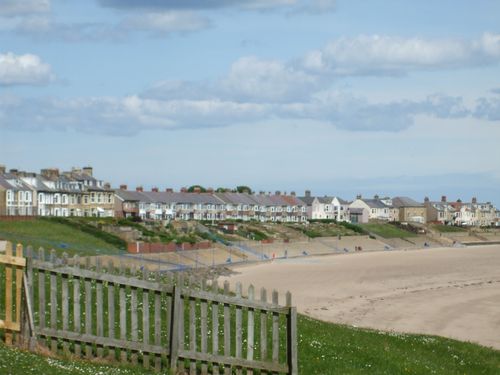 After the breakwater was built, lots of extra sand was added to the beach - before it would have been gradually washed away by the tide.
I know we need to find new sources of electricity, but I'm sorry, I just think these things are a BLOT on the landscape.
It's half term In England this week - so where are all the children - they certainly weren't in this play park.  Probably all at home in front of the tv or playing computer games!
This next photo needs a 'cute' warning .....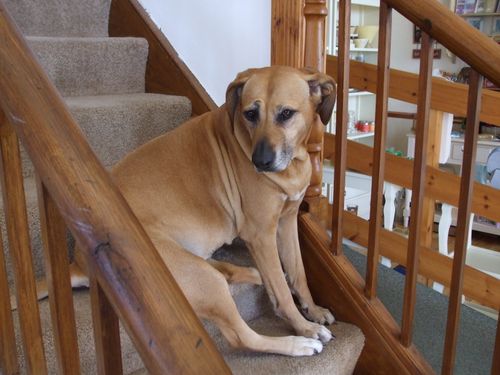 isn't she just adorable.  She lives in the upstairs part of the cafe where we had lunch - someone had left a door open and she had crept down the stairs.  I swear as soon as she saw the camera, she adopted this 'I'm just a poor abandoned dog' look!
Can you contain your excitement - it's the next part of the great 100th post giveaway - remember, just  leave a comment to be entered in the draw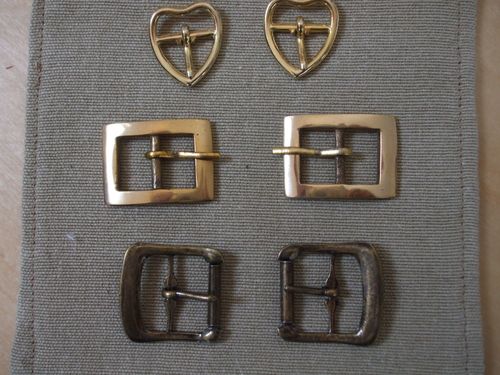 Today it's a collection of little buckles - I love the heart-shaped ones at the top.
On the acupuncture front - the sore jaw is about the same (with the addition of a lovely little bruise beside my  ear!), but I had the best night's sleep I've had in weeks.  And if I can do it, anyone can - it really doesn't hurt - unlike injections when the doctor/nurse says you'll just feel a slight scratch - no, I will feel a needle being stuck in my tender flesh!!