When we got back from Majorca, amongst the great pile of post I spotted two envelopes with foreign stamps.  The first one I opened was from Meredithe, and contained this fabulous button.  I think I will make a blue and yellow bag to put it on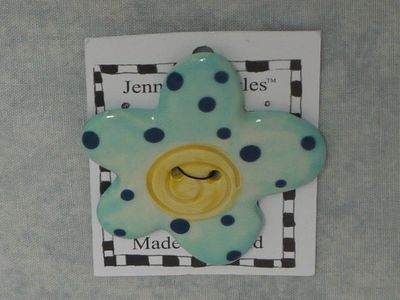 the next one was from Tracy, who had been having a major clearout/reorganisation of her craft room.  She had made up wonderful charm packs with some of her stash, and had sent them to friends.  I already had a project in mind for a charm pack, so now I can get busy with it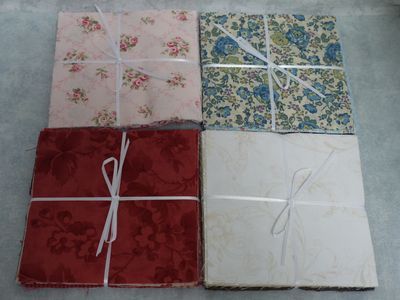 when I was in Melbourne last year, I spent a wonderful day at Meredithe's, meeting lots of her lovely quilty friends (it was slightly strange, as they "knew" me from the blog!).  I have kept in touch with some of them, and last week had an email from Glenda (no blog), telling me to keep an eye out for the post.  On Wednesday, this box arrived covered in Australian stamps, so I knew it was from Glenda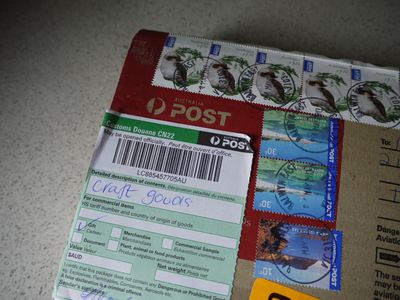 when I opened the box, I was jumping up and down and squealing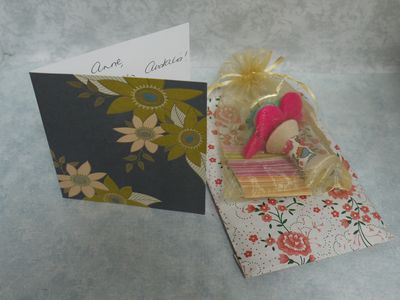 some time ago, Meredithe had posted a photo of Glenda's pin cushion which I had admired, so she had sent me one, along with a tiny needlecase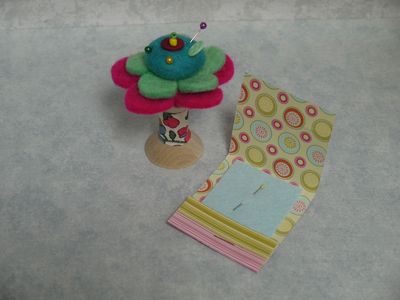 the pin cushion is mounted on a golf tee, so that it can sit on top of your spool of thread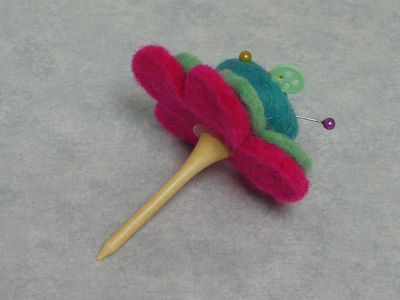 then Meredithe posted photos of a macaroon case, which Glenda had made at a workshop ....... you can find the photos if you scroll down through this post.  I had left a comment saying how much I liked the little case ...... and Glenda sent me a kit and the pattern!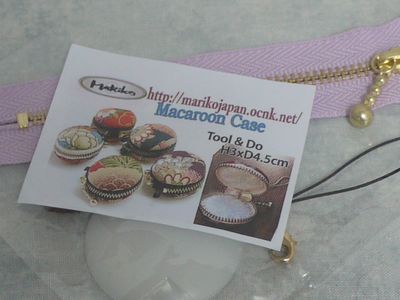 as soon as I saw the kit, I knew which fabrics I would pull from my stash!  These are little bits of Japanese kimono fabrics ......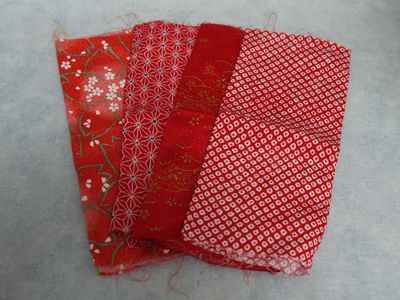 ....... which I was given by one of the charming Japanese young women whom I taught to quilt in Indonesia.  There were also an American (who isn't in the photo, though her daugher is!), an English woman, a German and a Fillipina (the one with the baby).  I have to admit that is me with the silver hair.  I think that is the last time that my hair was its natural colour - I have been blonde since then!!  We made a four block sampler quilt ..... I don't have mine, as I raffled it to raise money to pay for longterm contraceptive implants for poor women!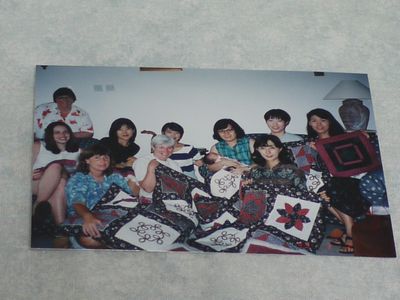 thank you very much to my lovely friends for such wonderful, thoughtful presents!!
I was squealing again this afternoon, when Kay arrived at patch'n'chat with my strippy scrappy (or is it scrappy strippy) quilt.  Although I still have to do the binding, it is already on the bed!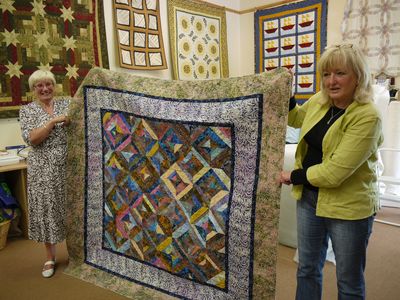 the Friday cake was supplied by Katy ...... it was her grandson's first birthday yesterday, and she had baked two birthday cakes for his party.  Only one was eaten, so she brought the other one for our afternoon cuppa (and as there was some left, she gave me a slice for Malcolm!)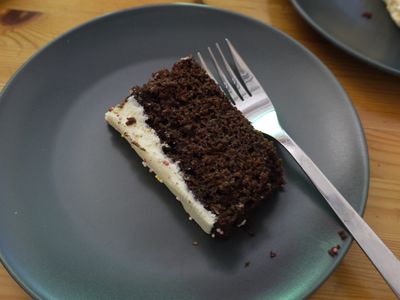 I have several things to work on over the weekend, including my challenge for Abbey Quilters, which has to be ready for the 11th (oops!).  It has been a  lovely day, so hopefully the weather will be good over the weekend, and we will have our Sunday walk.  I hope you have a wonderful weekend, and I'll finish with a photo of apple blossom in the hedgerow, which I took this morning when I went out for an early walk.  Love, Anne