as we got all excited today about going to ........ a different supermarket!!  Not only a different shop, but one in a another country (ok, England is only thirteen miles away!!).  As we approached the border (on the side road, before we joined the main road), there weren't any cars behind us, so Malcolm stopped the car, I opened the window, and took some quick photos of the hazy hills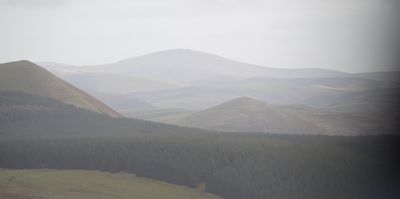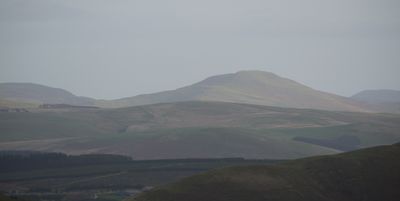 Further down the road, the sky grew more dramatic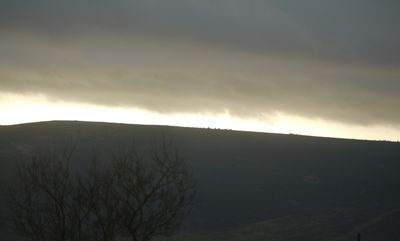 You are not supposed to shop on an empty stomach, so we thought it advisable to stop and have an early lunch .......simple, but delicious, poached eggs on toast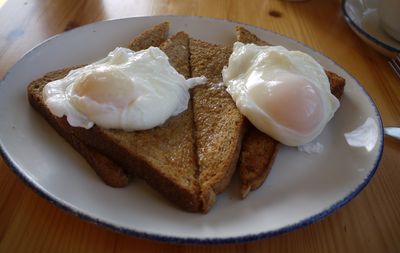 I love this blue and white china
So why the excitement over the supermarket trip ....... because it was to Waitrose, which are few and far between here.  It is a very posh supermarket, and we oohed and aahed over the wonderful choice (well, you know how much we love our food!)  We bought something special for tomorrow's dinner - I will have to remember to take photos before we eat it all!  Of course we didn't just go all that way to do a bit of supermarket shopping.  We also had a wander round the nearby garden centre, then called in at Kirkharle, to browse round the wonderful craft shops.  We bought a Christmas present that I can't tell you about, and after I remarked that I really liked some necklaces, Malcolm bought one for my Christmas - but I will have to wait to see which one he got!
Back home, I popped out to the studio to start on a new project.  I decided that instead of continuing with fmq samples, I would find something among my UFOs to quilt.  I found this ....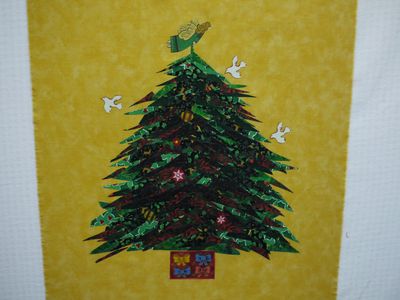 ...... and this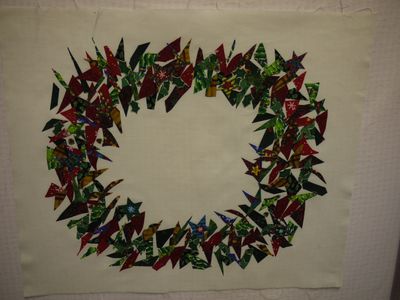 I have to admit that these are ten years old!  I did them at a workshop with Cindy Walter.  It was the first workshop that I ever did at Houston - but I nearly didn't get to do it ........ first, the friend I was going with pulled out of our trip at the last minute, my flight to Paris was delayed by fog and I missed my connecting flight to Houston.  Having managed to get another flight - I got to Houston, but my luggage stayed in Paris for two days.  So of course, I didn't have my stuff for the workshop.  However when I explained to Cindy what had happened, she organised everyone to give me bits of fabric, gave me some of her steam-a-seam  and let me use her scissors.  The pieces were made by putting steam-a-seam on a selction of fabrics, then cutting them up in to little bits (remembering to take the backing paper off first!)  Then we arranged the little bits into the wreath and the tree and pressed them into place.  Simple but fun.
I have layered the tree ready to quilt, using lots of pins round the tree, as it was too much of a struggle to pin through it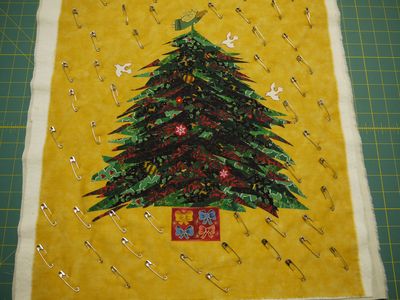 The final thing I did was decide which thread to use.  Much as I love veariegated thread, I knew that it would be lost among all the busy fabrics, so I got out this set of threads with strong clear colours.