On the 1st and 3rd Tuesdays of the month, I go to knit'n'natter ........ but this month there is an extra Wednesday, so today we decided to have a fun day out!  We headed over the border to the town of Wooler - Malcolm had been there recently and had come back with tales of lovely shops and good food ...... and today we had the bonus of good weather!!
This shop looked so pretty, I immediately had to stop and take a photo ......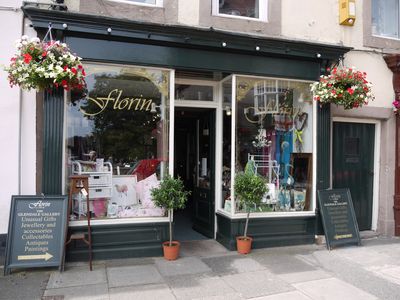 ....... when we crossed the road and went in to the shop, the interior more than matched the exterior, with all sorts of goodies.  We bought each other a present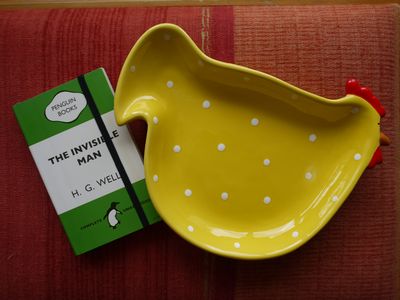 I think you know us well enough to suppose that the chicken was for Malcolm and the notebook for me ........ wrong!!  Malcolm bought the chicken to add to my collection of quirky plates and I bought the notebook for him to write down and draw plans for future projects.
The next shop to catch my eye was this one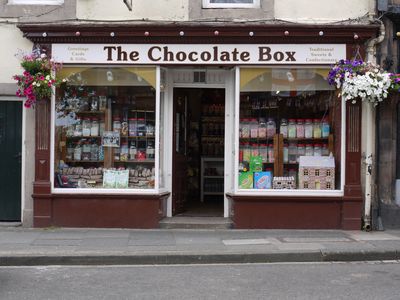 We managed to resist going in - or I might have bought lots and lots of chocolate (I just keep saying 'a moment on the lips, a lifetime on the hips'!!) ........ but what I wanted most was this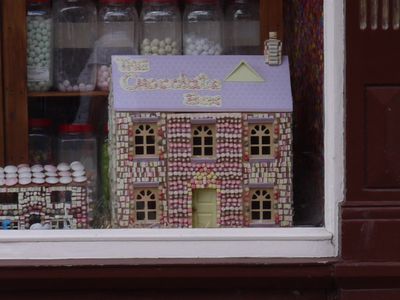 Next was the antique shop - where not just the stock, but the dust covering a lot of it was extremely old!  Never mind, we had a good rake .......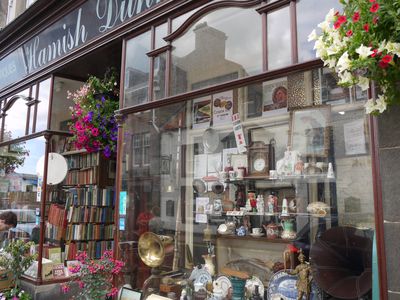 ......... and as always I ended up at the bookshelves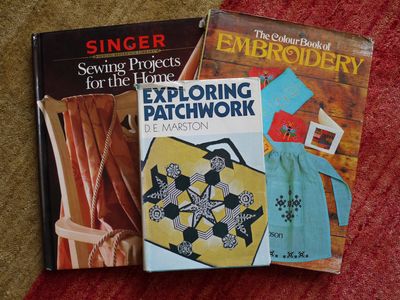 I've been neglecting my collection of pillar boxes recently, so I was pleased to see this lovely old one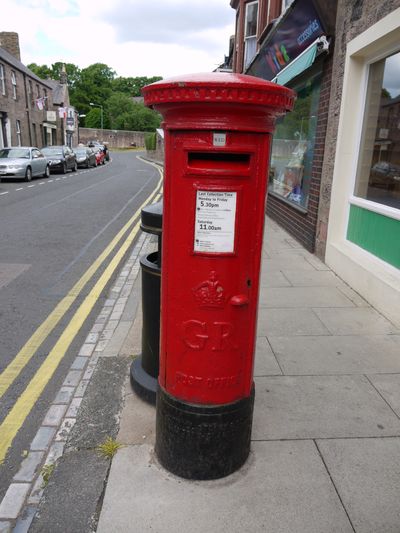 By now it was lunchtime, and Malcolm recommended this place, as he had enjoyed an excellent scone and coffee on his previous visit
The food was wonderful!!  I had a coronation chicken baguette, which was beautifully presented with salad, coleslaw and root vegetable crisps
Malcolm had a ham and mustard baguette, similarly presented ....... the mustard was in a little dish, so he could decide how much he wanted to have.
After lunch, I noticed this shop - do you think the signwriter needs his eyes tested?
There is no football today, but Malcolm is rapidly developing a blister, as (typical man in charge of the remote) he has to keep changing channels between tennis (Andy Murray is playing) and cricket (England v Australia in the 4th ODI)!!