Hello everyone!  It's great to be back after my festive season break from blogging!  We had a very chilly walk on the beach yesterday, and Malcolm wrote this message in the sand for you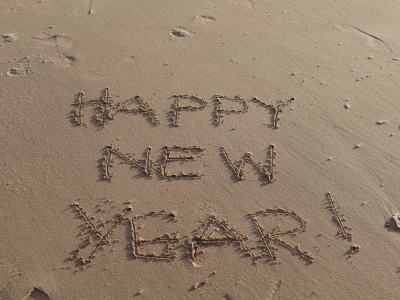 so let's jump straight in to this year's challenge.  After the success of our sixteen pairs of socks challenge, Meredithe and I came up with the idea of working on 17 UFOs.  If you click on the photo at the top of the sidebar, it should take you to the list of rules.  If you want to join in, then click here, and you can find the link for taking part.  Don't worry if you haven't yet made your list, as the link will be active for several more days
I didn't take long to come up with 17 UFOs (I won't say how many are still lurking in deep, dark recesses in the studio!)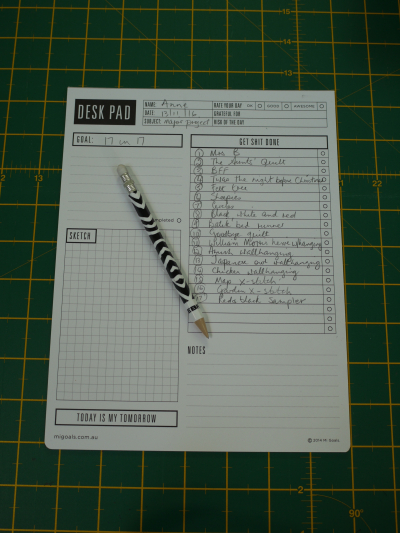 First, we have Mrs Billings, closely followed by the Aunts' Quilt.  These are the biggest projects, and I hope to make significant progress on both of them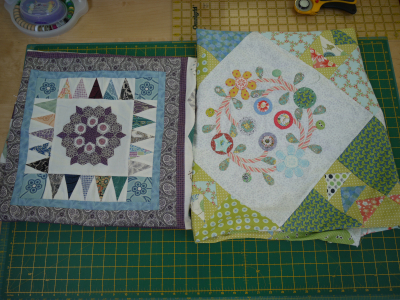 the third one is Best Friends Forever, and 4th is Twas the Night Before Christmas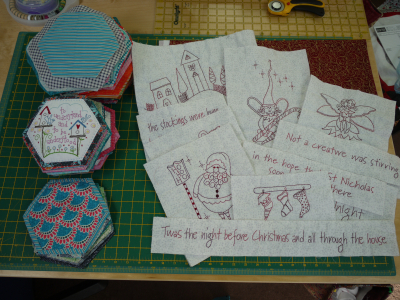 at number five, and already on the design wall, is the felt tree, and number six, the Sheepies wallhanging
number 7 is Circles, and number 8 is Red, White and Black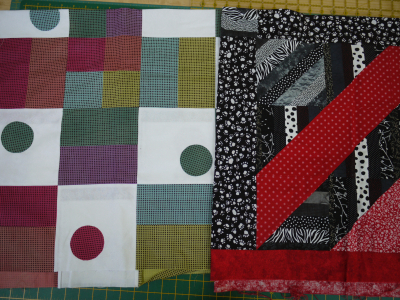 at 9, the Baltimore bed runner (I ran out of enthusiasm to make a full quilt!) and 10 ........ well, this is an embarrassing one.  It is called the Goodbye Quilt, and is made with blocks given to me by the members Greenpark Quilters, when I left the group 10 years ago, when we moved to Hawick ........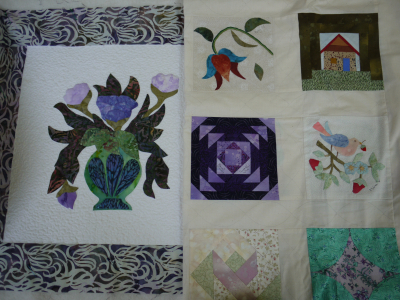 this Amish wallhanging, coming in at number 11 (which is darker than it looks in the photo) was made with the sample blocks from teaching my little house group when we lived in Indonesia ....... as we came home on 2000, it is definitely time to knuckle down and finish it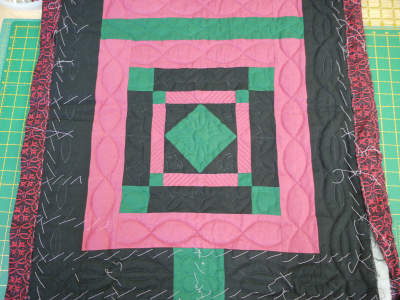 number 12 is the William Morris hexie wallhanging, which I have been working on when we are over at the flat
number 13 is a beautiful Japanese wallhanging, given to me by the lovely Helen two years ago in Melbourne.  I couldn't decide how to quilt it, and set it aside - so now I must decide what to do.  Then as for number 14 - well, in 2002 Malcolm and I went to the big quilt show at Houston.  It was the year of chicken quilts, so I bought a kit to make a very large quilt for Malcolm, as he liked all the chicken things.  To cut a long story short, the large quilt has so far become 3 wallhangings - and this is the fourth one waiting to be quilted!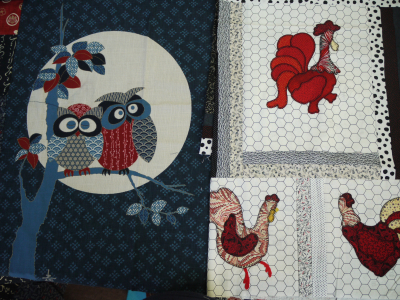 before I went over to the dark side of quilting, I used to do counted cross stitch, and these two projects have been languishing for some years in a dark corner of the studio - I was sure they were nearly  finished ....... so they joined the list at 15 and 16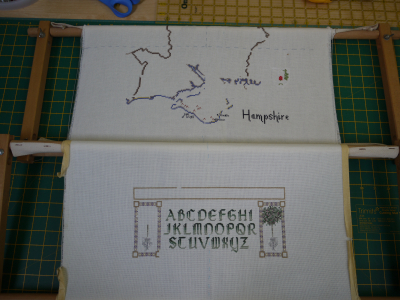 and finally, at 17, my red and black sampler quilt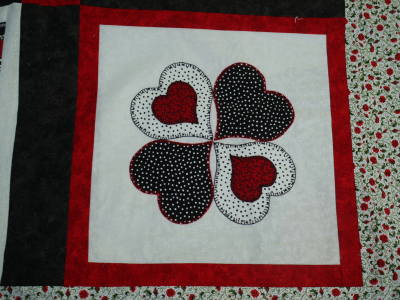 so, if the sampler quilt is 17, what is this?  Well ........ I thought I would do a little bit of work on the cross stitch map, but the stitches are so small, I just couldn't cope with it.  Yes, I could get one of those enormous magnifying glasses that you hang round your neck to help, but instead I donated it to a charity shop!  So this is my replacement - a Hawaiian wallhanging which I made some years ago as a challenge to myself, using needleturn applique, which I don't like!
remember, we don't have to finish our UFOs, just make significant progress.  I do hope you will join in ....... and if you don't have a blog, you can send progress photos to either Meredithe or me, and we will post them for you.
So let's get stitching!!