We don't have a lot of shops in Hawick, and since the turn of the year several more have closed, so I enjoyed a good bout of retail therapy on Tuesday.  First I bought some trousers, which you will probably see me wearing in future photos,then I bought some undergarments, but you definitely WON'T see me wearing them!  So here is a quick selection of my purchases.  First, from Poundland (yes, everything costs £1) this frame for my silly card
and a box of long matches for lighting the stove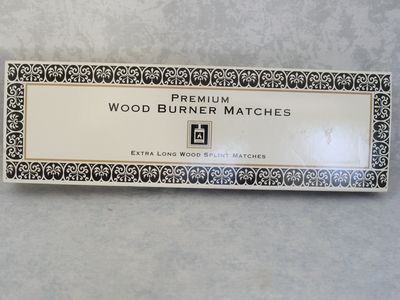 from Wilkos, home of bargains, but not quite as cheap as Poundland, tiny pegs (I do have a vague idea for using them)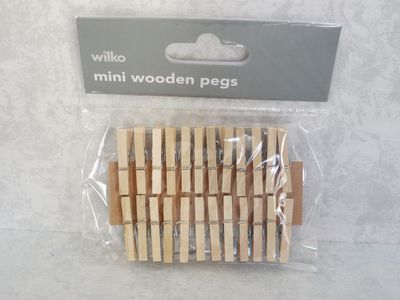 and little price tags which will be good for the next batch of driftwood trees
Stuart and Alison gave me this absolutely fabulous charm/bead for Christmas ........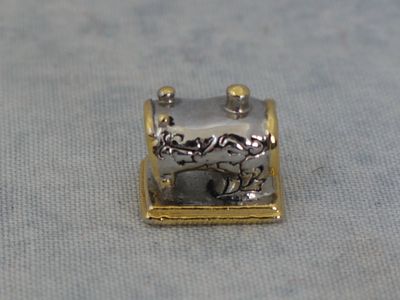 ....... so I popped into Next and found this pretty bracelet to put it on.  There were also some extra charms, one of them a cupcake - so this will be a perfect bracelet to wear to patch'n'chat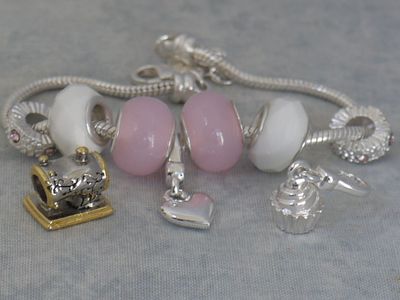 of course we had to have a look in Hobbycraft.  I wasn't going to buy any fabric, I wasn't, I wasn't ........ but then I saw this bundle of six spotty fat quarters for only £7!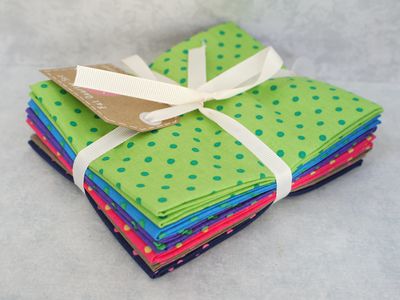 when I saw this Duck Tape, it too had to come home with me!
my pile of goodies from Ikea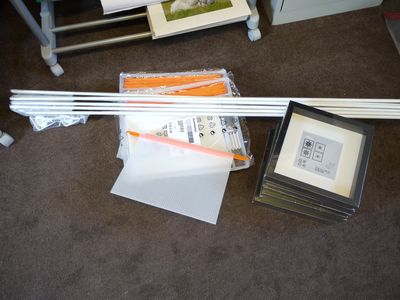 another four black picture frames, more pockets for my filing cabinet, and the metal curtain rods are for hanging up my remaining bigger quilts - you can see I have hung up the Country Cottages quilt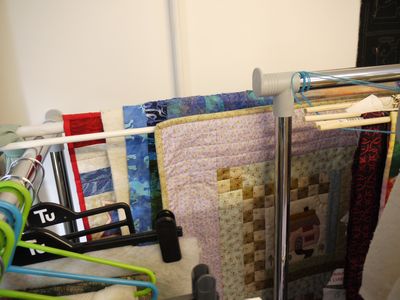 I used one of the frames and some of the Duck Tape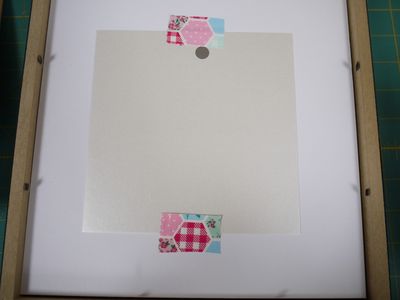 to frame this card, which states my preferred age!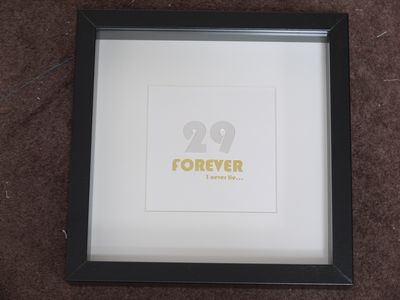 having finished the ball end sweater, I had a look in my knitting basket last night, and unearthed this sock, which I started in November!  The pattern, by the fabulous Kate, is actually quite quick to knit, so hopefully I will get them finished soon
when I ordered the yarn for the ball end sweater, I thought I had better get a few extra balls, as I wasn't quite sure how much I would use of the various colours.  There were five balls left, so I looked out the Ripple Rug pattern, which I have already knitted two of, so I know that it is an easy knit if there is something on tv that needs a bit more attention ........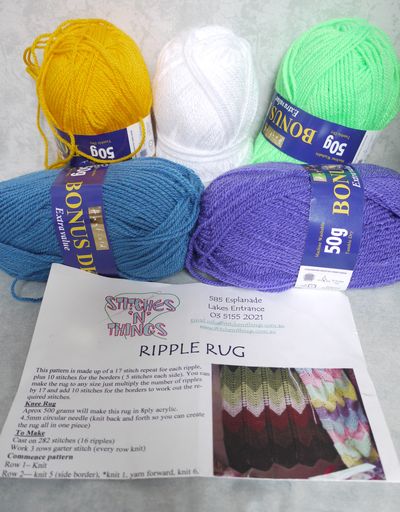 ........ like later tonight when the new series of the Great British Sewing Bee is on.  I have to concentrate on swooning over Patrick, one of the judges.  However the main debate won't be about the sewing, but whether I preferred him before he shaved his beard of (what, me, shallow??!!)  I'll be back tomorrow with a progress report on Malcolm's wine box bookcase  - it's looking good!