When we arrived at the flat on Saturday morning, we could see, through the mist, a large ship out at sea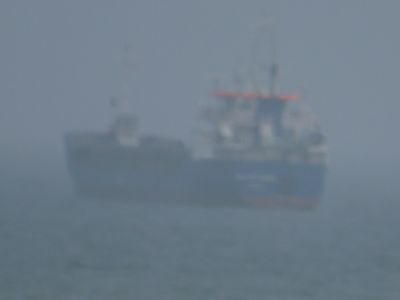 we popped out for some shopping, and when we came back, the pilot boat ..........
......... was guiding the ship in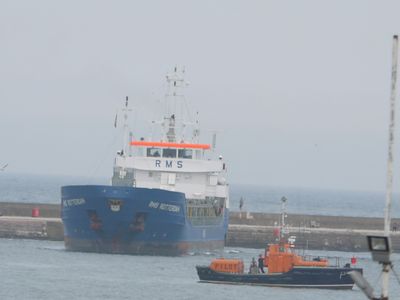 as the ship came round to follow the channel, we got a proper look at the size of it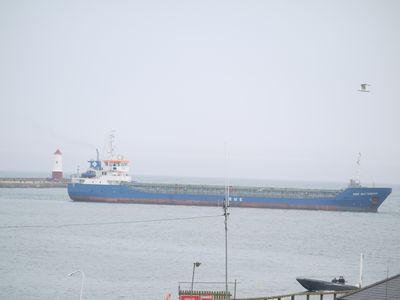 so we were glued to the window to watch it coming into the dock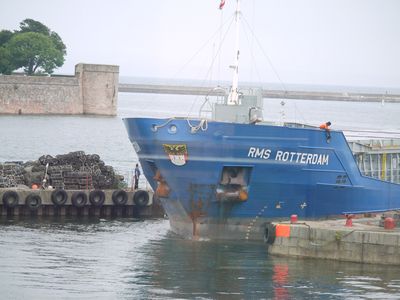 we held our breath as the ship squeezed in
we weren't the only ones watching - quite a crowd had gathered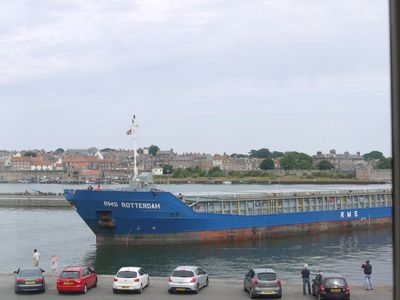 the only ones not enjoying the spectacle were the swans, who gathered in the top corner of the dock, well away from the ship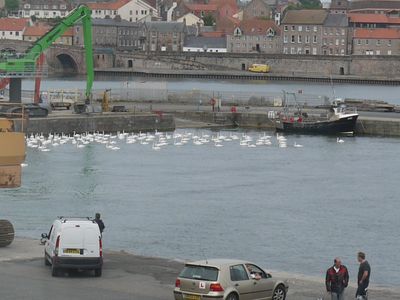 I took these photos later, when the tide had gone out - you can see the channel of deep water that the  ship had to follow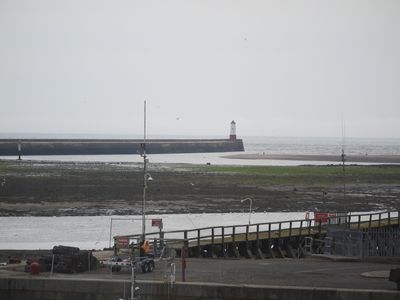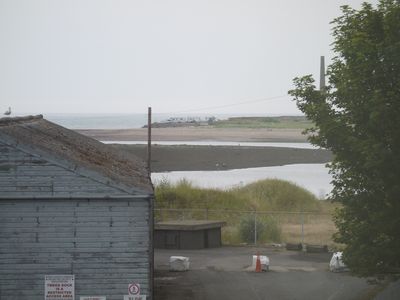 it didn't take the seagulls long to check out the new arrival
when we got up yesterday it was raining, and although it did go off, we thought it would be a bit wet for a walk on the beach, so we headed down the A1, stopping first at Sunnyhills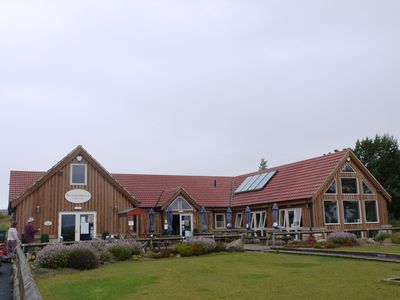 where we indulged in some excellent sconnage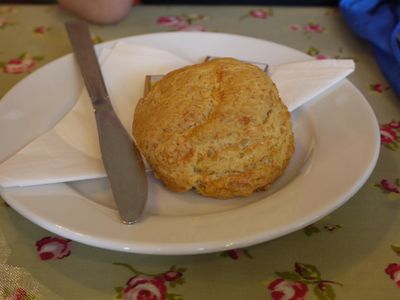 cheese
fruit
then it was on to Bamburgh, where we visited the Grace Darling museum.  I wasn't able to take photos in the museum, but when we went upstaits to the panorama window, I was able to take a photo looking out over the churchyard where she is buried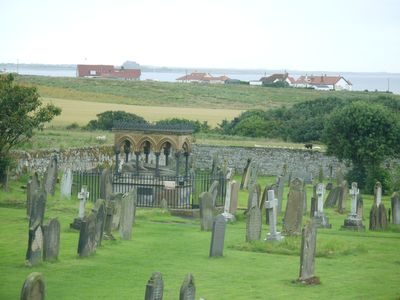 when we left the museum, we crossed the road to the church - it is so big I had to take two photos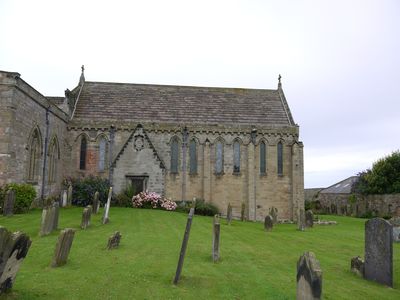 Grace's grave is very elaborate, as befits a heroine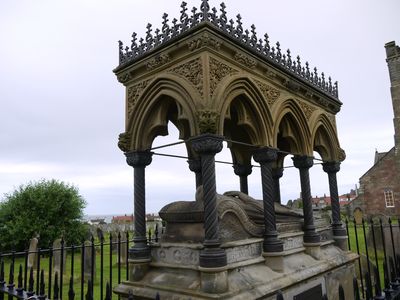 but how sad that she died so young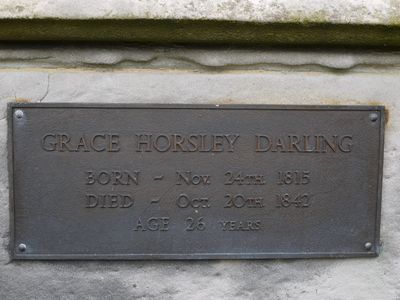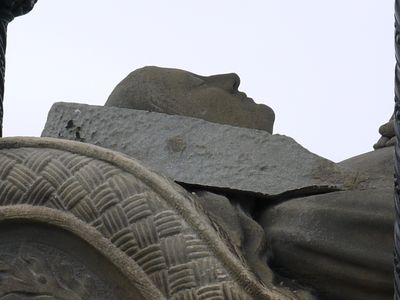 we then had a stroll round Bamburgh, which is dominated by the castle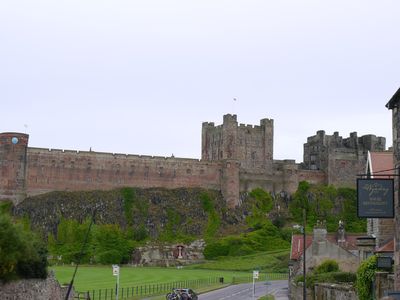 our next stop was in Seahouses, where the harbour was busy in the afternoon sunshine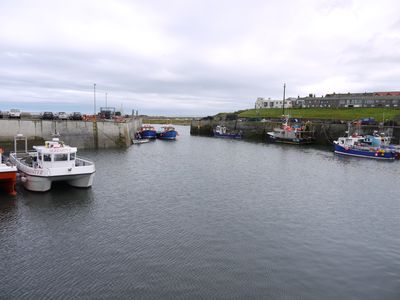 as we strolled round, we could smell the tantalising aroma of CHIPS!  There were several places where we could have bought a portion to share for lunch, but as soon as we saw this photo in the window we had to buy them here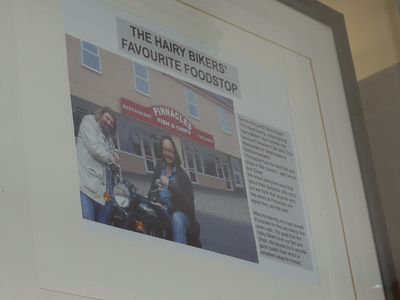 these are probably the best chips we have ever eaten - crisp on the outside, fluffy on the inside - we will be back for more!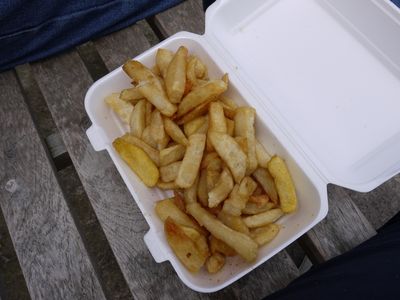 we had an audience while we ate them, waiting for titbits - but they were much too good to share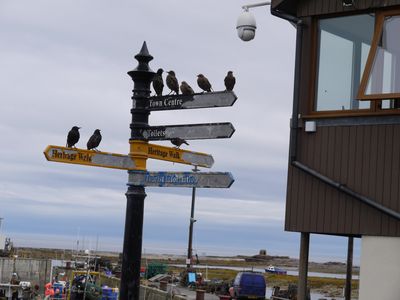 Malcolm laughed when I wandered off to take a photo of this pile of wood - but then a man walking past came over to say that he was glad that it wasn't just him that found the pile a thing of beauty!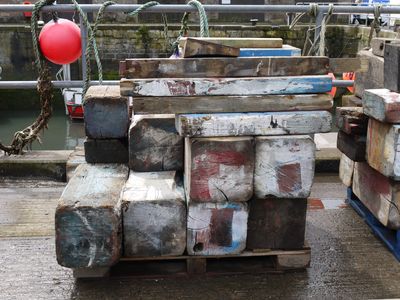 as we drove back towards Bamburgh, the castle again dominated the skyline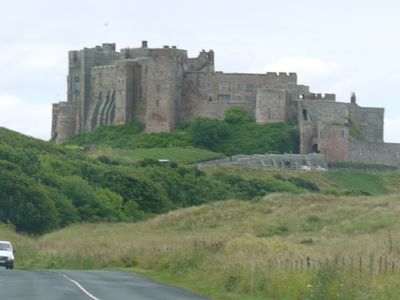 before we left this morning, the unloading of the ship commenced, with a succesion of lorries driving in and out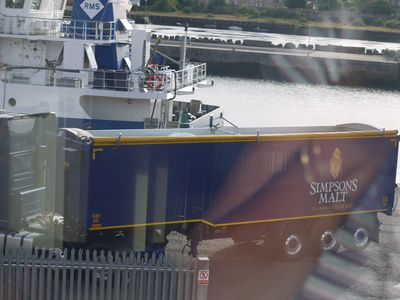 to finish ........ we keep seeing a seal in the dock, but as soon as I reach for the camera it disappears below the water.  Finally, a (slighty fuzzy) photo