At the April meeting of Abbey Quilters, I will be showing the members how to do textured applique flowers.  I thought that I would design a little project, rather than just show them how to make the various flowers.  I started with a sheet of A4 paper, and drew a frame an inch and a quarter from the edges.  I folded it in half to make sure that the design was centred, then drew a line for the top of the bowl, and marked the points for the bottom, then drew in the curve for one side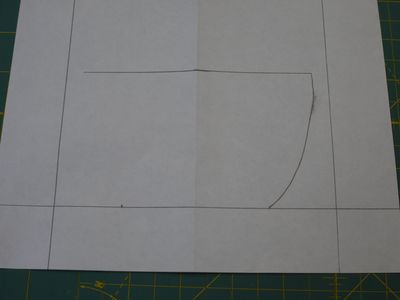 the quickest way to make sure the other side matched was to fold the drawing in half and hold it against the French door, so that I coud see the line to draw in the other side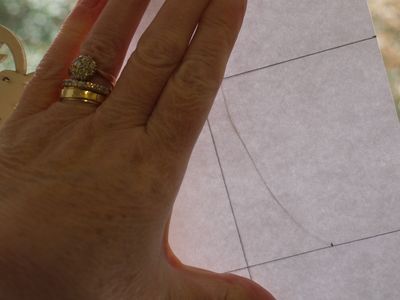 next, I drew two long leaves , to give me a framework for the design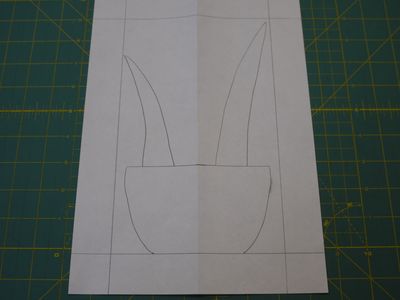 then I sketched in a rough placement for the other elements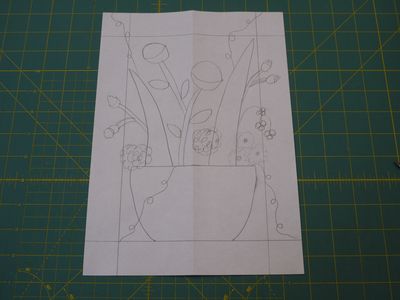 I went over the main parts with a black marker .......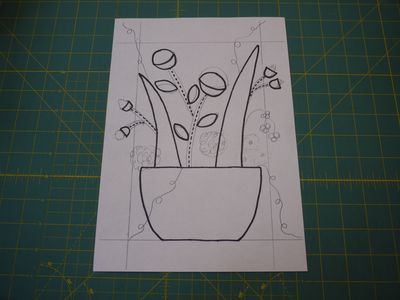 ..... so that the markings would show through on the other side, as I need a reverse image to make my templates.  I glued a copy of the pattern to a piece of card (ok, it's a breakfast cereal box)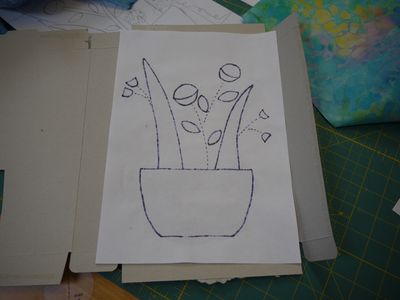 while the glue was drying, I made a start to stitching some of the flowers.  I started with a strip of fabric, 18"x2".  I pressed the two long edges  to the centre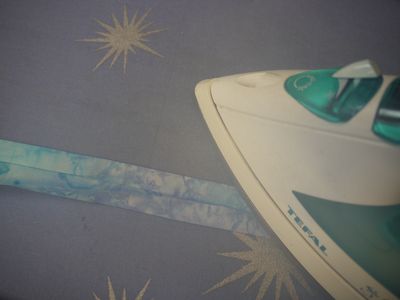 I marked one edge at intervals of 1"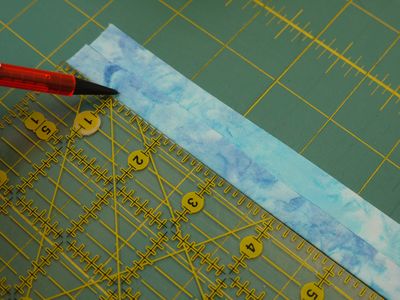 then on the other edge, I started half an inch in, then marked at 1" intervals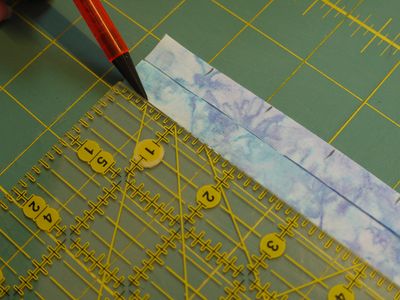 I would normally use a matching thread, but I have used one that will show in the photo.  Starting at the corner and using a running stitch, I stitched across the end, and then to the first mark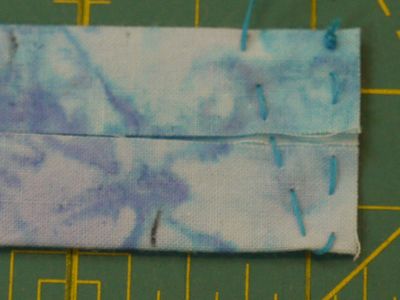 there should have been another photo here, but it was somewhat out of focus (oops!).  When you get to the edge, you take the thread over the edge, before stitching to the next mark.  So moving on to the next photo, the first few zigzags stitched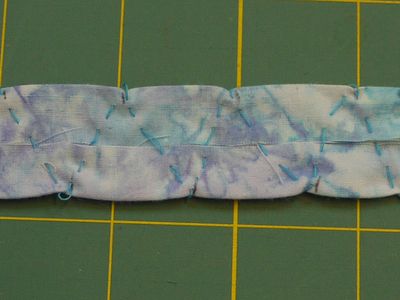 I pulled on the thread to gather the section I had stitched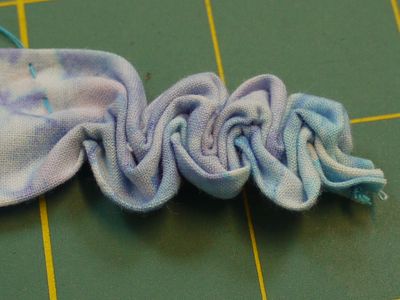 I continued stitching and gathering, until I reached the end of the strip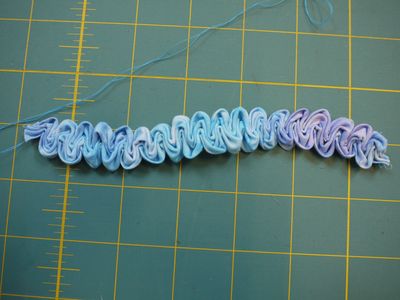 the final stage is to form the strip into a flower, stitching the layers together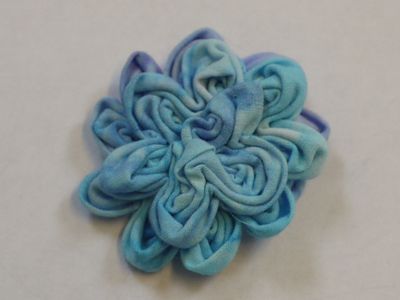 I'll show you more next week, as I have some other things to share with you.  I love the stamp on this envelope, which arrived this morning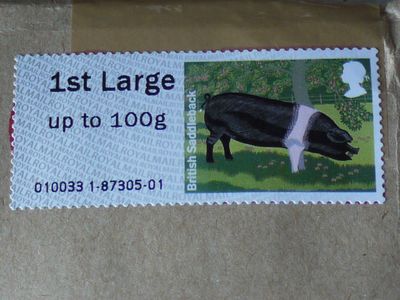 and the spotty tape round the address label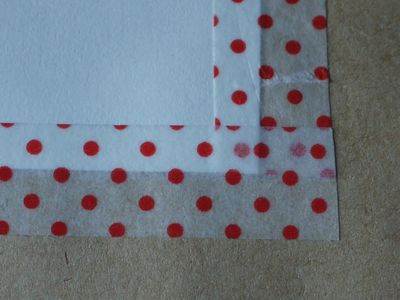 the label on the back of the envelope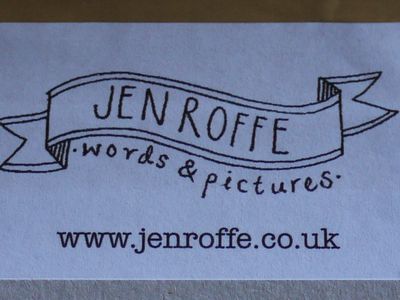 so, what had I bought from Jen?  This wonderful print (I left the little thankyou note in the corner for you to see)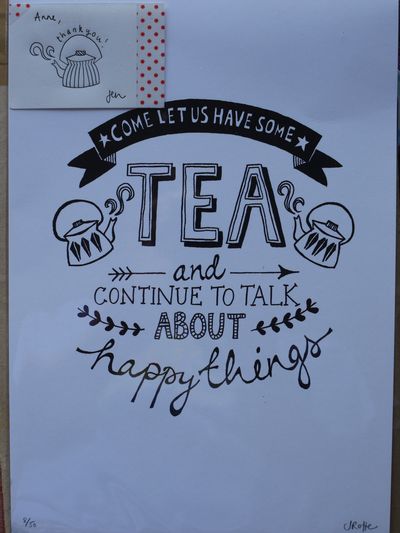 at patch'n'chat, Maureen brought in her Christmas wallhanging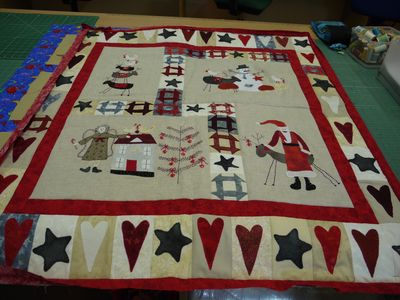 and a wonderful dinosaur quilt that she is making for Linus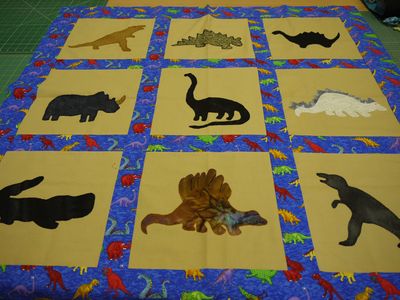 Katy is making a log cabin quilt - she finished the first block this afternoon, but I had trouble taking the photo, as behind my back, Anne S was making her roar with laughter, pulling funny faces!  Eventually, she calmed down to just a broad grin!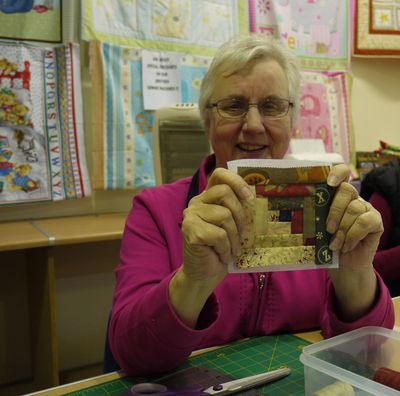 of course there was Friday cake.  Today we had cupcakes - so light they almost floated off the cakestand!!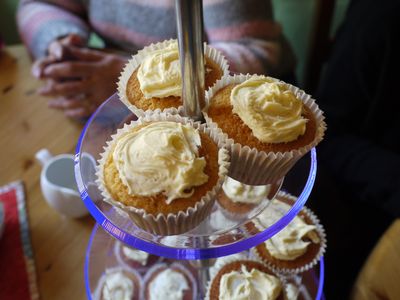 I forgot one of the things that I bought at Ikea - this beautiful orchid!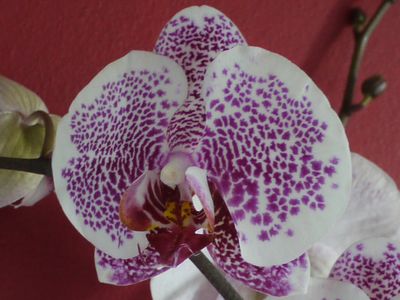 the forecast is better for the weekend, so hopefully we will get out for a proper walk on Sunday.  I hope you have a wonderful weekend, love Anne