....... and having fun!  As planned, I went to Kelso on Saturday morning to join in the Linus Day.  I took along the quilt I had almost finished, and by mid-afternoon it was all done and ready to hand over to Sandra, our wonderful Linus Lady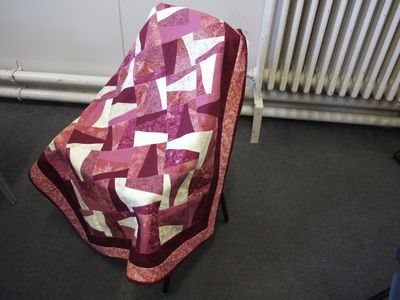 At our table, while I was hand stitching, Katy was machine quilting .......
......... Tricia was machine piecing
and Anne S was sorting out some small pieces into bundles ...... and we were all chatting, telling jokes and generally having a grand day out!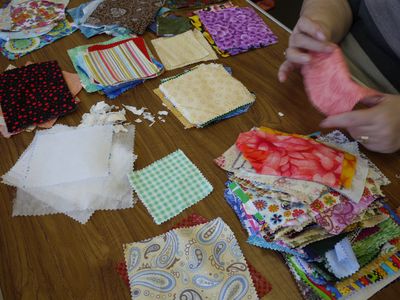 Last year Sandra distributed over 400 quilts and knitted blankets in The Borders, so hopefully we can improve on that figure this year.  I came home with a pile of fabrics which had been donated for making more quilts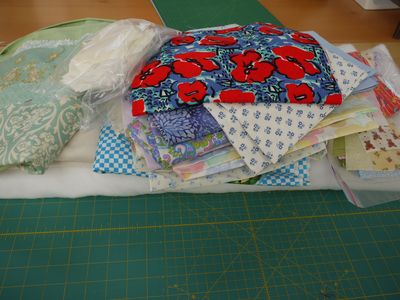 I think I will start with these fabrics ...... the white/cream rectangles can be pieced to make backgrounds for applique and the patterned fabrics will make pretty sashing.  This is  a detail of the first quilt I made many years ago for Linus - so long ago that I didn't have a digital camera - by the time I had the film developed, I no longer had the quilt, so couldn't take a better photo!
Yesterday afternoon, I started my 'job' ....... but it scarcely seems like work doing something that I enjoy!  I have cut a vast amount of squares for the quilt top .......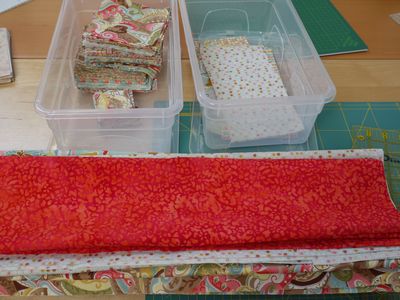 ...... and made a good start to one of the kits (isn't it just so cute!!)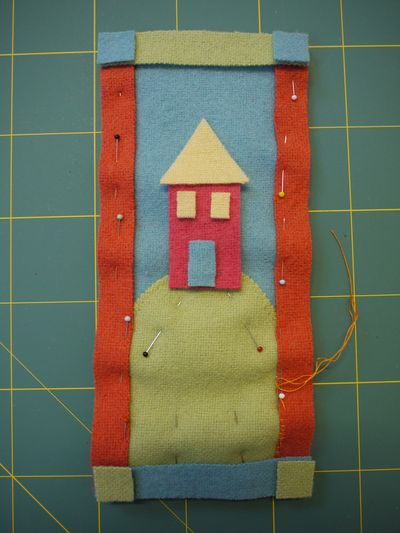 I didn't do as much knitting as usual last week - I was out on Tuesday night and we were late home on Wednesday, so I had a good session this afternoon catching up with work on the fairies.  I had done some of the sewing up on the first fairy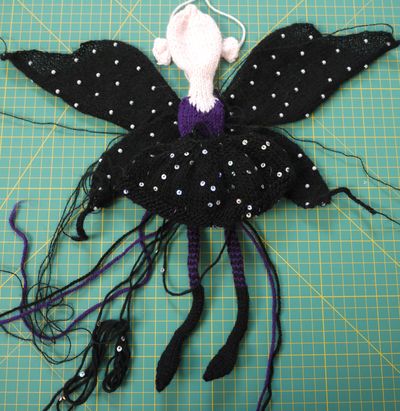 The next stage involved a length of dowel and double-sided sticky tape .........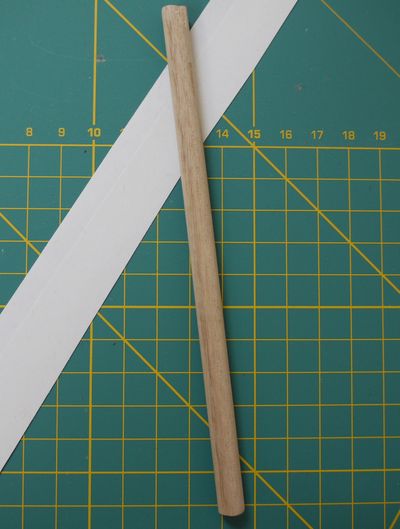 ........ and some stuffing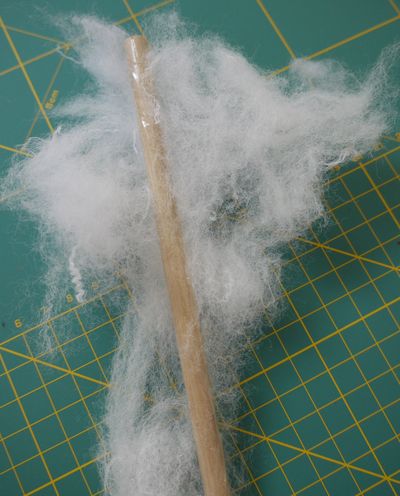 Having wrapped the dowel in stuffing, I inserted it up through the body and into the head.  I then added more stuffing and sewed the remaining body seam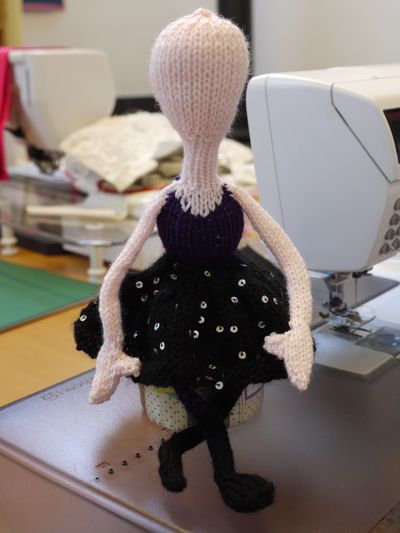 There is a bit of work to do on her face before I add her ears and hair.  I thought I had some wire suitable to use on the edges of the wings, but it was too fine.  Fortunately Malcolm produced some from the depths of his stash in the garage and I was able to make a start to shaping the wings
I have now received several photos of the wonderful postcards that have been made for the swap - remember, if you haven't yet sent yours, the deadline for posting them is the end of the month.  Cathy has now received my card, so I can show it to you.  It is a felted landscape, which I gave the title of Bluebell Wood at Sunset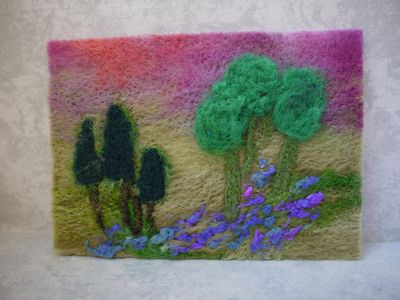 You may have noticed that there were no photos of our usual Sunday walk ...... that's because just as we parked the car, it started to rain, and as it was also windy it really wasn't very pleasant, we went to the garden centre for a cuppa and scone instead!!