I-cord jewellery
I got the idea for today's tutorial from my lovely blogging friend Anairam - you can see her idea here.
I-cord is easy to knit.  You need two double pointed needles and some wool - I used odds and ends of leftover sock wool, with 3.25mm needles (US4).  For most of the items, I used 5 stitches.  I cast on and knitted the first row as normal, but then instead of turning the knitting to do the next row, I slid the stitches back along the needle to the right .........
....... so that when I started knitting the second row, I brought the yarn from the left
I carried on like this, slipping the knitting back to the right of the needle each time.  After a few rows, you can see the cord forming - this is the wrong side
So, having knitted lots of i-cord, what did I do with it?  The first idea was very simple.  For this bracelet, I made the cord with only 3 stitches, and then threaded on some wooden beads.  When I sewed the ends of the cord together, I put one of the beads over the join to hide it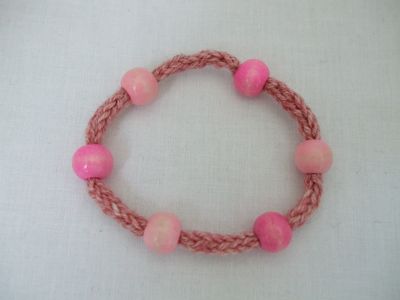 For this bracelet, I used memory wire ........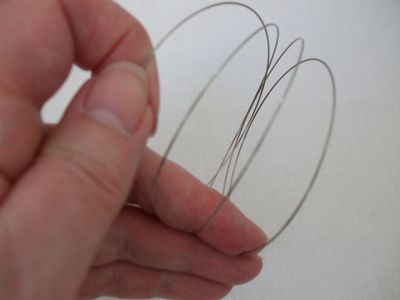 ......... which I threaded through the cord
I then made some brooches.  For the first one I took a long piece of cord and used pins to mark eight sections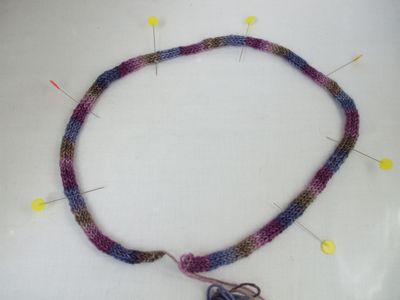 I made two figures-of-eight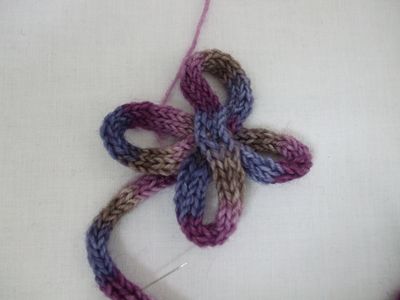 then another two, and added a button in the centre.  I then sewed a brooch pin on the back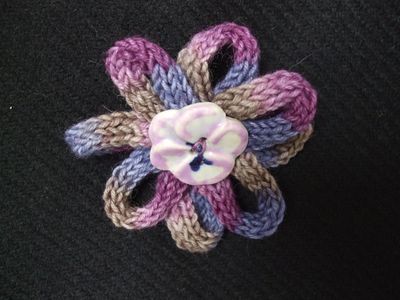 For the next brooch, I coiled a length of cord and stitched it together, then crocheted two rows of loops round the edge
Again, I added a button and a brooch pin
For the last brooch. I knitted a long, long length, running a gathering stitch along one end...........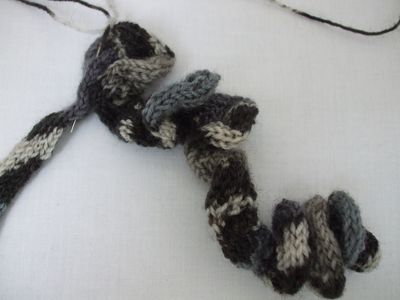 ........ once I had knittied enough, I cast off, then started forming a flower, stitching the layers together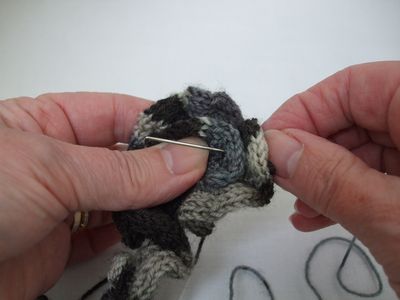 then to finish - yes, I added a button and a brooch pin!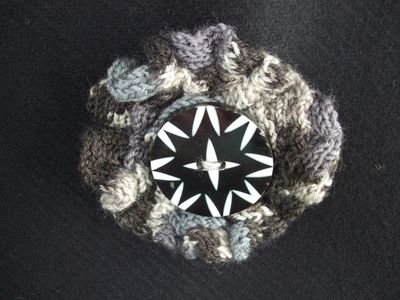 I did make one more bracelet, but I had only taken one photo of it this morning when a visitor arrived ...... I forgot to check later if the photo was ok.  It's a bit out of focus ........ but the bracelet is made with three cords plaited together, and a button sewn over the join.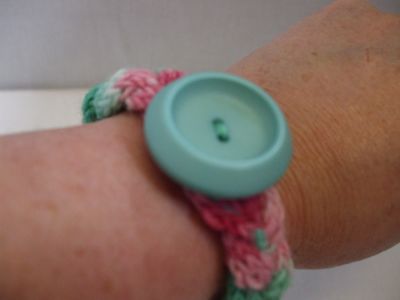 I hope this has inspired you to get out your needles and start knitting i-cords!