Applique part 1
Today I am going to show you a simple way to applique a flower.  First, here is what I used (freezer paper is available from quilting shops)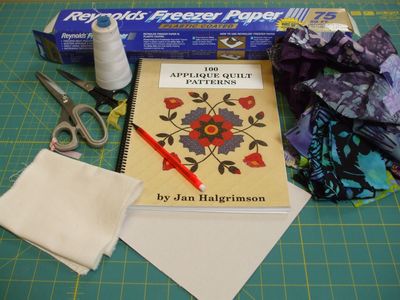 I decided to use a tulip, so I chose a shape in my pattern book, and traced it on to a piece of freezer paper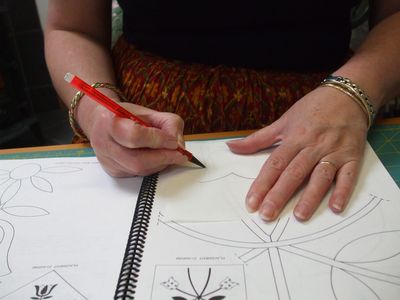 Then I cut out the freezer paper and ironed it (shiny side down) on to the wrong side of a piece of fabric I chose from the bundle of scrap pieces.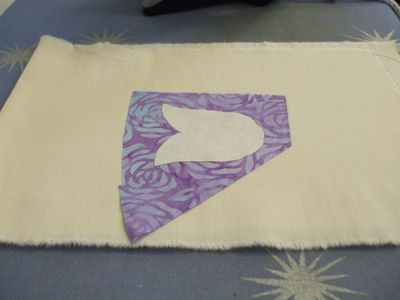 I cut out the tulip, leaving about a quarter of an inch seam allowance.  I turned the seam allowance to the wrong side and tacked it in place - starting with the knot on the right side (this is important, you'll find out why later!).   I snipped the fabric where it comes down to the 'v' - you can see where the arrow is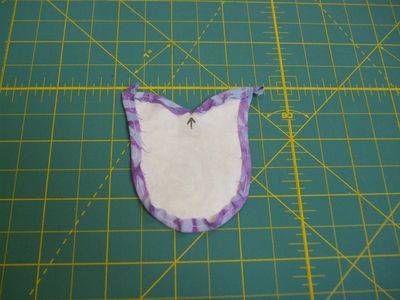 Now, it's time to applique the tulip to the background fabric.  If you are planning to do a lot of applique, I would recommend buying proper applique pins, they are much smaller and less likely to catch the thread (or stick in your fingers!)  .  I have stitched mine with a contrasting thread so you can see my stitches, of course normally I would use a matching thread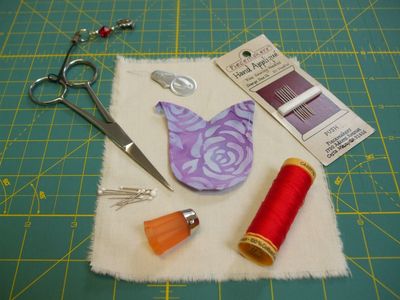 I began stitching to the left of the bottom of the tulip.  Bring the thread through the folded seam allowance, then use small stitches to work your way almost to the first corner.  As you can see, your stitches should look like little dots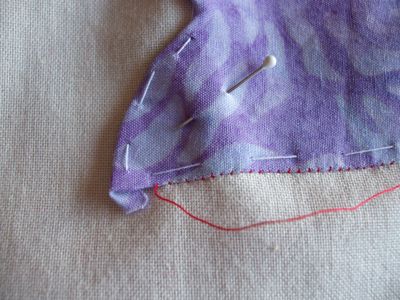 Next, I used a highly specialised tool to tuck the 'ear' in out of the way .... a cocktail stick!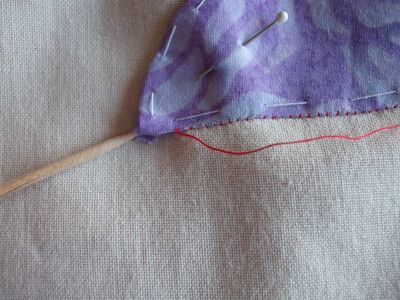 I continued stitching round the tulip, using the cocktail stick to turn in the seam allowance at the 'v', and the other 'ear'.  I stopped stitching when I got to the bottom right hand side, leaving a gap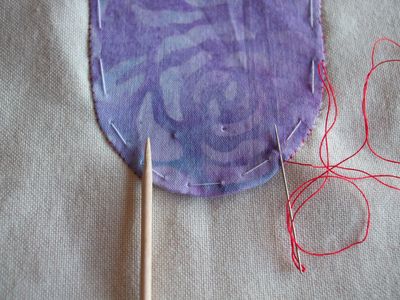 I took out the tacking stitches .... this is where you find out the importance of having your knot on the right side - if you have put it on the wrong side you will have a bit of bother taking the thread out!  I used my  cocktail stick to loosen the freezer paper .......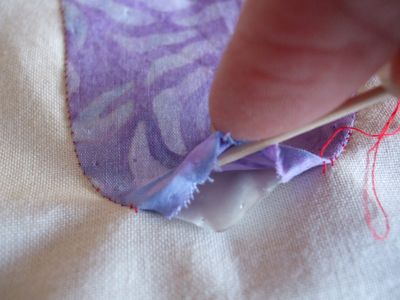 ..... then I pulled it out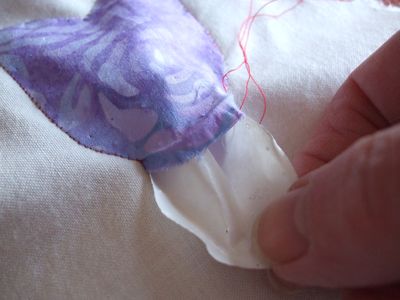 I pinned the seam allowance in place, ready to start the next step ..... adding a stem - come back next week and I'll show you how to do it