"Why" I can hear you cry "are you showing us a photo of snow, when this is your progress report?"  It's because this was the first photo in the file that has some of the photos for my report in it!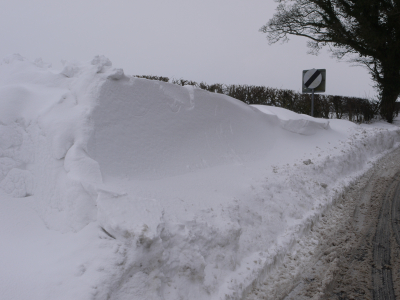 I assembled everything I need for my new project.  I have been working up to doing this for some time (ok, several years!), and the small piles of woolly bits on the left are just part of the woolly bit stash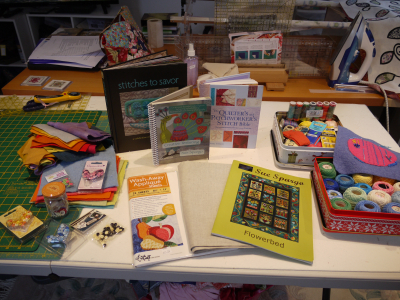 finally, after much procrastinating, I am starting my Sue Spargo "Flowerbed"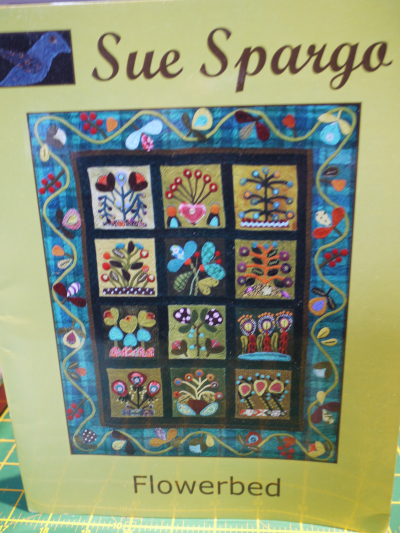 the pattern suggests using woolly fabrics for the backgrounds of the squares, but I thought that might make it all a bit heavy, so I found this beautiful linen in my stash (bought for a long-ago project that never got done)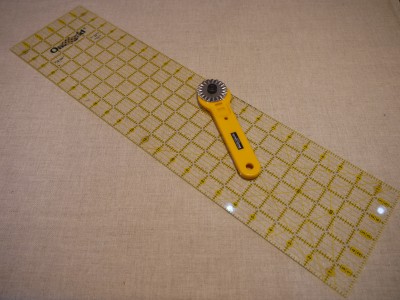 I cut the squares using the pinking blade on the rotary cutter, so that they don't fray while I am stitching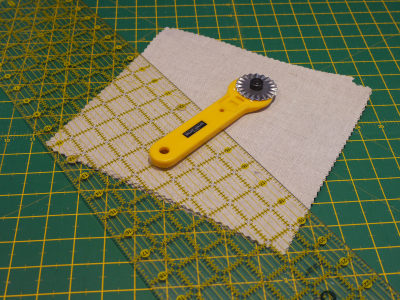 squares cut, pattern and applique paper ready, and lightpad set up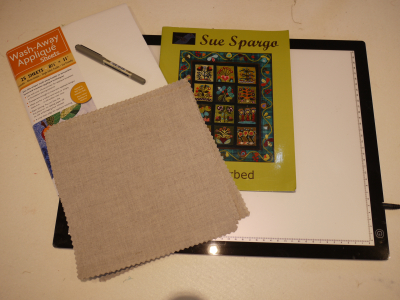 ah - a small problem, there is a pattern on each side of the page, so both show up on the lightpad.  So I photocopied each page, to make it easier to trace the patterns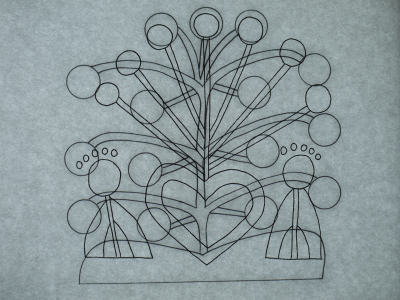 the first pieces traced, roughly cut out and sitting on the fabrics ready for fusing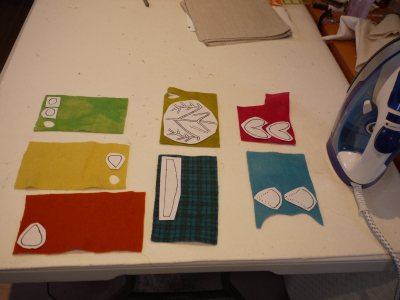 as you need to use a hot iron to fuse the pattern pieces, I covered the woolly fabrics with a scrap piece of white cotton, so that they didn't scorch
the first pieces cut out and laid in place.  There are still small circles to be cut, but I think I will use cotton fabric for them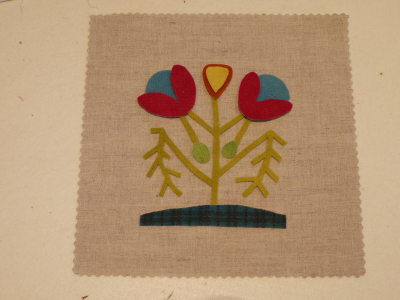 everything for the first block safely stowed away in a pocket in my project ring binder  (the last project kept in the binder was my poor attempt at Mrs Billings!)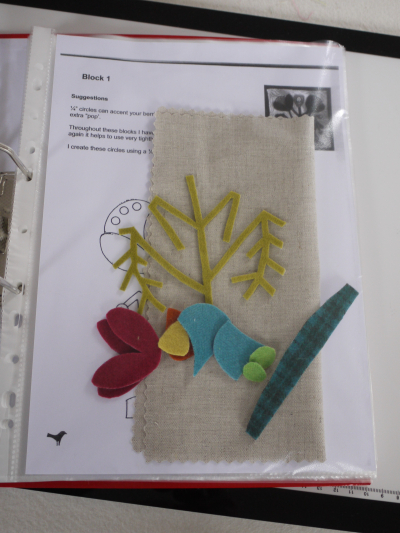 I then cut out the pieces for the other eleven blocks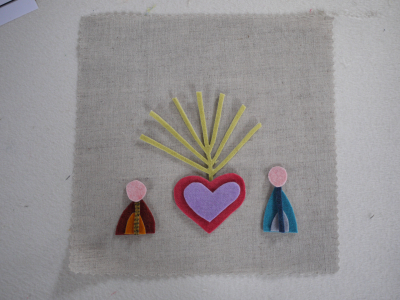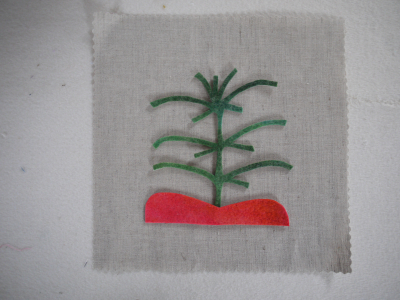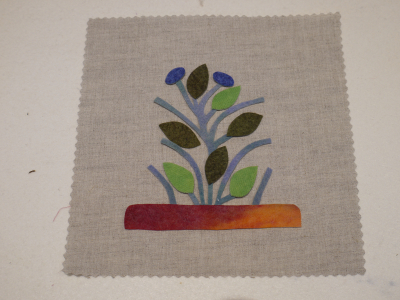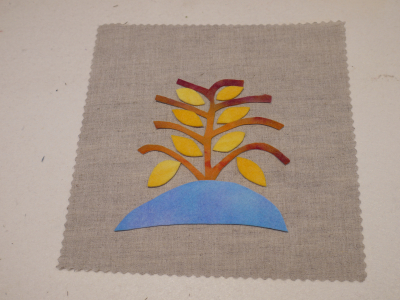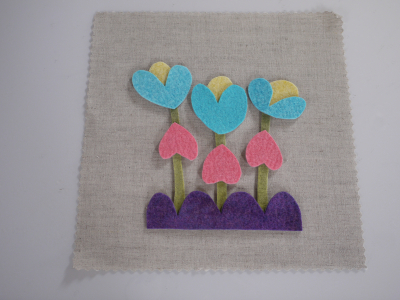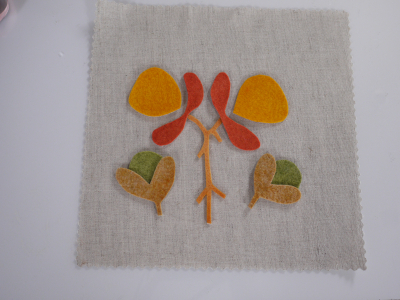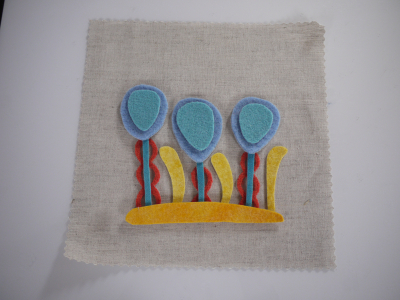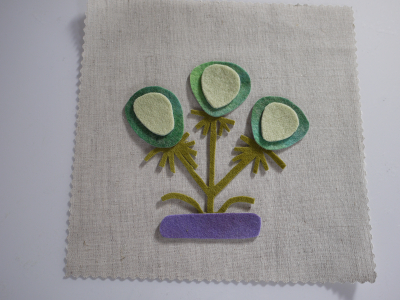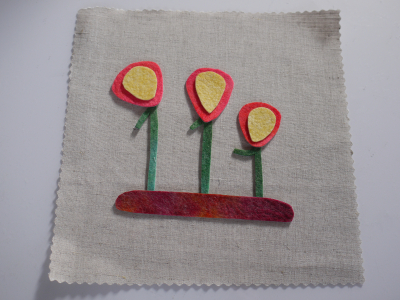 making a start on stitching the first block.  The woolly bits are stitched in place with a simple whip stitch, and will eventually have all sorts of fancy embroidery and embellishment added ( this is going to be a long project!)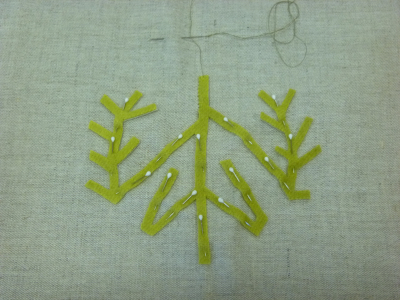 the first block stitched, except for the circles.  Once they have been added and the embroidery/embellishment done, the block can be trimmed to its final size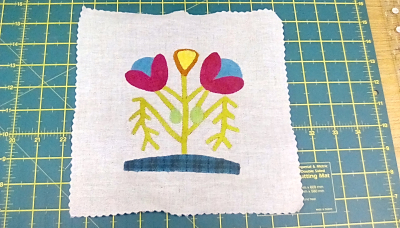 to see what everyone else has achieved this month, pop over to Meredithe's blog and after reading her report, scroll down to the linky thing.  You can still join in - if you have a blog, write your post, then pop it into the linky thing, or you can put your work on Instagram (#6and6in2018)