....... but two finishes!!  First, the little project to use up the last of the binding strips.  I sewed the strips together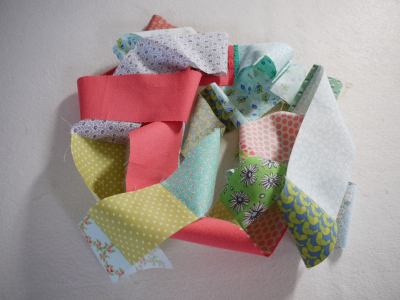 then folded the strip in half and stitched down one long edge, cutting through the fold as I got to the end of the seam
that gave me this strip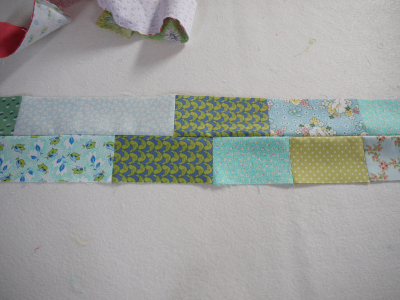 I folded it in half and again stitched the long edge, which gave me this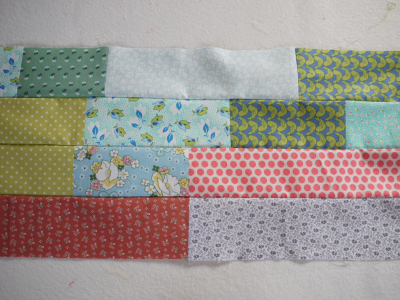 then one more time gave me this piece.  I could just have quilted and bound it at this stage, but I decided to have a bit of fun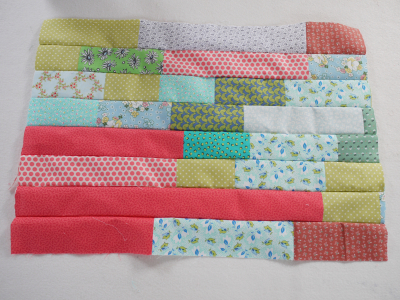 so I got out my revolving cutting mat, a square ruler, and my teeny tiny rotary cutter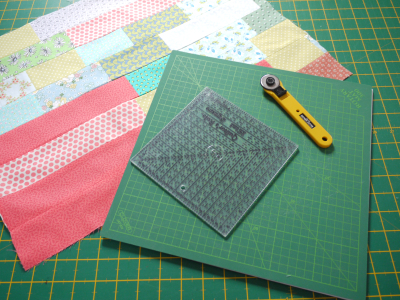 I lined up the diagonal line on the ruler with a seam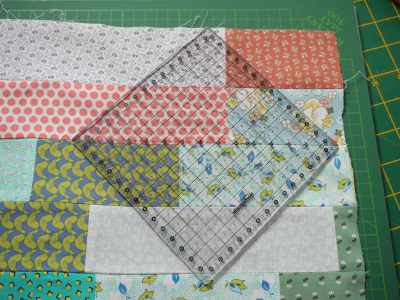 and cut out a square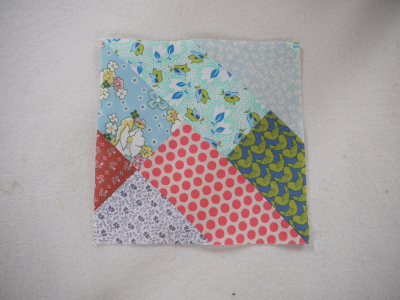 after cutting another three squares I had this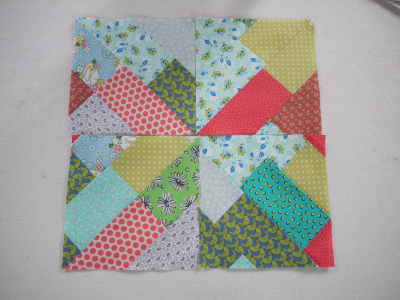 and a pile of leftovers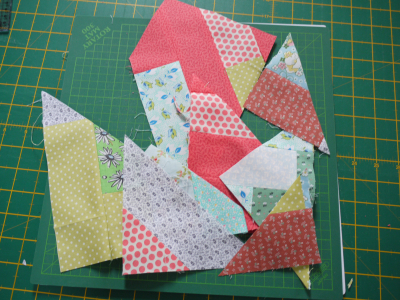 I stitched the leftovers together, and having cut a fifth square, I had to hold my breath as I squeezed out a sixth square, leaving only two little scrappy bits
the six blocks .....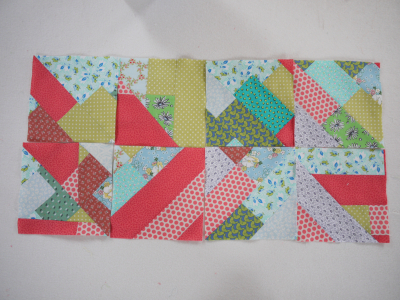 which I rearranged and stitched together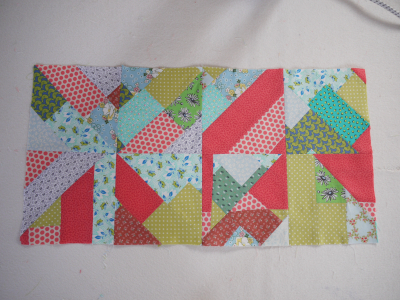 I then trimmed them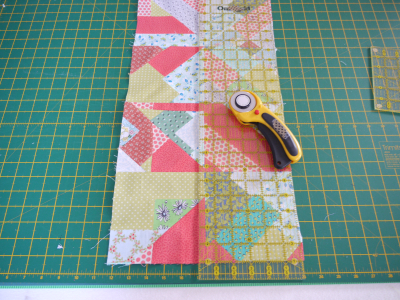 found a fabric in my stash for the backing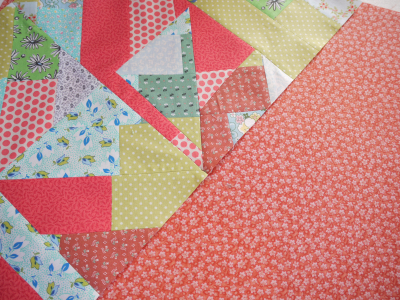 and having layered it up with some cotton wadding (from the wadding scrap bin)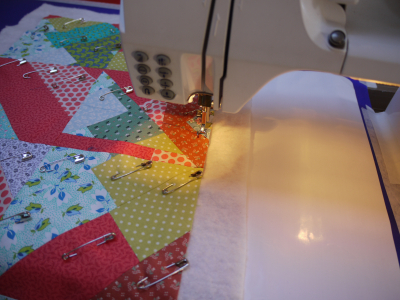 I did some simple free motion quilting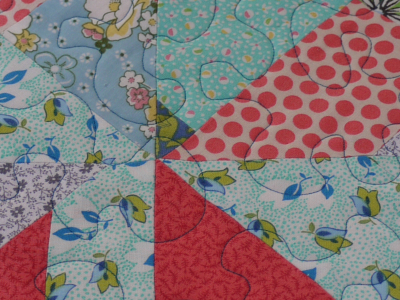 having trimmed the extra wadding and backing, I used some of the leftover binding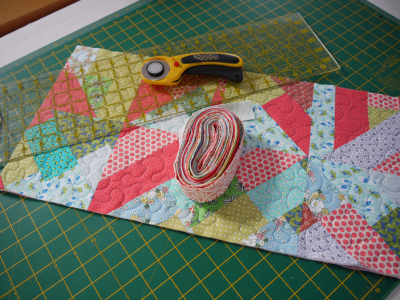 and here is the little quilted scrappy mat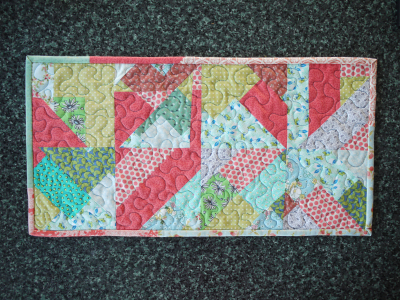 which is already in use on the magazine rack/side table which is beside Malcolm's sofa (as you can see, he was enjoying a glass of wine when I took the photo!)
and now, the moment you have been waiting for ....... the big reveal of the finished Aunts' Quilt!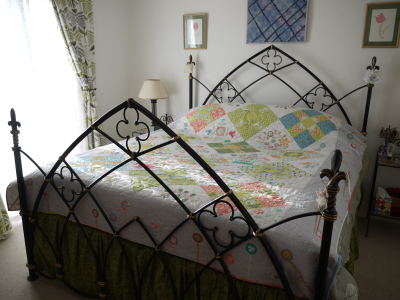 I put it on our bed to take the photos, but it will be going to the flat, to go on the guest bed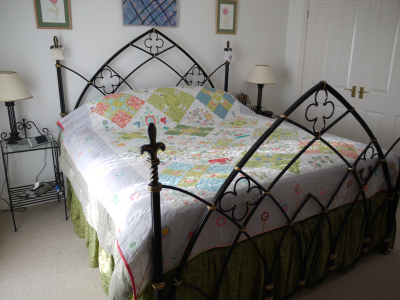 a detail of Lucie's beautiful quilting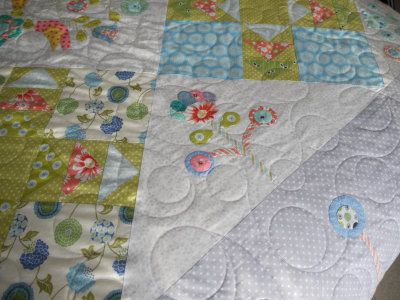 and as you know, you can't take a photo of a quilt in this house without Jemima and Pooh!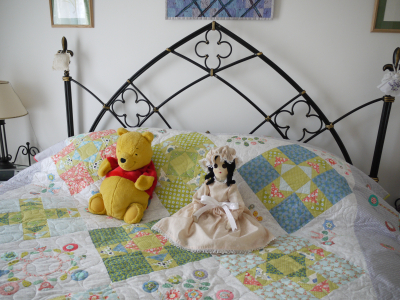 they were most reluctant to go back to their own bed!!