Yesterday morning was just a bit chilly, so we wrapped up warmly (Malcolm even put his woolly hat on!) and headed over to Amble for a potter round the harbour.  Most of the little pods were open .......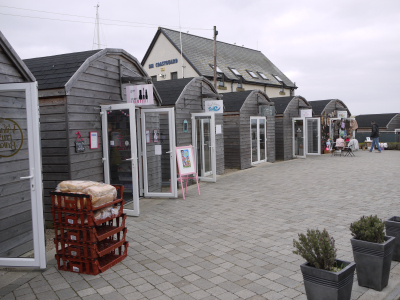 ........ but as we had already had breakfast (kippers on toast) we were able to resist the delicious smells coming from the sausage pod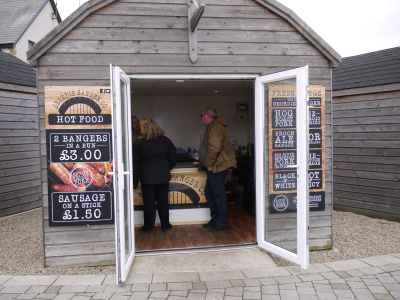 we also resisted the lure of the cheese pod!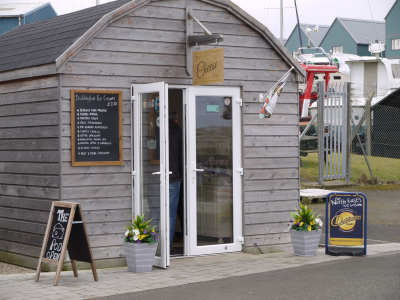 oh, oh, oh, the temptation to pinch a lobster pot - surely they wouldn't miss one!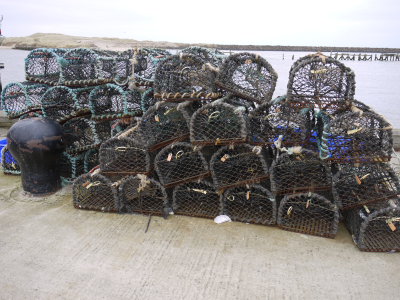 and a rusty anchor or two would make a talking point in the garden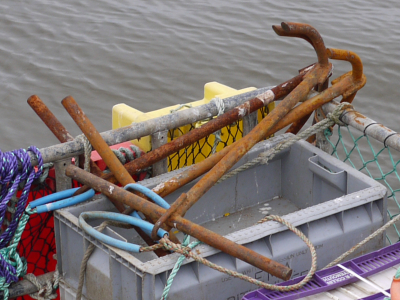 and I'm sure Malcolm could make use of this in his shed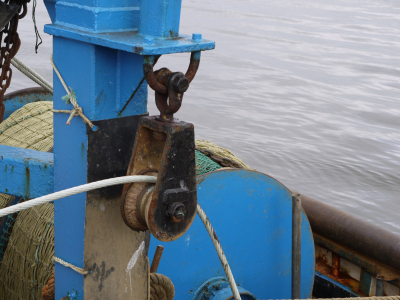 there was the usual joke about Malcolm's occasional wish to buy a boat
I said that if we found out that we had won the big lottery prize on Friday, perhaps he could have this rusty fishing boat.  We didn't win as much as a penny, so it's back to plan A and the rowing boat!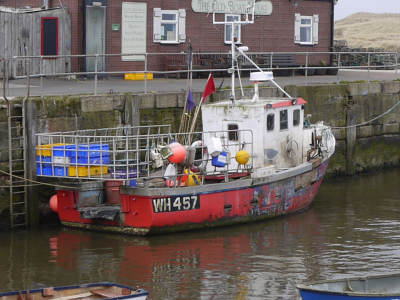 for once I didn't mind this eider duck turning his back on me, as it showed off the flash of green on the back oh his neck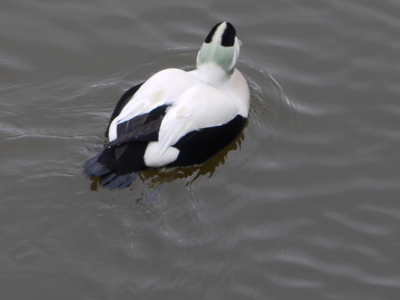 while admiring all the handsome male ducks, did you notice the two females - yes, the plain brown ones!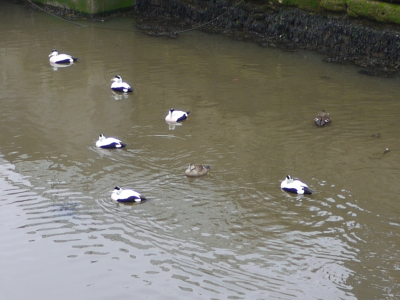 while I was sticking the camera through railings to take this photo of the falling down building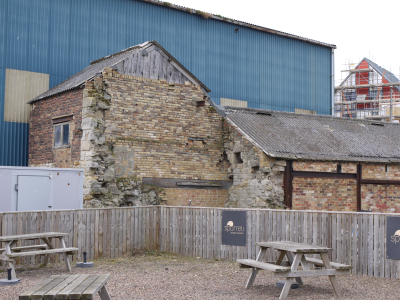 Malcolm noticed this plaque, which we must have walked past many times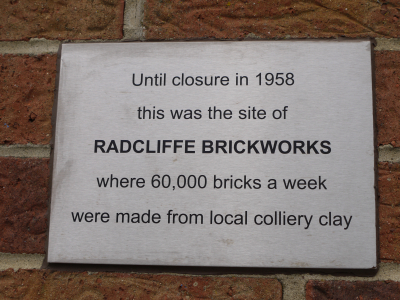 we've seen this before on the High Street, pigeons huddled on an old roof.  I assume that there is poor insulation in the old building so the roof is warmer than the surrounding ones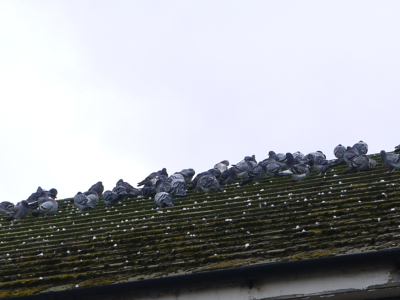 I must pay more attention- in all our previous visits I haven't noticed this old mosaic in the doorway of a shop
then came  the big decision ....... would we have our cuppa here?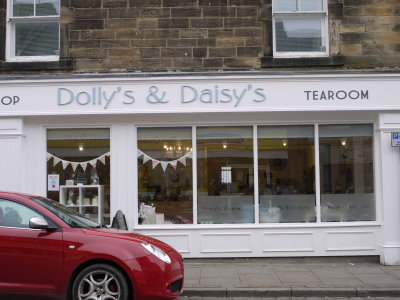 or would we have it here (a considerate driver, who had been parked in front of the Tea Rooms, drove off just as I stopped to take the photo!)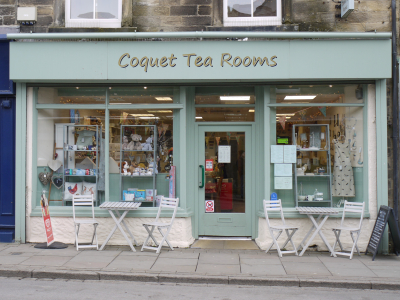 we decided on the Tea Rooms, as we fancied a toasted teacake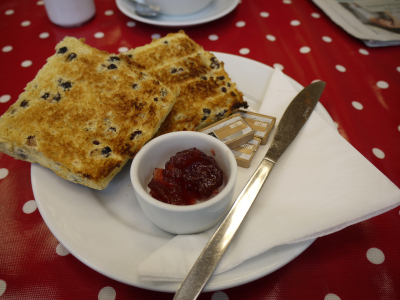 and instead of my usual pot of tea, I had a salted caramel hot chocolate - delicious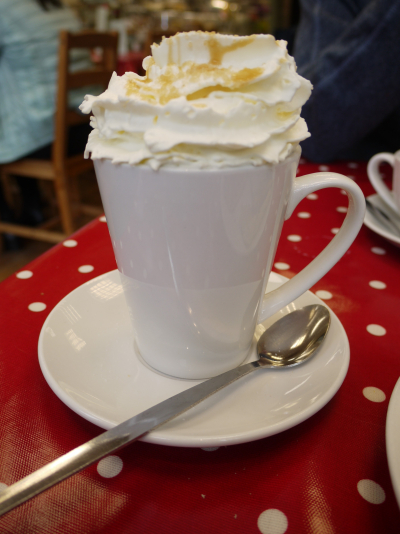 on the way home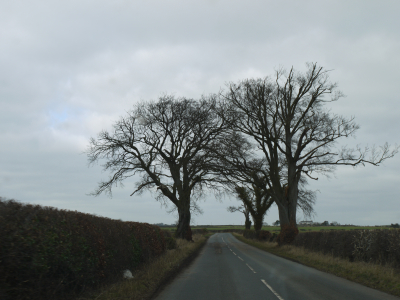 the trees are still bare
but in the garden there are signs of growth.  This is the apple tree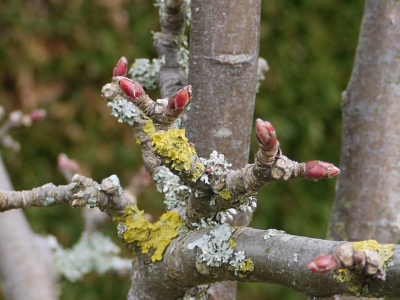 one of the conifers in the front garden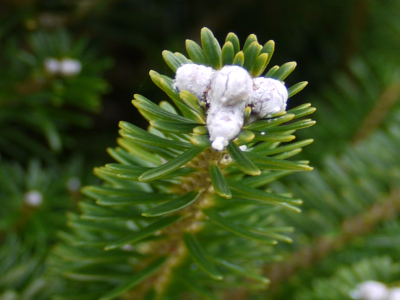 and the miniature rose on the deck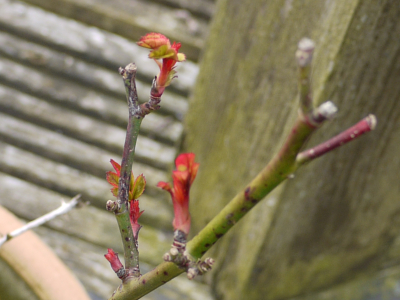 several weeks on, the little narcissi are still flowering outside the kitchen door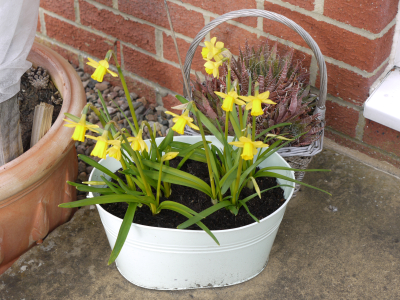 to finish ...... this is one of those "is it just me" moments.  This plaque is over the door of the Post Office, and obviously covers the word Post.  So, why mount the plaque on the old, carved stone lintel, when it could have been put above it?