........ and lots of delicious food!  (if you are on a diet, I apologise if this post sends you running to the biscuit tin/secret chocolate stash!!).  On my birthday, we walked up the hill to the Earth Café for breakfast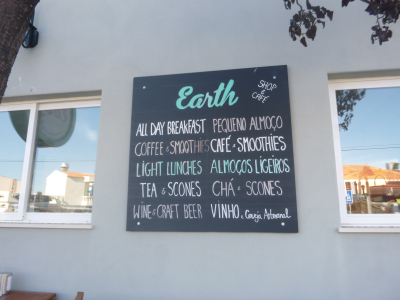 it had only just opened when we were in Carvoiero last year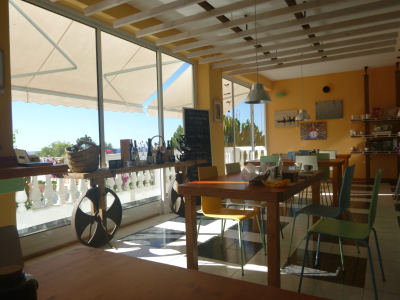 and we were delighted to see that was obviously very successful
my favourite breakfast, smoked salmon and scrambled egg - delicious!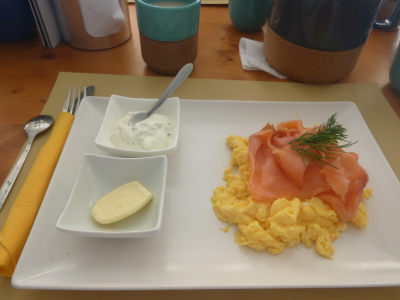 Malcolm had mushrooms on toast, also delicious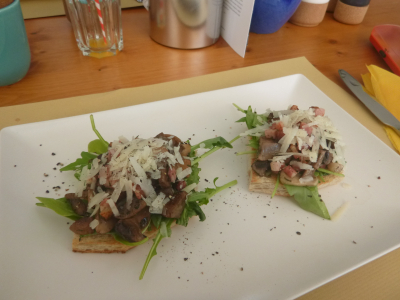 we visited the café several times, sharing a scone with jam and cream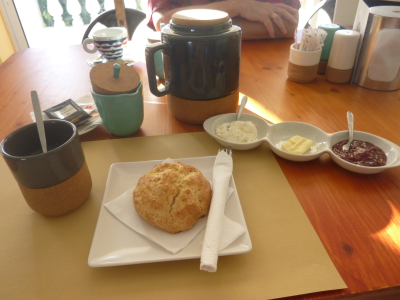 and when on the next visit they didn't have any scones, we shared a slice of banana cake
Taste has now been open for five years, and always seems to be fully booked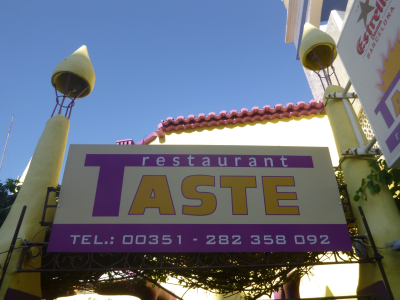 we went there for my birthday dinner, and had a table inside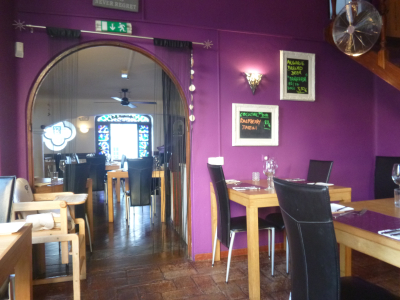 as all the outside tables were already reserved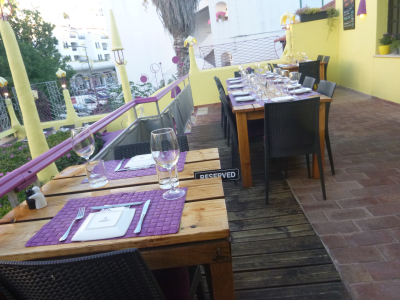 we started with the "couvert" ........ going clockwise, olives, garlic butter, tuna pate and aioli, served with warm rolls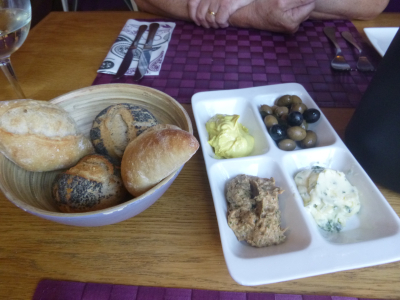 a little "amuse bouche", compliments of the chef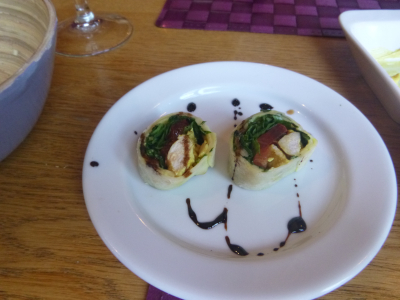 Malcolm had sea bass with risotto
while I had duck breast with potato waffles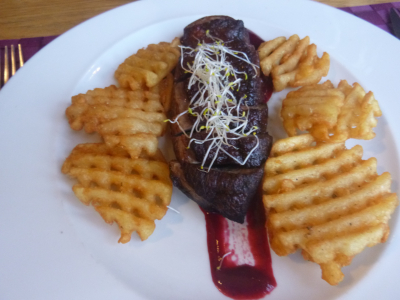 and mixed veggies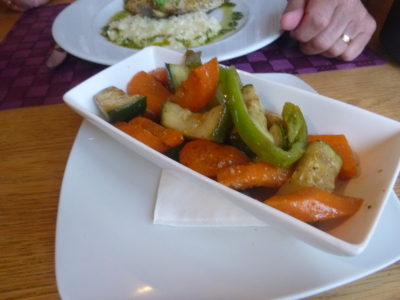 we bravely made room for dessert ....... and Malcolm combined his with coffee to have an affogato - a scoop of ice cream with espresso poured over it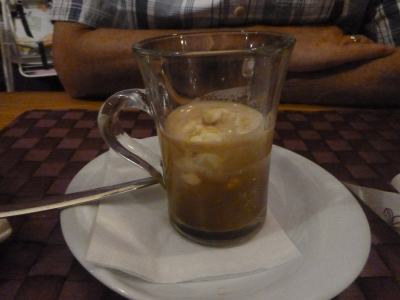 there was a brief pause before my dessert arrived - accompanied by three of the waiters singing Happy Birthday!  By the time they had finished singing, the sparkler had burned out, but the candle made up for it - every time I blew it out, it relit!  Chocolate brownie with salted caramel ice cream and caramel sauce ....... you know that I only ordered it for you to see!!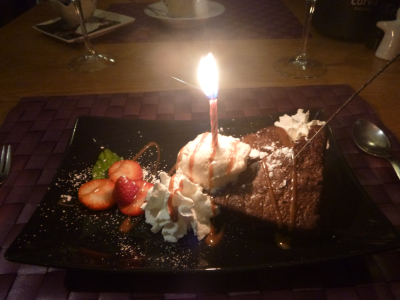 then to finish a very special meal, we were given a glass of port!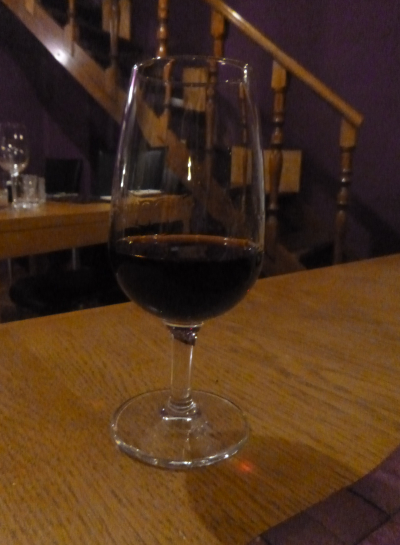 another of our favourites is Jan - which is straight across the road from the hotel.  This is it basking in the sun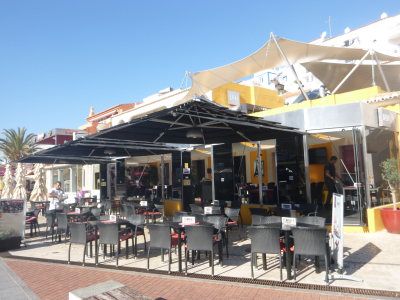 and this is it in the evening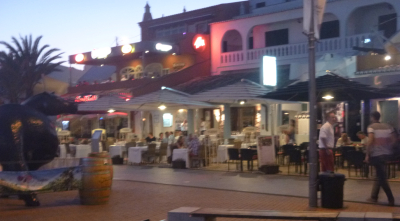 I had asked the waiter to take this photo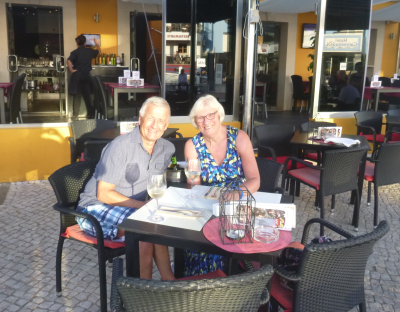 then when we were there several evenings later, when the waiter saw me taking a photo of my dinner, he offered to take a photo of us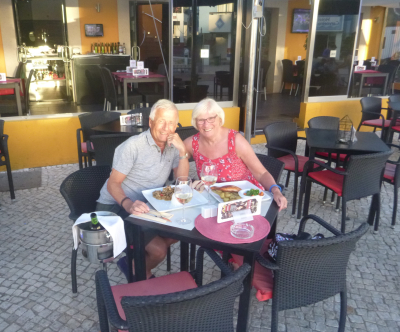 another delicious dinner - salmon in a butter and lemon sauce with veggies and potatoes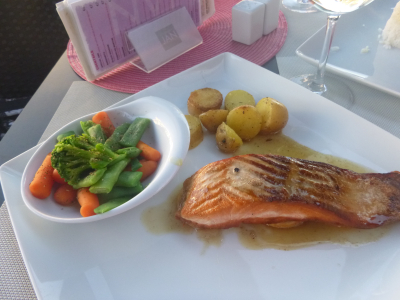 Onze is just a few yards up the hill from the hotel
having seen someone eating this when we arrived, Malcolm promptly ordered it - a monkfish, salmon and prawn kebab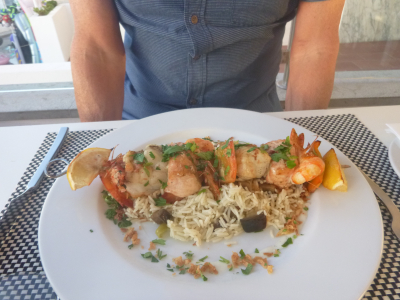 while I had spinach and ricotta tortellini in a gorgonzola sauce.  I tried to get the recipe for the sauce from the waitress, but she said it was the chef's secret recipe - so I shall just have to guess at what was in it - I think there was a hint of mustard!
but I wouldn't want you to think that all we did was eat ........ sometimes we just had a cuppa!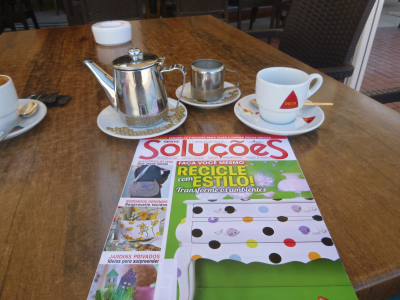 we didn't visit this bar, despite the handsome chap pictured on the wall
nor did we visit the establishment that this little dog guarded, lying in the middle of the pavement in front of the door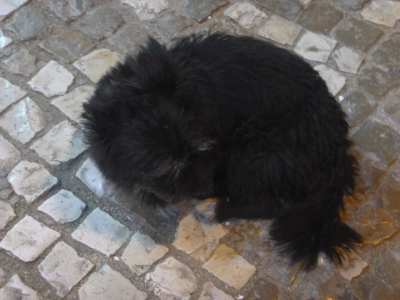 I'll be back tomorrow with a last holiday report, including some very special electricity junction boxes!