When I was sorting through my photos for today's post, I came across this one.  I took it on holiday with my Kindle, which I was trying to set up to take photos of our meal, to email to Stuart and Alison.  I don't usually take selfies - but I rather like this one!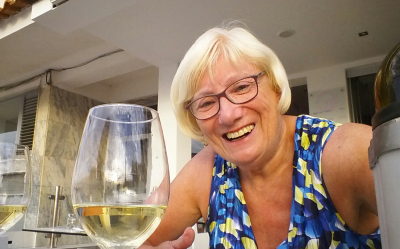 I used to have two lovely, delightful friends in Melbourne ......... Meredithe and Helen.  But when they were recently at a quilt exhibition, they not only took lots of photos of nasty little beasties cats, they then arranged them in a collage to send to me.  I have told them I may start speaking to them again in about a zillion years time!! (M & H, you know I love you, really!)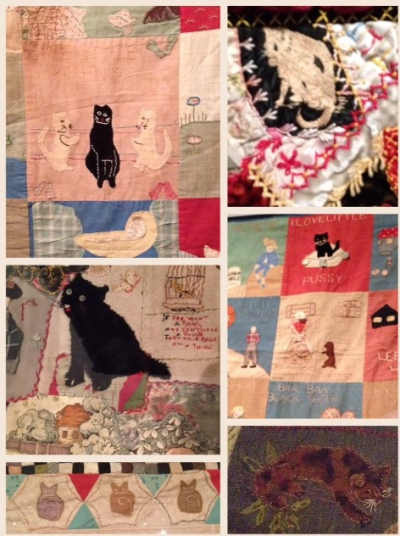 I hope it really is an old wife's tale that lots of berries in the autumn means we are in for a hard winter, as our rowan tree is laden .......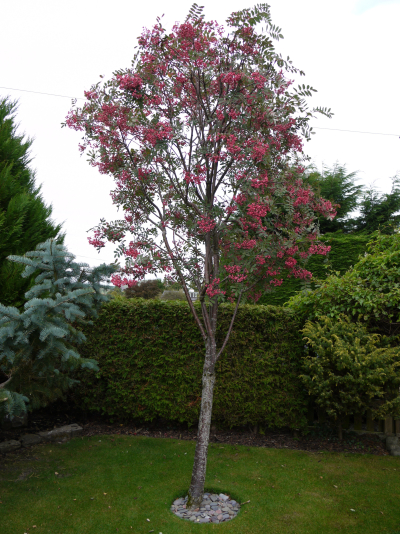 ....... with pink berries, which the blackbirds love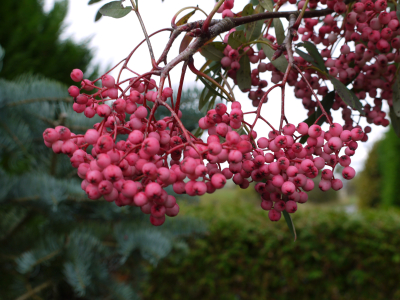 the climbing rose on the front of the house is still flowering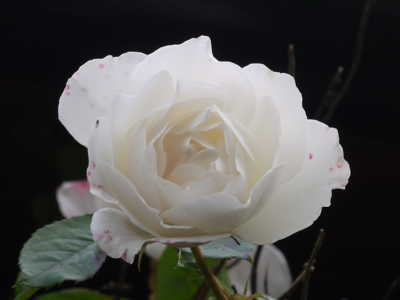 and this clematis in the back garden is flowering for the second time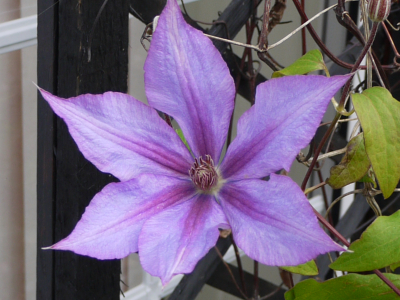 this fuchsia has been flowering for weeks and weeks!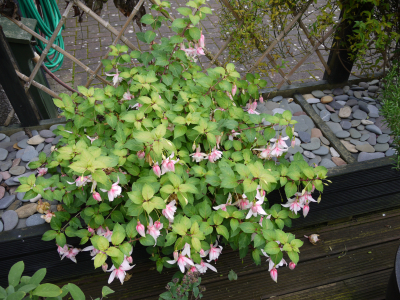 after pottering round the garden with the camera, I had a stroll along the road.  There are sheep in the field across the road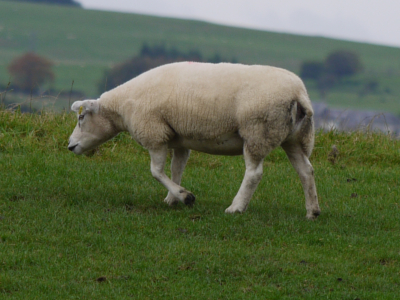 I think this one was saying "who are you looking at" in a picking a fight sort of way!
a little further on, the donkeys were out in their field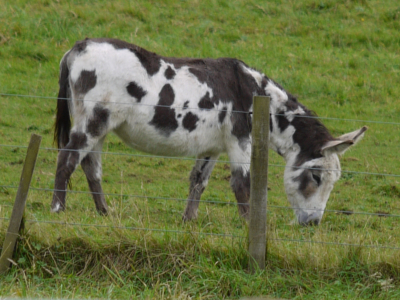 I was surprised they didn't have their coats on, as they seem to wear them for most of the year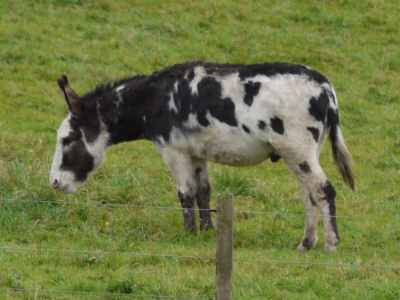 three of them stood nicely for the photos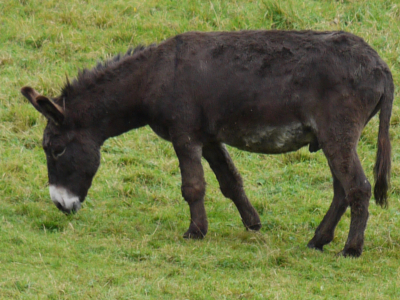 but this one just would not turn round!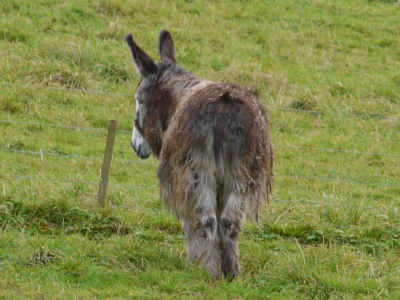 the horse sharing their field just has such a superior air - look at me, I am sleek and handsome, unlike those shaggy donkeys!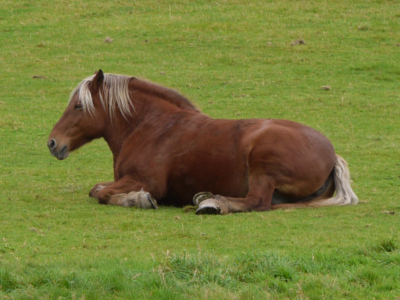 after spending the summer out in the hedgerows, the sparrows are back in the garden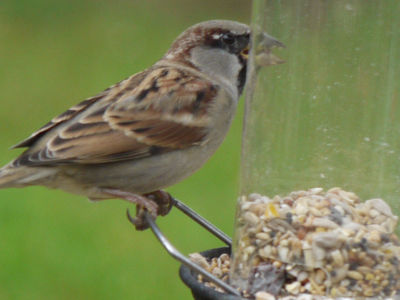 I didn't mind this one turning its back, as it means you can see the striking patterns on his feathers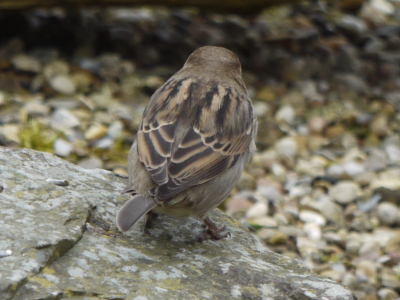 these three were deep in conversation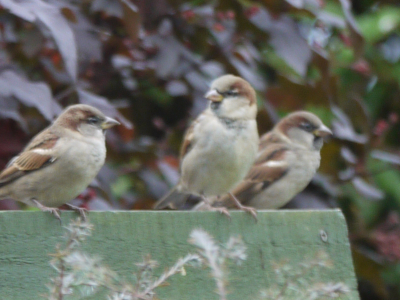 while this one ignored them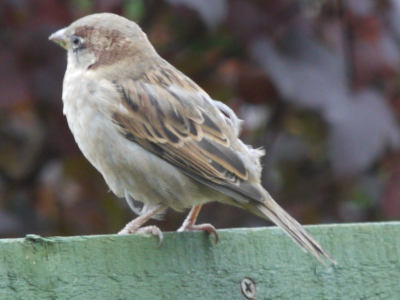 for every successful bird photo ........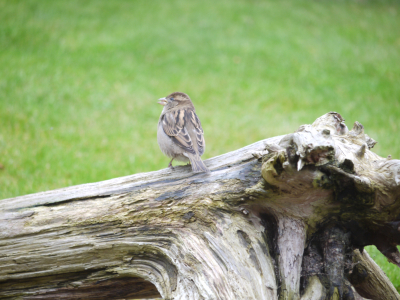 ........ there are a lot like this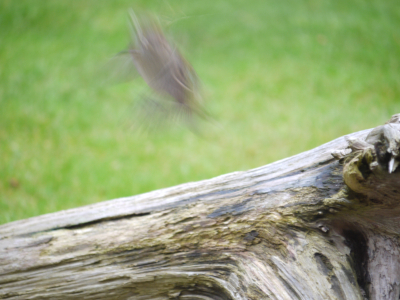 and like this, where the camera has focused  on the metal bird, instead of the robin (yes, I am blaming the camera, not my photography skills!) (according to my spell check, both focused and focussed are acceptable spellings, but neither looks right)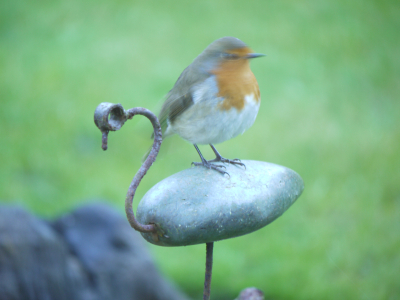 it's Friday, so that means cake!  This afternoon, we shared a slice of banana bread, which was delicious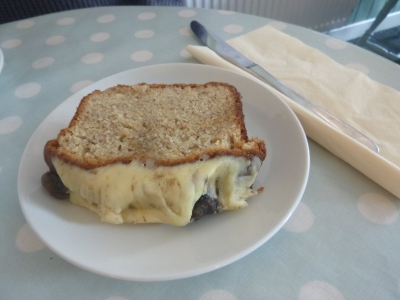 we are visiting Stuart and Alison this weekend, going out for a belated dinner to celebrate our Anniversary ....... I even have a new dress to wear!  I hope you have a good weekend, love Anne