On Saturday, we headed up the road to spend some time with Stuart and Alison ........ and to finally celebrate our Pearl Wedding Anniversary, Malcolm's birthday, Alison's birthday, Stuart's birthday and my birthday.  All that celebrating called for a very special meal, so we decided to go to Pierre's in Falkirk.  Stuart and Alison had been there recently, but I think the last time Malcolm and I were there was when we took Stuart and my Dad for lunch in 1999.  Why do I remember it was 1999 ...... because it was to celebrate Stuart's 21st birthday and my Dad's 80th (my Dad's birthday was the day after Stuart's)  Our meal on Saturday started with a little amuse bouche, cream of carrot and coriander soup, served in a tiny espresso cup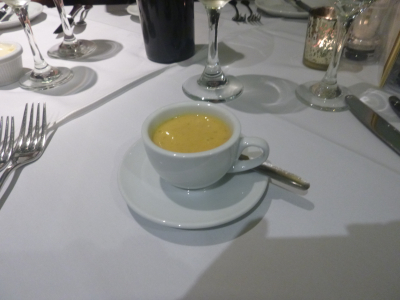 I only took photos of Malcolm and my food rather than hold up the eating taking photos of all four meals.  This is my starter - hot smoked salmon with a mango and avocado salsa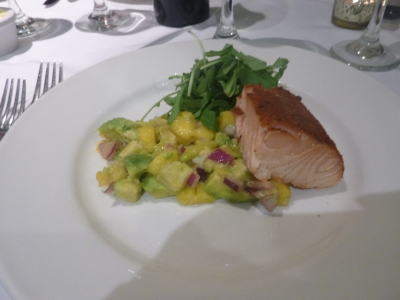 Malcolm had chicken and haggis terrine, with red onion jam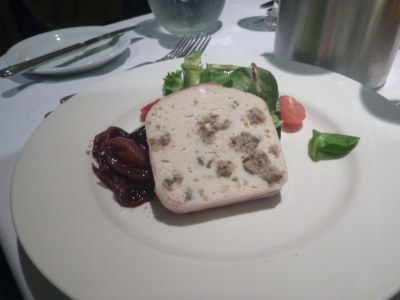 my main course - chicken breast, with creamy mashed potato, green beans and a mustard sauce ....... and the two little bonbons - one black pudding and one haggis
Malcolm had a ribeye steak with a blue cheese sauce ....... and some wonderful chips, which were supposed to be for two, so he shared them with the rest of us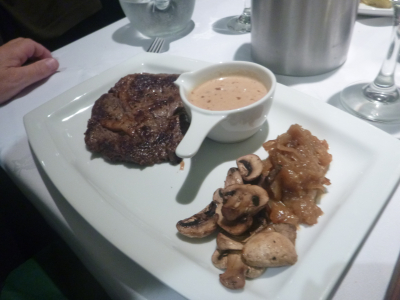 my pudding .... it said on the menu that it was a chocolate panecotta, but it was more like a chocolate mousse, with an orange sauce and orange segments - utterly delicious!!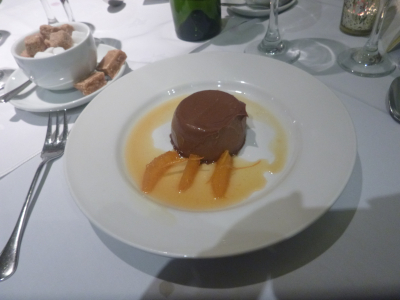 on Sunday morning, having recovered from Saturday night's meal, we headed to The Wheelhouse for breakfast.  Stuart chose French toast with bacon and maple syrup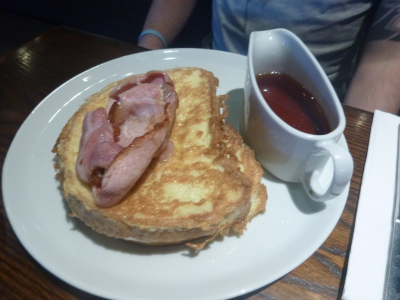 Alison and Malcolm both chose this - a circle of toast, with mushrooms and hollandaise sauce ....... and a surprise ingredient, black pudding hiding under the sauce!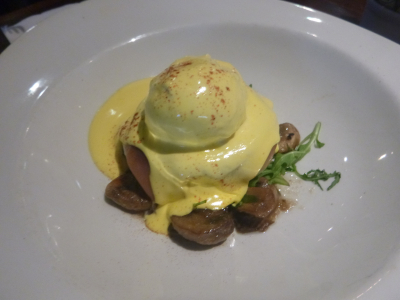 I had ordered egg benedict - but hadn't expected to get a double helping ...... so Malcolm manfully helped me eat it!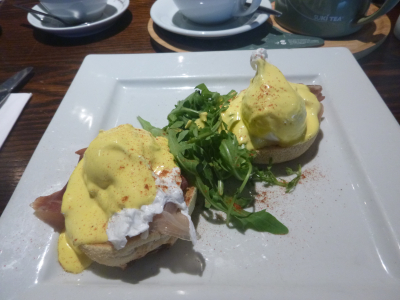 The Wheelhouse is beside the Falkirk Wheel, and near the Kelpies.  You can read about them here, here and here. I had a quick search through my photos for the Falkirk Wheel and found these two.  The first was taken by me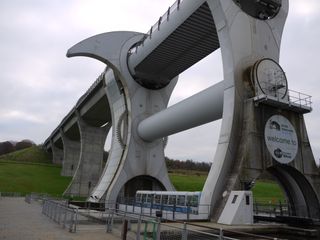 and this snowy one was taken by Stuart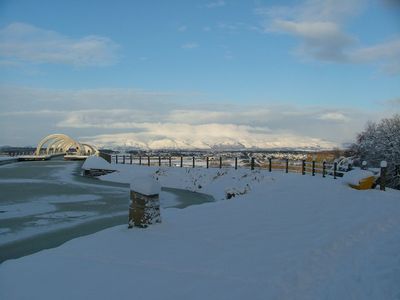 I'll be back on Friday with a sock update!