So who was the mystery stitcher?  The story starts five years ago when Sarah and Andy came to visit.  Sarah was the first blogger that I met in real life, and we had a great day when she and Andy visited all those years ago.  So when Sarah got in touch to say that they would be in Northumberland again this summer for a holiday, of course we invited them for another visit.  They were a little bit late getting to us because of a major road diversion, so as soon as they arrived, we set of for lunch at Harestanes.  We were chatting so much I forgot to take a photo of lunch (delicious, freshly made sandwiches).  However, as we walked round the courtyard the camera came out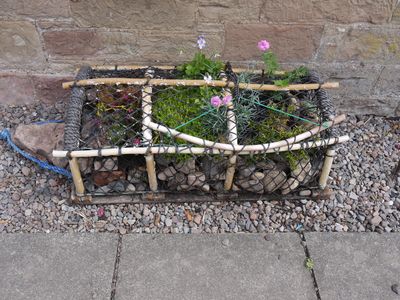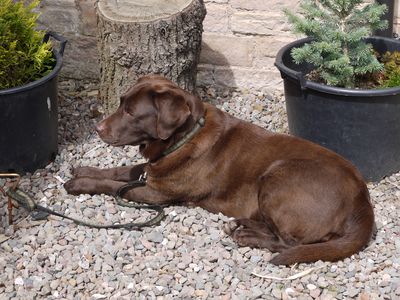 we then went to Mary Queen of Scots House in Jedburgh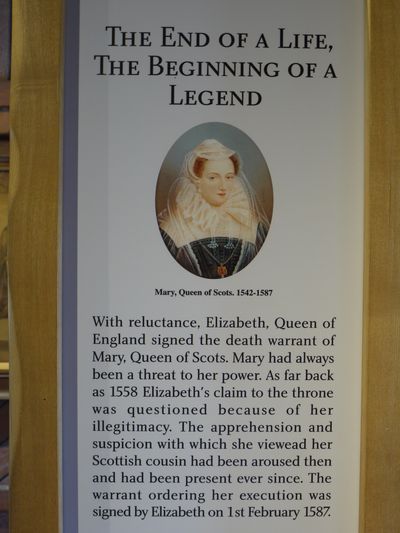 the next stop was at Borderland Fabrics, but for some reason Malcolm and Andy chose not to go into the shop, and instead went to Border Meringues for a cuppa.  After Sarah did a little bit of fabric shopping, we joined the boys for a cuppa - but we resisted all the cakes and made do with the little meringues that came with our drinks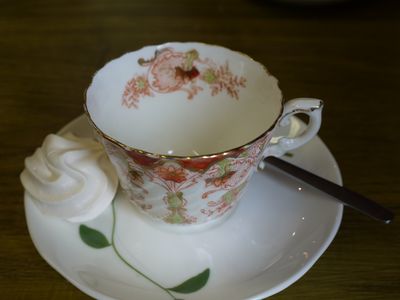 back home, we went out to the studio, as Sarah had asked if I would show her how to free motion quilt.  I had prepared a couple of sample pieces at the weekend, and looked out this book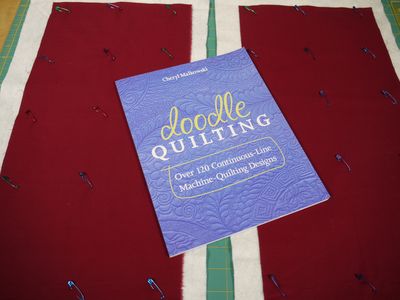 I had a little go at the basic exercises on Sunday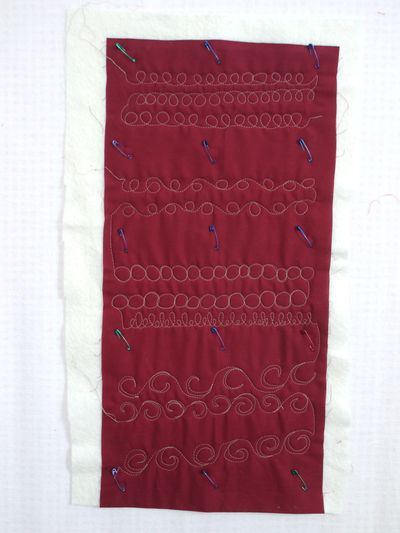 so I was ready to show Sarah what to do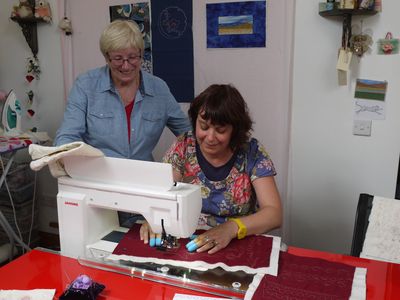 she took to it straightaway - Andy could only watch in wonder as she effortlessly doodled her designs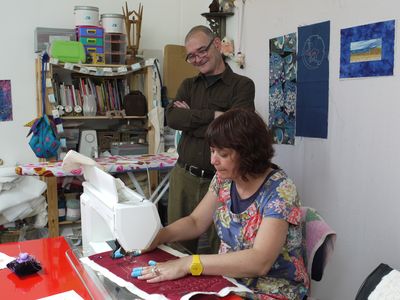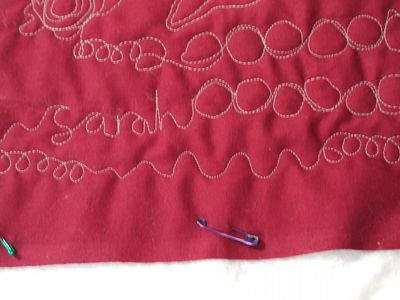 as she was doing so well, I rethreaded the machine with a luscious variegated thread, and she was off again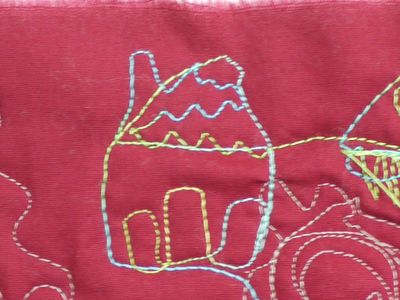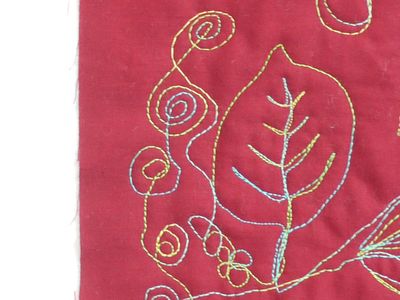 then, to finish, she stitched this owl on a branch, over her first efforts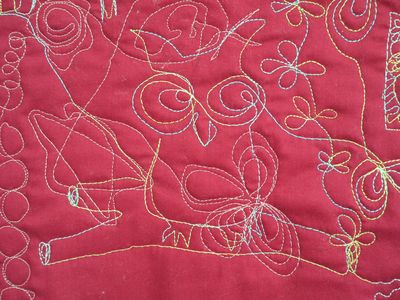 unfortunately the weather wasn't good enough for us to have dinner outside, but the food tasted just as good eating at the kitchen table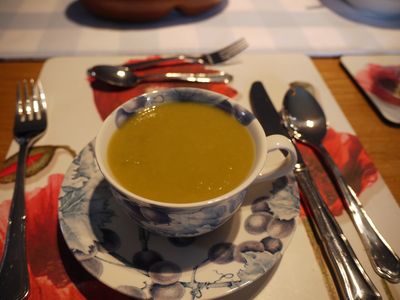 asparagus soup (before the crumbled blue cheese was added)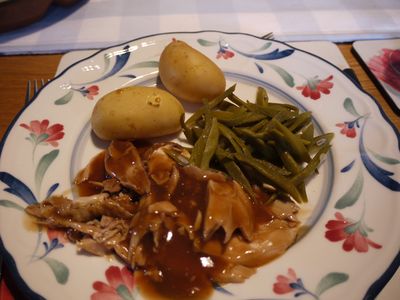 roast chicken and gravy, with charlotte potatoes and Malcolm's green beans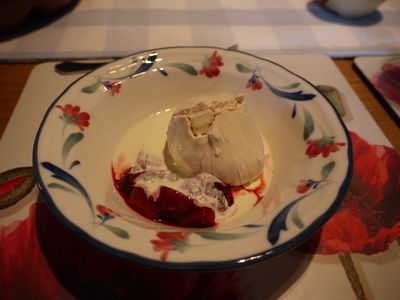 meringue with 3-berry compote and cream
all too soon it was time for Sarah and Andy to head back to their holiday cottage.  We had a super day ...... and we hope it won't be another five years before we do it again!!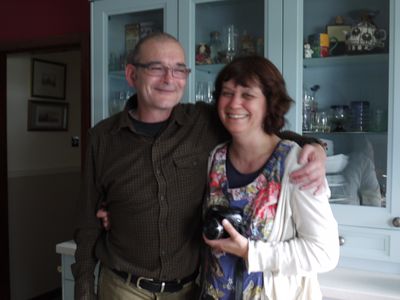 we zoomed off down to Stitchin' Heaven this morning, as Anne's major summer sale had just started.  The shop has been reorganised, and looks even better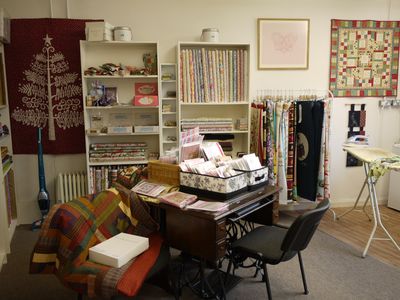 Anne was cuddling a very special customer
Anne has started stocking some beautiful yarn, which comes from here.  So if you knit rather than sew, you can pop in to the shop and Anne will make you a cuppa while you decide which delicious colours to buy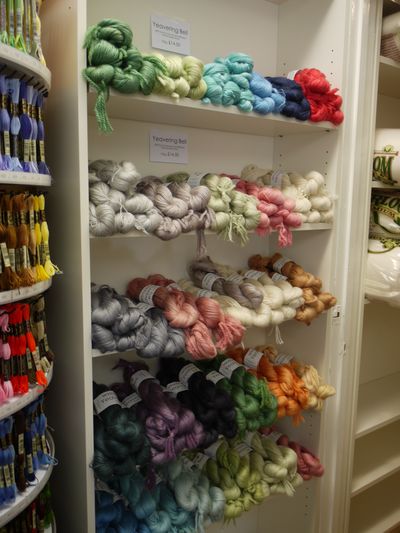 after Malcolm dragged me out of the shop with rather a lot of fabric, we headed to Wooler.  We had lunch here, sharing a cheese and ham toastie and a cheese and onion toastie - yum!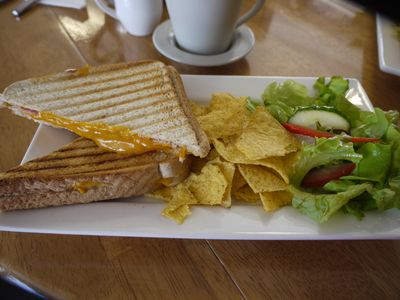 but what was this?  Behind the coffee shop area, we discovered a small but perfectly formed patchwork shop.  It hasn't been open long, so if you are in the area, do pop in and support them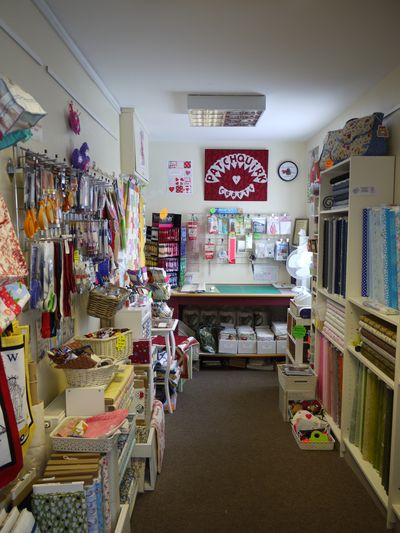 from Wooler, we came over to Berwick, so I am writing this post in the flat.  OK, I can here you all shouting "what did you buy"!  First, from Patchquirk, I got this super beach hut furnishing fabric, which will make more cushions for the flat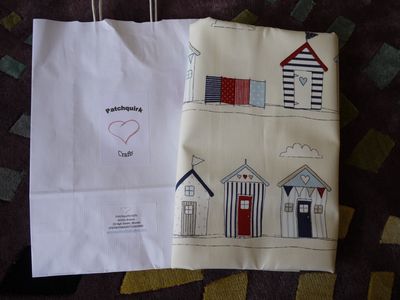 then from Anne's I got : the two white fabrics are for the Father Christmas wallhanging kits; the dark red variegated embroidery thread is for a Christmas project (I bought the fabric for it last year); the bright variegated threads are for stitcheries; the ruler is a handy size that I have been meaning to buy for some time; and the three coloured fabrics are for a Christmas throw for the couch in the flat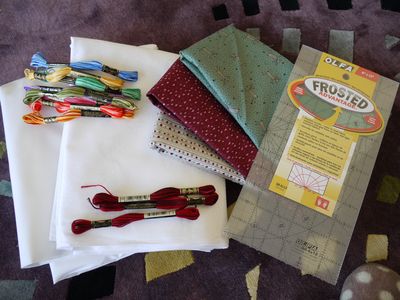 in case you don't think they are Christmas fabrics, here is a detail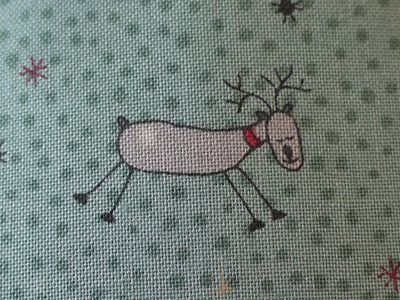 of course if we are at the flat we have to have a swan photo (no close up of the seal, as Stuart has borrowed my big lens)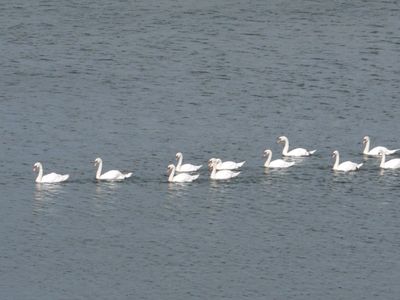 and to finish ...... I wonder if the person who parked this big machine on the dock left the keys in the ignition .......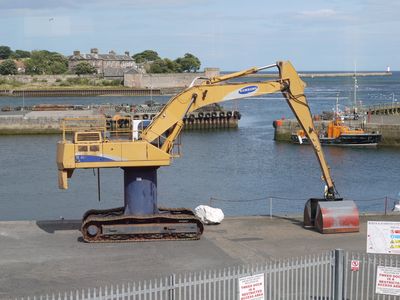 *  apologies to Humble Pie for (almost) using their song title