Hooray, I have been given an award by Gilly - thank you very much Gilly for giving it to me!

of course, it comes with conditions!!  First, I have to tell you eleven random facts about myself. 
1.  At school I had the same Latin teacher as my Dad
2.  I learned to knit when I was seven
3.  My great-grandfather made violins
4.  I was Dux of primary school
5.  I saw Princess Anne arrive at Queen Street Station and the Queen arrive at Central Station (both in Glasgow) in the 70s, as I worked for British Rail, and we were allowed out of the office to go to see them
6.  I'm not a natural blonde
7.  I can't sing in tune
8.  I can't play a musical instrument (except for Twinkle Twinkle Little Star with one finger on the piano!)
9.  I called my first car Uriah, as it was a heap
10.  Malcolm once made a garden shed for me
11.  I passed my driving test first time
part two is to answer a list of questions set by Gilly
Q. What's your favourite animal ?
A. Oh dear - a hard one ..... but I think it might have to be lambs
Q. Sweet stuff or savoury ?
A. Definitely savoury, like this wonderful meal we had to celebrate Malcolm's birthday
Q. Where in the world is the best place you've been to ?
A. Again, this was hard, but in the end I chose Australia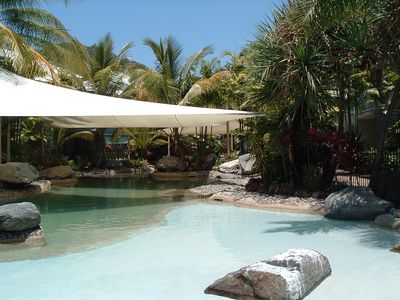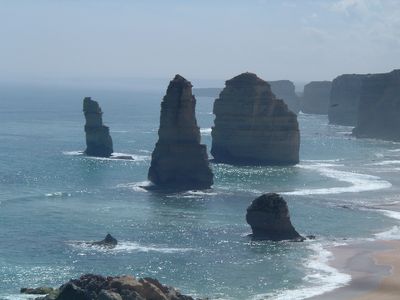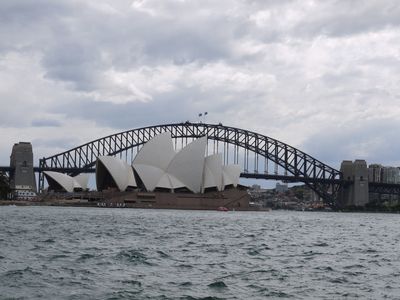 Q. Do you still live in your country of birth ?
A. Yes, although I have also lived in England and Indonesia
Q. Which of your hobbies/crafts/talents is your favourite ?
A. Sewing
Q. Hot & sunny or cold & snowy ?
A.  Definitely hot and sunny!  This was where we stayed in Majorca last May
Q. Dogs or cats ?
A.  All together now .... DOGS
Q. What simple things make you happy ?
A. Family, friends ...... and scones
Q. Town, country or by the seaside ?
A. Country
Q. The book or the movie ?
A.  Definitely the book
Q. Are you an Adventurer or a Homebody ?
A.  Both!  I love my home, but I love travelling and doing new things, even if the terrify me, like walking across Sydney Harbour Bridge last year
I am now supposed the pass the award on to eleven other bloggers, but as I gave out awards last month, I'm going to skip that stage.  I should have thought of eleven questions to ask the recipients, so instead I will pose one question for all of you to answer, either in a commennt or an email, and I'll give a prize to the best answer
What is the worst thing you have ever eaten?
ps - I'm sorry about the change in font, and the misaligned photo!