It's a little bit of sunlight!!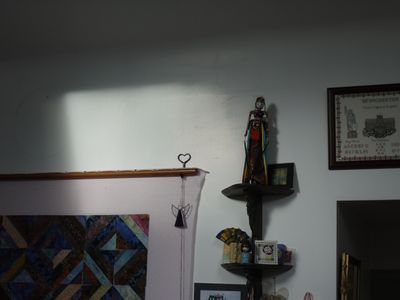 I was in the studio at half past nine this morning, and spent the day working on several projects.  First on the design wall was the batch of strips that I stitched over the weekend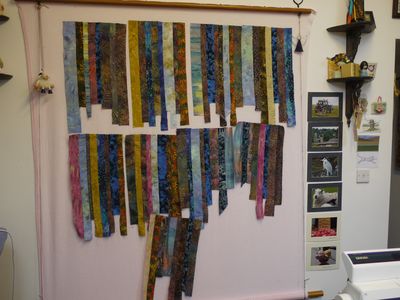 I cut 22 squares from the strips, with a big pile of offcuts left to make more squares from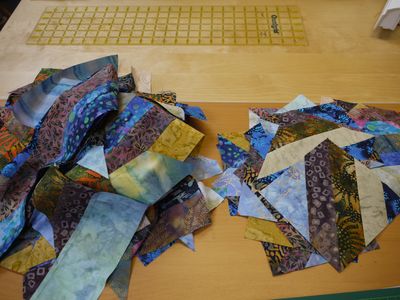 I put them on the wall, along with the other squares that I had made previously (it was only later that I noticed some of the squares are the wrong way round!)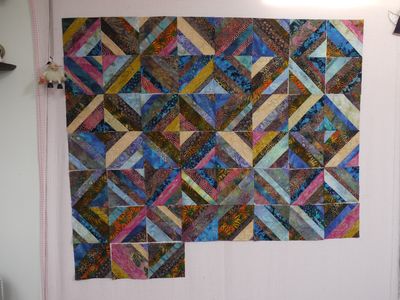 after joining up bits of the offcuts, I ended up with 64 squares (I think they are all the right way round this time!)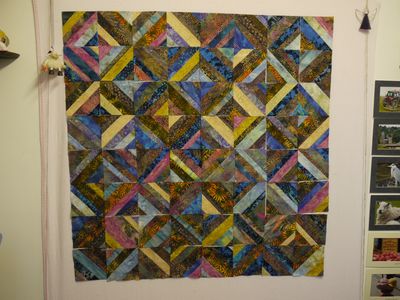 when Stuart and Alison moved into their new house last year, they asked if I could make roman blinds for their kitchen and hall windows.  For a variety of reasons (including being out of the country for a total of 8 weeks!) I hadn't made a start on them, but a couple of weeks ago one of the curtain fabric shops in Hawick had a closing down sale.  We popped in for a look and I found a length of fabric that I thought might do for the kitchen.  The earthy background colours go well with the cupboards and floor tiles, and the purple spots match their accessories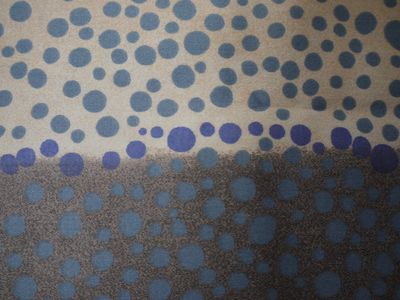 I sent them a photo to see if they liked the fabric - but it wouldn't have been a problem if they hadn't, as it cost the amazing sum of £1.75!!  It didn't take long to check the measurements and cut the fabric to size, but then I had to put it aside as I will have to get some curtain lining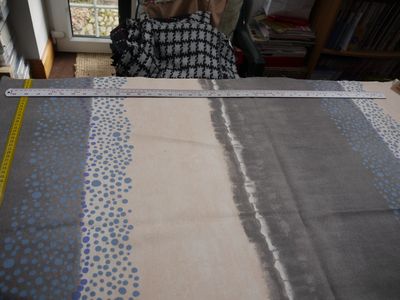 I had a hunt through my stash to see if I had anything suitable for their hall window.  I knew they wanted something to go with their black and cream colour scheme, so I pulled out these two fabrics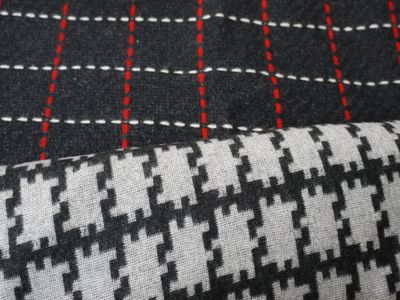 I bought them some years ago from a wonderful little shop in Selkirk, which sadly has closed down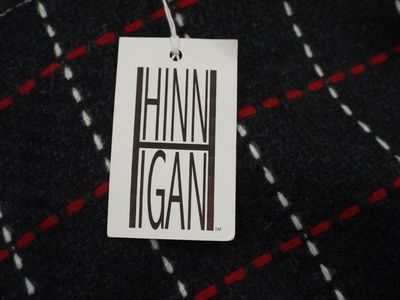 they are both beautiful pure wool fabrics, and I sent them photos to see if they would like one of them.  They decided on the black and grey one, but just to be sure I sent them swatches - and they changed their minds!  I decided to use the black and grey fabric as the lining fabric, which you might think is very extravagant - until I show you the price tags!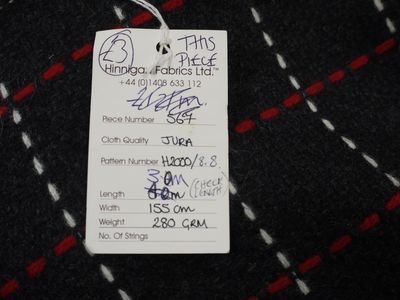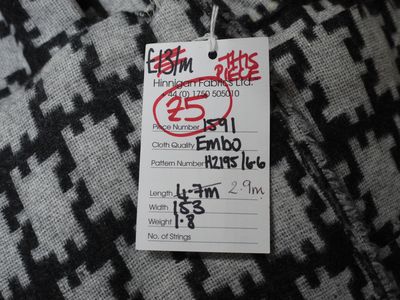 it's just as well I tidied the lower room, as I needed to lay the fabrics out on the floor to pin them
I stitched down one side, across the bottom and up the other side.  I then turned the blind through to the right side.  After pressing it, the next job will be to stitch channels across it to take thin pieces of dowel.  I have folded it to give you an idea of how it will look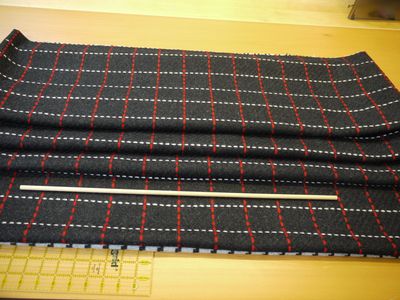 on Saturday, I got one of the little quilt tops from the free motion quilting pile, and layered it up with some cotton wadding and backing fabric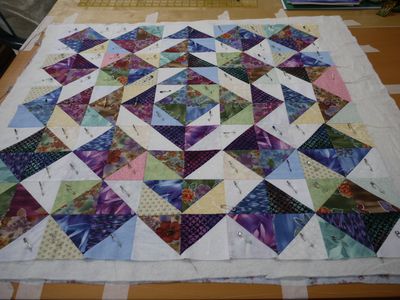 I started in the centre and stitched a sort of flower with tendrils, and a filler stitch in the surrounding triangles
I then stitched flowers in the flying geese that make up the centre sections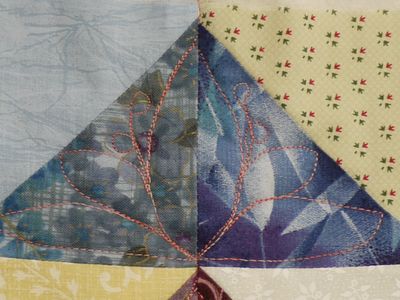 on Sunday, and then again today, I stitched more flowers in the dark squares.  I am starting to get into a rhythm with the stitching, with just the odd squiggle where I have gone over lumpy seams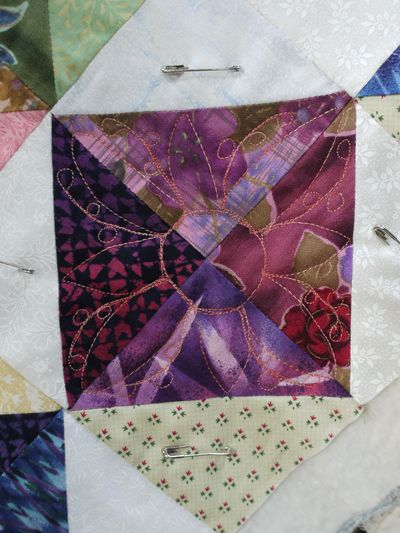 in the evenings I have been doing the embroidery for the Leanne's House quilt.  It is slow going, as the flowers are quite small, and I can only stitch for a couple of hours before I start to go a bit cross-eyed!!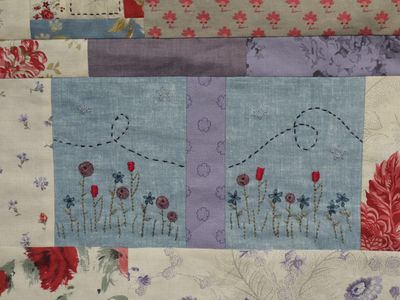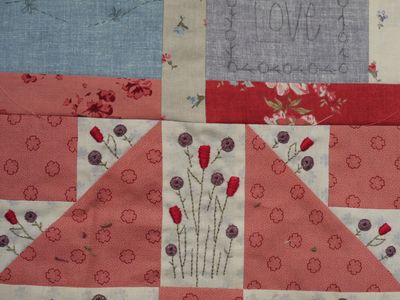 Stuart recently received a somewhat cryptic email from his friend Fraser, which said "do you think your Mum could make this?" followed by this link.  Hmmm - a knitted badger cushion.  I could do it, but it would take a while, so instead I suggested an applique one.  The message came back from Fraser that an applique one would be fine, and offering payment in chocolate and wine!!  If he had wanted a knitted one, I would have had to buy some knitting graph paper - knitted stitches are rectangular, so you need graph paper with rectangles rather than squares to design on.  However the only specialist equipment needed  for an applique badger is a Malcolm ....... it's handy being married to someone who can draw!!