On Saturday. on our way to visit Stuart and Alison, we decided to visit the House of the Binns, near Linlithgow.  However, as we were too early, we made a detour to visit Blackness Castle.  We didn't do the tour inside, but we did enjoy walking round the grounds, dwarfed by the vast structure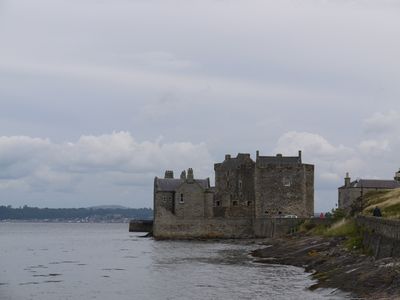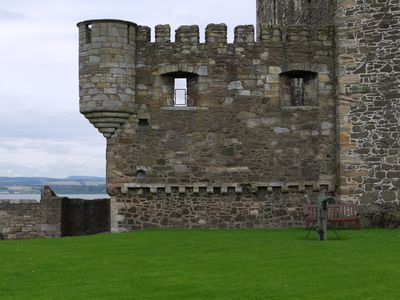 I am sure you will recognise these famous bridges, which can be seen from the castle grounds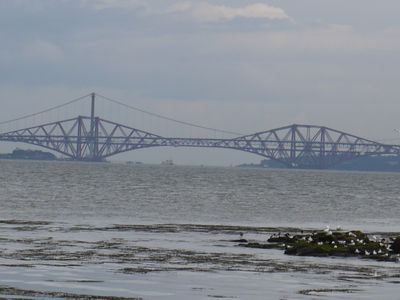 Malcolm spotted this gate, which had been abandoned in a flower bed ......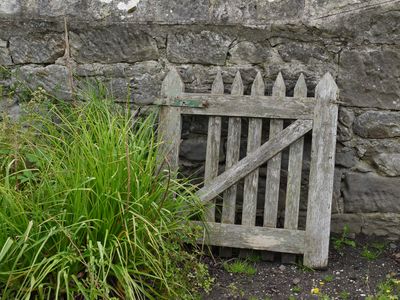 ....... then I spotted this very late flowering poppy (complete with hover fly)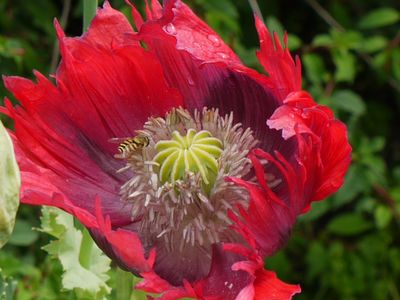 Then it was on to the House of the Binns, which is the ancestral home of  Tam Dalyell (pronounced dee-ell)  His family has lived in the house since 1612, although it has been owned by the
National Trust for Scotland since 1944, on condition that the family are allowed to live in it, and if the missing family treasure is ever found, that it is returned to the family!  Tam was very much in evidence during our visit, chatting to the NT ladies and directing a coach driver to his parking space, and because it is still very much a family home, photography was not allowed inside.  However, I was able to take lots of photos outside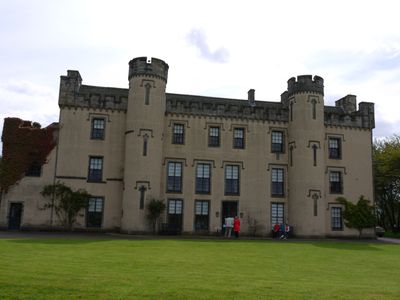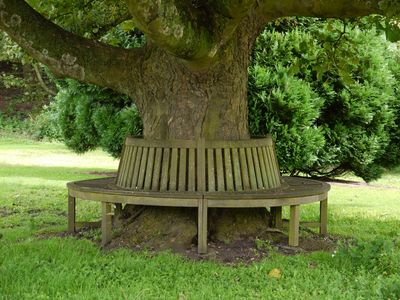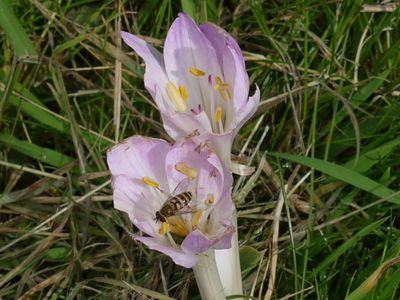 There is a tower on the highest point of the grounds - the views in all directions are stunning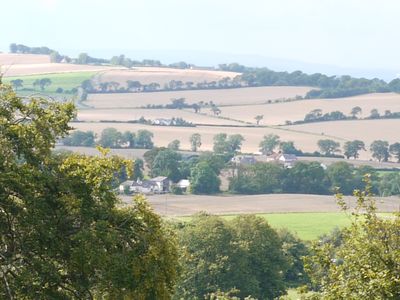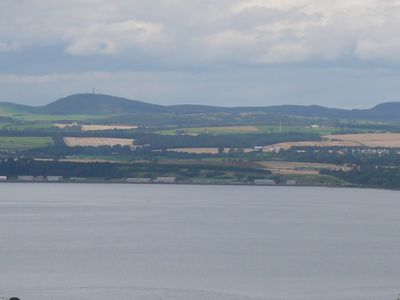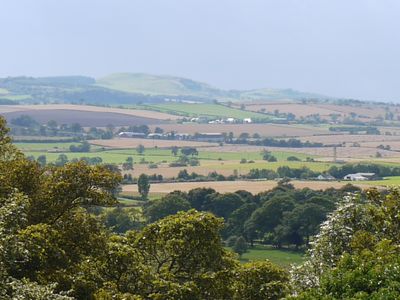 This is the view down to the River Forth and Blackness Castle ...... at one time there was a tunnel from the house down to the river, for the occupants to escape their enemies during troubled times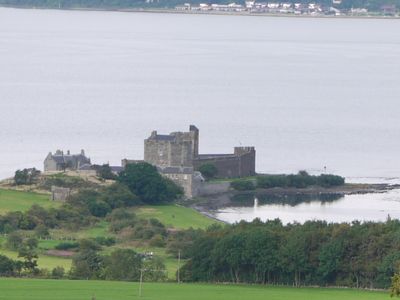 We had lunch in a garden centre near the House of the Binns on Saturday, where we saw  wonderful stone owls, made with river stones.  Having picked up a small one to look more closely at, I then went to pick up a bigger one ... only to discover that it was so heavy that I needed both hands to lift it!  That owl ended up coming home with us, to add to Malcolm's collection.  He decided to put it in the remodelled front garden .....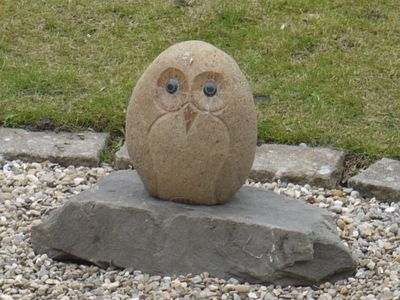 ...... where it was soon joined by this big wooden owl, which Malcolm bought in Indonesia (that one was the start of the collection) ........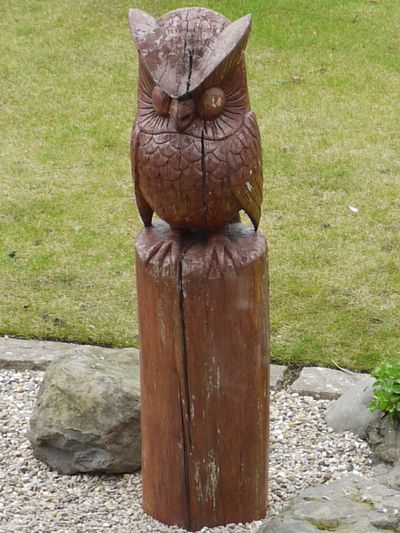 ...... and this smaller wooden one, which I gave him some years ago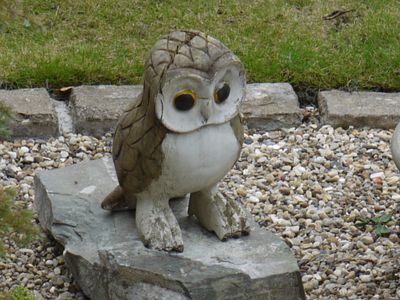 I had a busy half hour in the kitchen this morning, turning this
into this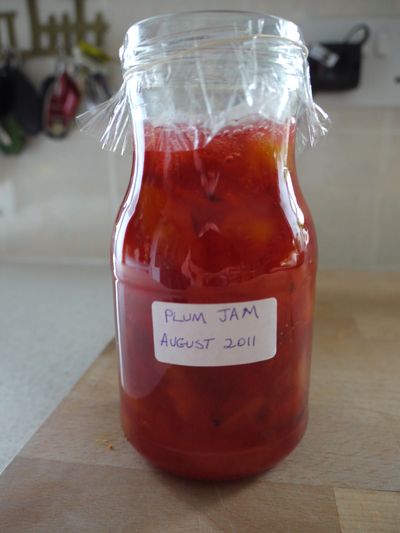 and this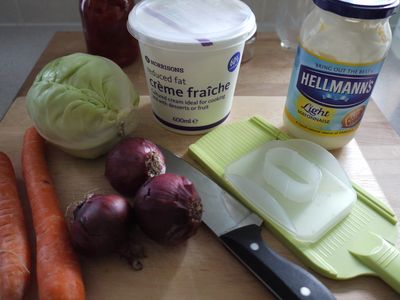 into this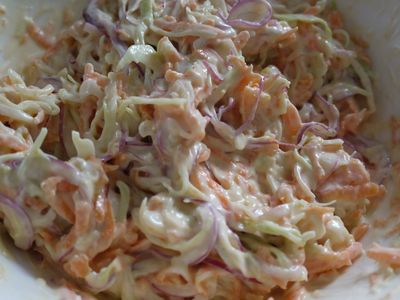 Later on in the studio, I transformed this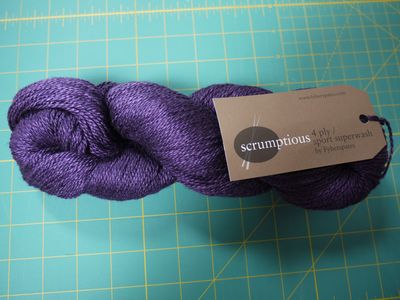 into this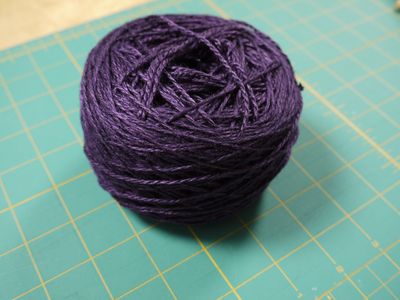 and I have already started changing the ball of yarn (gorgeous stuff, 45% silk, 55% superwash merino) into these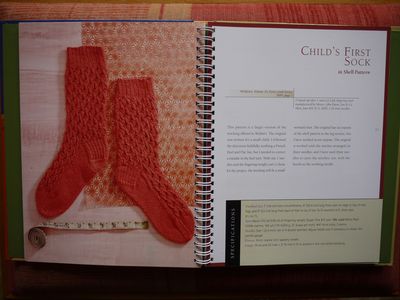 Although it says child's sock, the pattern has been reworked from a vintage one to fit a small adult foot!
ps - I bought the owl on Saturday as an extra present for Malcolm's birthday, which is this Saturday .......... but I will be away all day at the autumn quilt show at Harrogate!  However I have a special dinner (and a bottle of fizz) planned for Friday night, when he will open his presents, so he isn't too upset!!