As usual for Friday, it was off down the road to Borderland Fabrics.  There was the usual amount of sewing done, but today I just took photos of the important stuff - yes ... the food and drink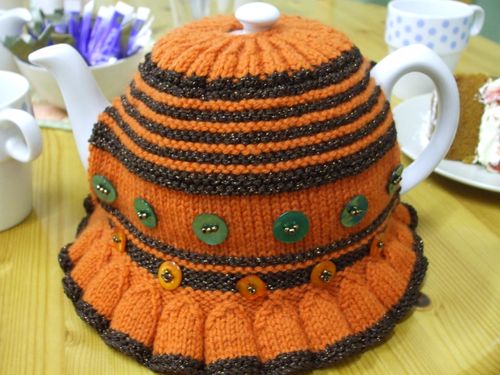 The tea definitely tastes better when poured from a pot with such a smart cosy!
Annette excelled herself today with this wonderful sponge - and as she had forgotten her whisk .... she whisked the cream with a fork!
The teacosy was knitted by Anne, who has been having an exciting time, as she now has an on-line shop.  Do have a look - there are all sorts of lovely kits for quilts, bags, dolls - lots of super things.  Anne will be adding more kits, so if you don't see something this time, do go back for another look.  I particularly like the Japanese quilt, which I saw when Anne made her sample one - the colours are lovely.
It's a wet and miserable evening here, but never mind ... it's the weekend  - have a good one, love, Anne