As predicted, I was simply too tired last night to post about my workshop with Jennie Rayment.  As soon as we had all arrived and set up our machines it was down to business.
Jennie's instructions are laced with humour, but she explained each block clearly and went over everything two or three times until she was sure everyone had understood. She went round the room constantly, making sure everyone was coping and offering help and advice when needed.
After a hard morning's work (ok, we did stop for a cuppa and a biscuit) we were halfway through our blocks when we stopped for lunch.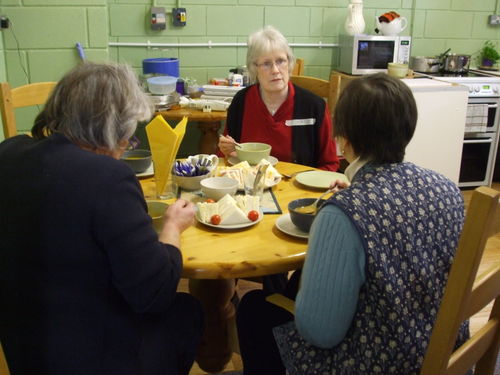 There was a choice of two delicious soups and lots of sandwiches - just what we needed to give us strength for the afternoon session!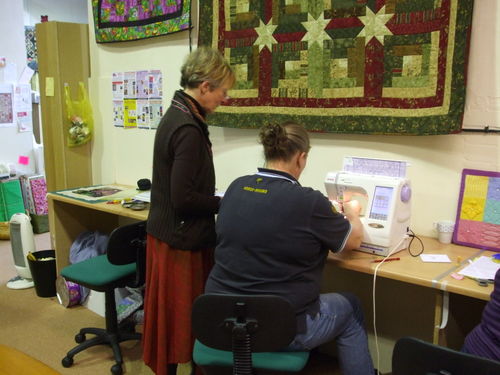 Anne had brought her amazing new machine with her - it does everything but make a cup of tea!  Jennie has a vast knowledge of machines and gave us all advice on getting the most out of our assorted collection.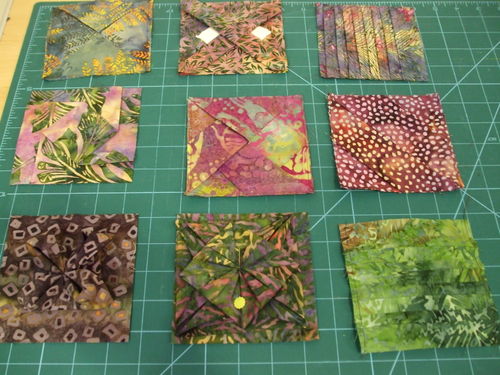 Finally I had the basic 9 blocks completed, ready to be sewn together.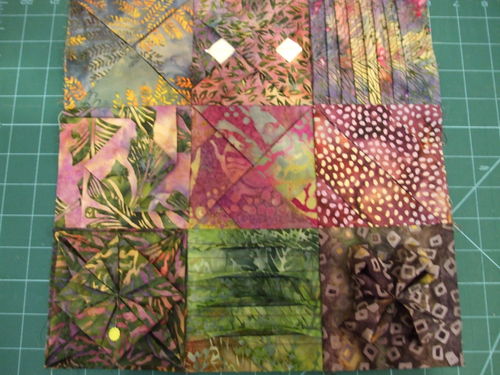 Next, I added the outer borders.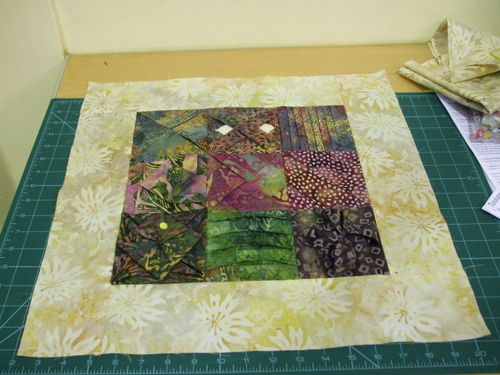 And that's when the fun begins, because you fiddle and twiddle to add texture to the blocks.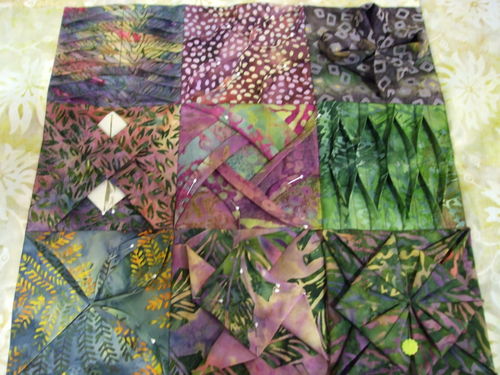 As you can see. at the moment I just have pins in, but the rolled edges will be stitched in place and decorative stitches and beads added.  I have made mine in a selection of batik fabrics, but Jennie is famous for working with calico (muslin in America).  So here is not just nine blocks, but an entire quilt, based on the solution to a sudoku puzzle.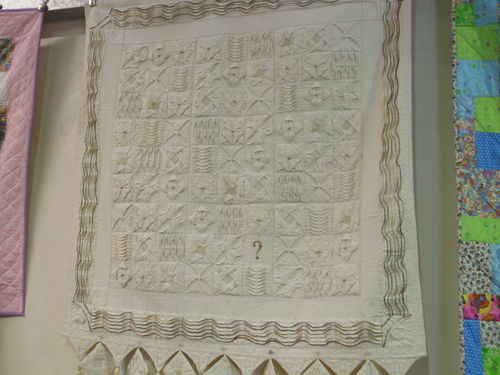 You can just see the blocks hanging on the bottom, one of which is the correct one to fit over the question mark.  I ccould work that out, but the real puzzles defeat me - I like word puzzles, not numerical ones.  If you think the quilt is a bit on the plain side, think again when you look at this detail ...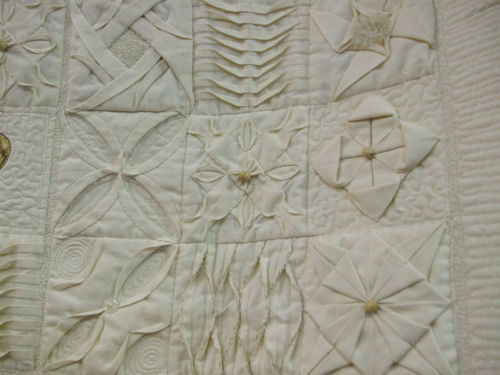 It's amazing what a bit of twiddling and fiddling can create! 
I did mention there was to be home baking - there was a delicious sponge to have with our afternoon cuppa - but it was all eaten before I thought about taking a photo!  Altogether, it was a great day out.
ps - I still have some Thistle Stitchery kits.  They cost £4.50 (incl p&p).  If you would like one, please let me know via a comment, and I'll e-mail you to sort out the details.