Yesterday I went to the Spring Quilt Show at Ingliston, organised by Grosvenor Exhibitions .  They are also the publishers of Fabrications magazine, which I am sure many of you will be familiar with.  I was allowed to take a photo of their stand (you can see the 'no photography please' sign in the photo) when I said it was to put in my blog and that I wasn't trying to copy their designs!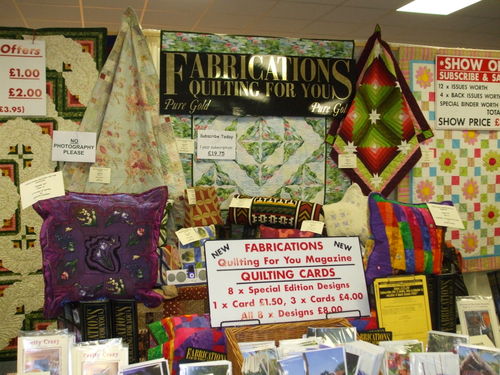 Unfortunately I can't show you photos of the wonderful quilts, because of copyright issues, but I can share with you some of the super traders and their wares.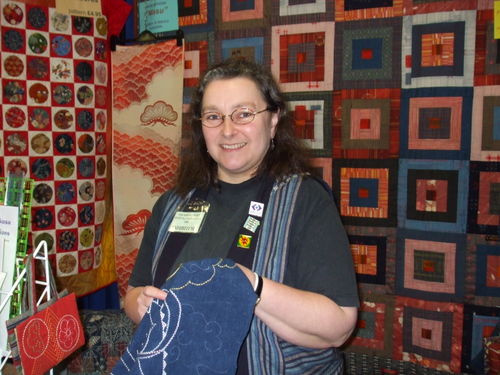 This is the lovely Susan Briscoe, who posed not once but twice, as she looked down to take another stitch just as I took the first photo.  You can visit her website here and read her blog here.  Did I buy something from her - you will have to wait until tomorrow to find out!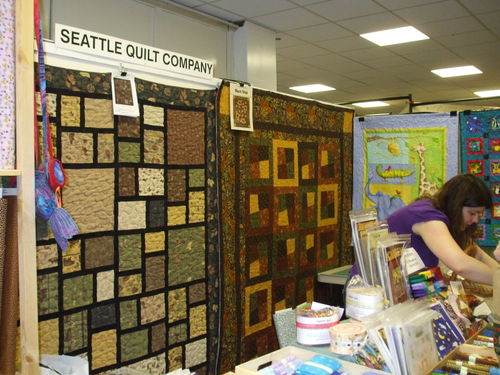 This, as you can see, is The Seattle Quilt Company (all the way from Aberdeen!).  The stand was constantly mobbed, so this was the best photo I could get and unfortunately doesn't show the lovely flannels that they sell.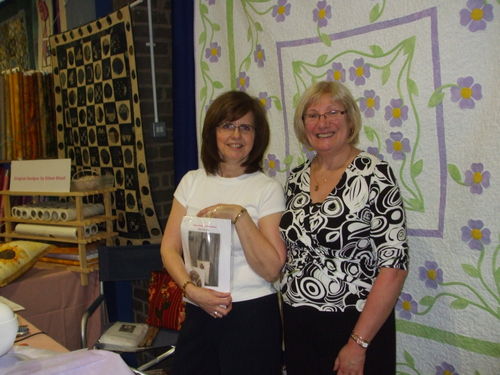 This is me (on the right) with the lovely Eileen .  I have to tell you, this woman could sell fridges to Eskimos.  I only stopped for a look and was swept along by her enthusiasm, the quality of her work and the excellent presentation of the instructions.  Did I buy something?  I'll tell you tomorrow!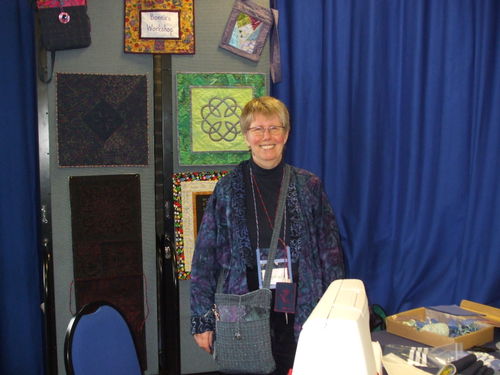 This is my friend Bonnie, who was getting ready to teach a workshop when I popped in to have a quick chat.  I think you can tell from her smile that she is not only Bonnie by name, but also bonnie by nature.  She lives in the village of Twechar ... I can't think of anything that rhymes, to tell you how it's pronounced, but if you clear your throat in the middle, you'll just about get it right!
I also had a blether with the hugely talented, multi-award winning Frieda Oxenham.  I did a workshop with Frieda some years ago and using the technique I learned at the workshop, I made a beautiful ring pillow for my son's wedding, which I will show you some other time.  You can read Frieda's blog here and see the gallery of her work here.
I might have accidently bought a book as well, but all that will be in tomorrow's post.
But to finish, I have a picture of the TWO* pairs of socks I have knitted from my Totie Toe sock wool.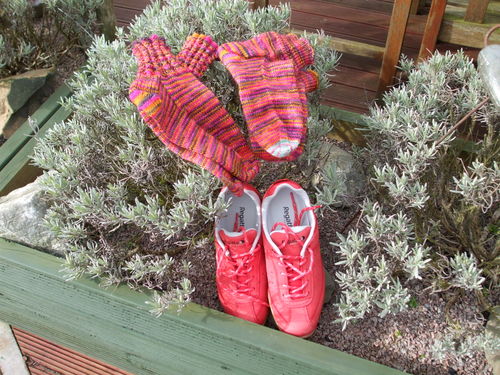 You can see where I had to do the last few rounds of the second pair in a different yarn, but the colours go well.  They are a good match for my walking shoes - I'm sorry if you have been dazzled by the colour of the shoes - but they were greatly reduced in a sale (probably the only way they could get anyone to buy shoes that colour!).
* yes, Helen, that emphasis on TWO pairs is for you!