On Sunday we headed down the coast to the village of Craster.  We had to park just outside the village, as it is so small only residents' cars are allowed in.  The tide was out ......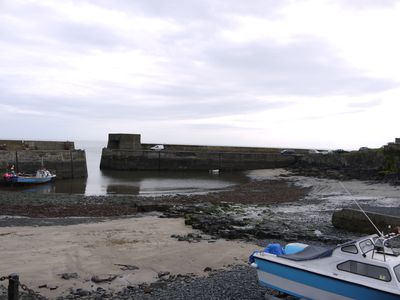 ....... in the harbour, which had been built as a memorial to
whenever I see a pile of lobster pots, I am tempted to acquire one to put in the garden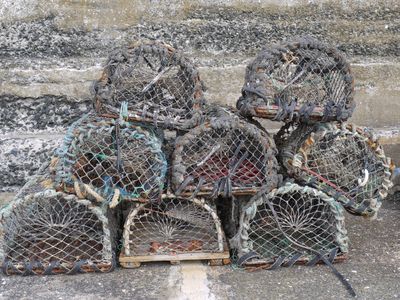 we had a spot of bother getting through this gate, as it was guarded by these cows - I turned back to take the photo once we had got past them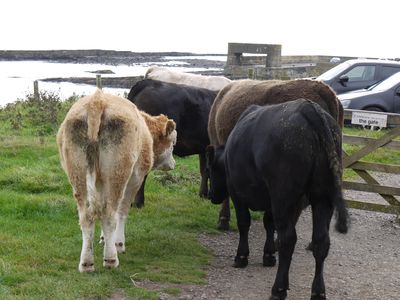 then, there in the distance was our destination, Dunstanburgh Castle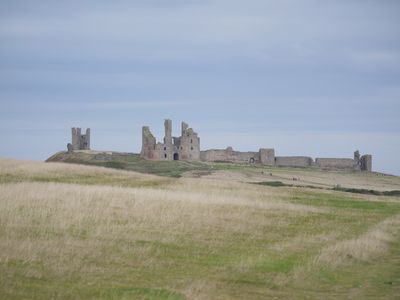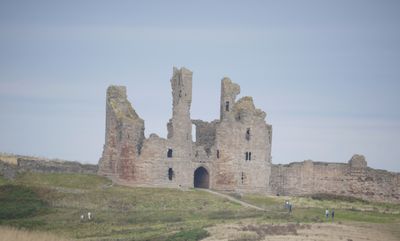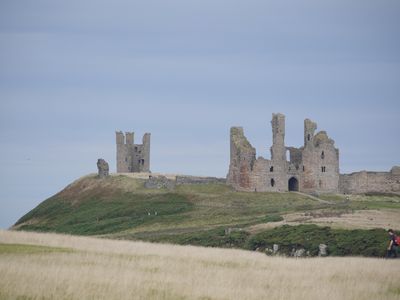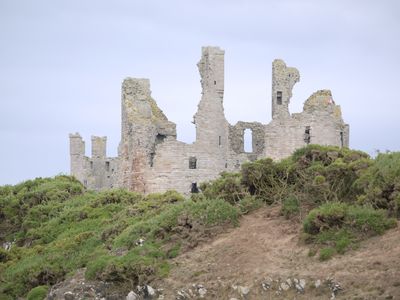 it might look as if there weren't many other people out and about ...... but that's because they were all coming up behind us!
well, the cases are packed, everything that can be turned off has been turned off, and our lovely neighbours as ever have the keys to look after the house for us.  I am taking my Hudl with me, and hopefully I will be able to do some posts along the way, so do pop in now and then to catch up with our travels.  But before I go, I have one last thing to share with you.  Starting on the 7th of October,    Borderland Fabrics will be hosting a silent auction of some of Margaret's work.  I have shown you Margaret's beautiful applique work on Fridays, when she has brought them to patch'n'chat, and there are two of her applique quilt tops in the auction, as well as some of her fabulous hand pieced quilts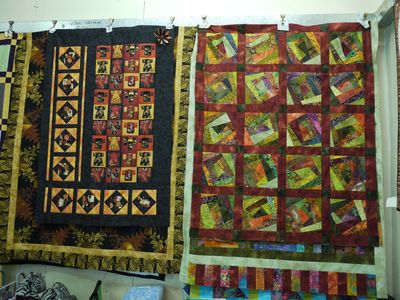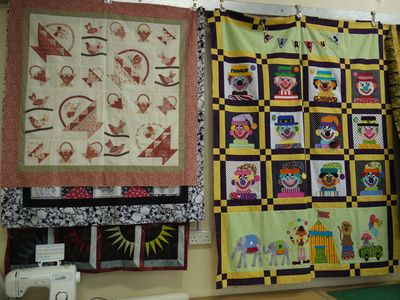 Margaret is parting with her beautiful quilt tops to raise funds for her grandson Harry, who has been picked to play for England in the Boccia games in Poland.  He is an extraordinary young man who has overcome his disability to become a top player.  So please put it in your diary to either visit Borderland Fabrics' website, or even better, call into the shop and see the wonderful quilts, then enter a bid to win one.  And if you need some more persuasion, here is a detail of the amazing clown quilt