Here are some things you might not know about Halloween (taken from today's "i" newspaper). The most suprising thing is that dressing up probably started in Scotland! (click on the photo to enlarge it)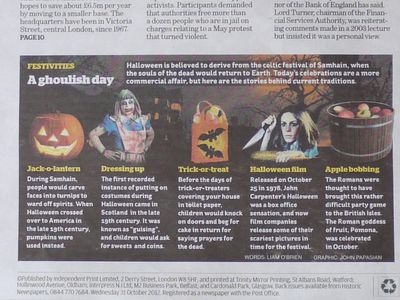 when we left Stuart and Alison's this morning, we popped in to Torwood Garden Centre, which is just along the road from them. We were faced with a dilemma - would we have the very reasonably priced, but somewhat naughty, cooked breakfast, or would we just have a cuppa and save ourselves for meatballs for lunch when we called in to Ikea ........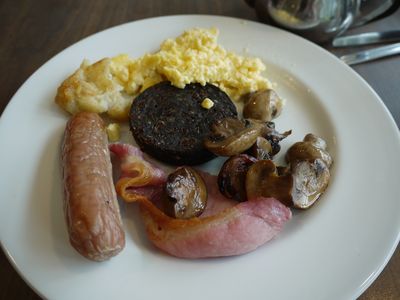 yes, the breakfast won! Sausage, black pudding and mushrooms ...... and I got scrambled eggs and Malcolm got a hash brown, which we then shared. And as if that wasn't enough, we also had a slice of toast! (and as always, tea for me and coffee for Malcolm)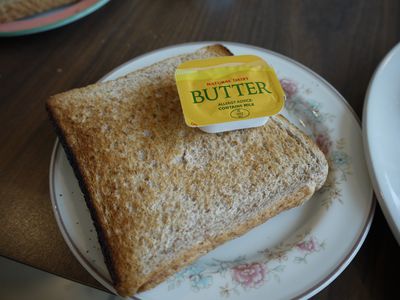 we used to visit this garden centre regularly, as it was near where we used to live before we moved here (S&A now live about halfway between our old house and the garden centre). However since we moved, they have done away with the old coffee shop, and added a much larger one - possibly because a new hospital has recently opened just a short distance away ....... I am sure a lot of the staff will lunch there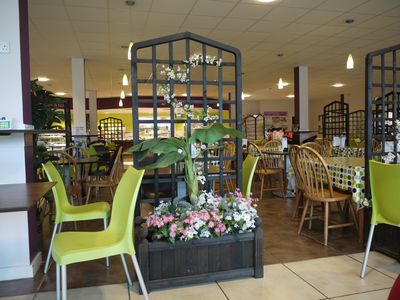 one wall is covered with paintings done by local artists. A portion of the money made is given to The Macmillan fund and a lot of money has already been raised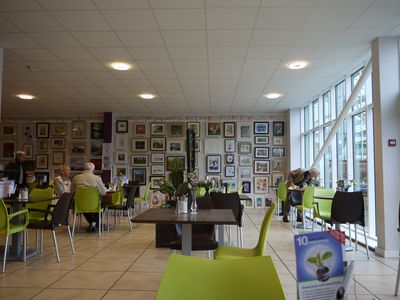 suitably fortified, we went on to Ikea, where we managed NOT to buy a packet of tealights! I bought some storage boxes for the studio, but couldn't persuade Malcolm that he wanted to replace the kitchen that he fitted a few years ago with shiny red one! Going to Ikea meant that we came home through Peebles, where we would noramlly have stopped for a cuppa and a walk round the town ....... but it was pouring with rain the whole way home, so no photos of Peebles and no photos of the stunning autumn colours (sorry!)
So all I have left show you is some knitting! First, my ripple rug, which is finished except for darning in the ends. I just kept knitting until I ran out of yarn, but it has turned out to be quite a bit wider than longer, so I will use it this way round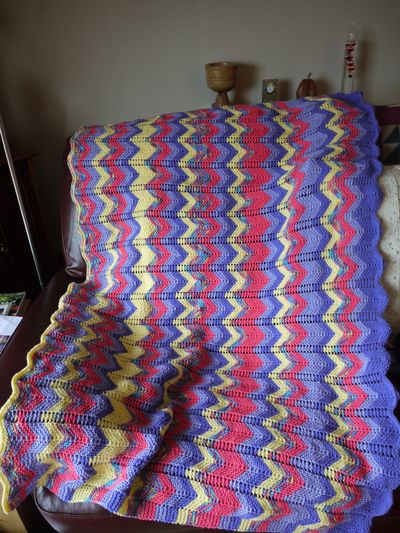 I have now started one for Malcolm, in softer colours than mine. As it is a very simple pattern, I was able to do some in the car. I've just started to repeat of the colours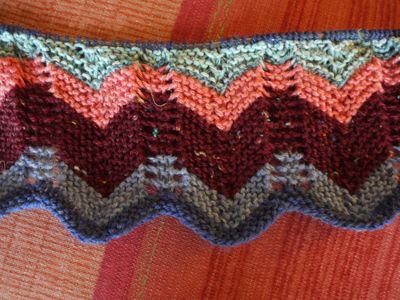 well ....... that's the last post for Blogtoberfest! But of course I will be back as usual tomorrow, when hopefully the rain will have stopped - and maybe the sun will come out!