Malcolm finished his wine box bookcase this afternoon, so I was all set to take photos when I finished in the studio.  As it was a lovely bright afternoon, I was looking forward to getting good photos in natural light.  Then, about five minutes before I finished my sewing, dark clouds came over and it started to rain!!  So I had to turn the lights on in the kitchen, where the bookcase was sitting.  This caused another problem, as the bookcase would have looked a bit strange with kitchen cupboards behind it.  I arranged the bits and bobs on the shelves, then got Malcolm to hold up the Birdie Border quilt, with the back facing me.  Perfect!
as the bookcase is made with wine boxes and has all the corks that Malcolm patiently cut in half decorating the middle section (he also cut his thumb!), I thought that it could also be used as a sort of wine rack/bar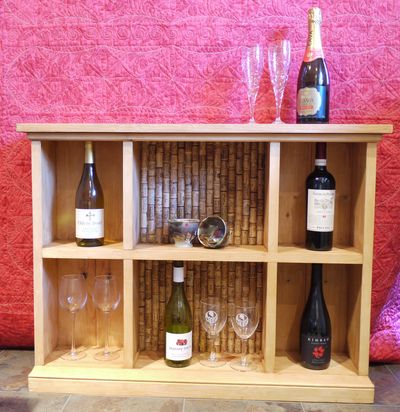 there was a slight delay in putting some bottles of wine on the shelves, as I discovered that only bottles with proper corks fitted the wine boxes - those with screw tops are just a little bit too big.  I also wanted a bottle of New Zealand wine for the middle section, but after searching his various wine racks in vain, Malcolm could only come up with an empty bottle.  I wanted a NZ wine to sit with these very special glasses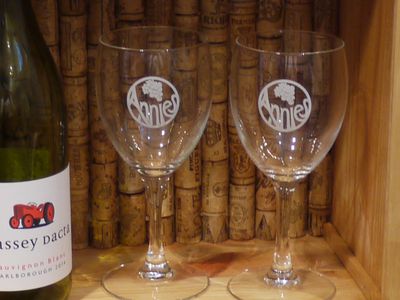 they aren't special just because they (almost) have my name on them.  I bought them from a restaurant called Annie's in Christchurch (the one in NZ, not England!).  I bought the first one when Malcolm and I were there on holiday in 2000, then I bought the second one when I was in NZ the following year for a Quilt Symposium.  Amazingly they both survived the journey home in my hand luggage!
these little handpainted goblets are also well-travelled ....... we bought them on one of our wonderful Australian holidays!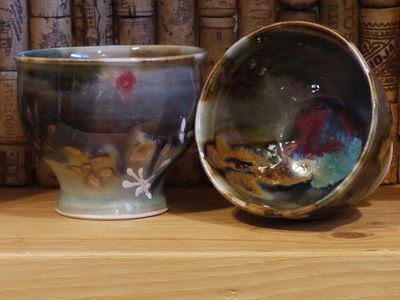 when I was in the studio this afternoon, I did some more prep for Mrs Billings, then I free-motion quilted the other Linus quilt that I made recently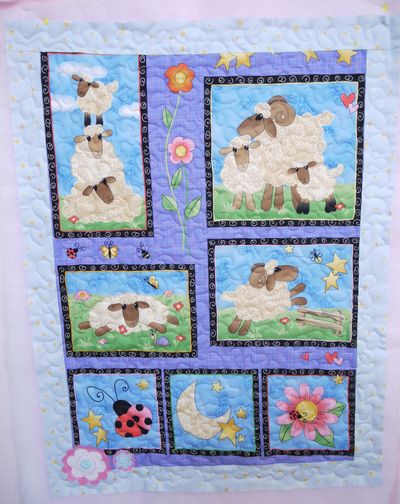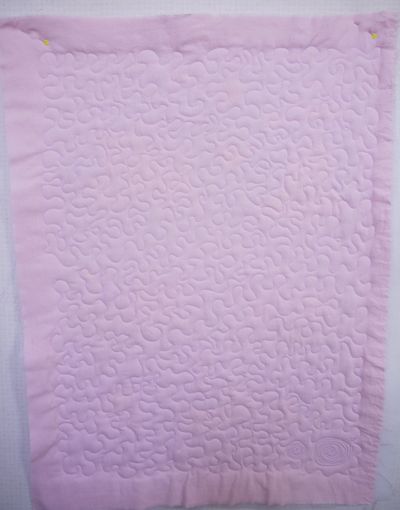 I had already made the binding, so it didn't take long to stitch on.  All I have to do now is handstitch the binding on the back of the quilt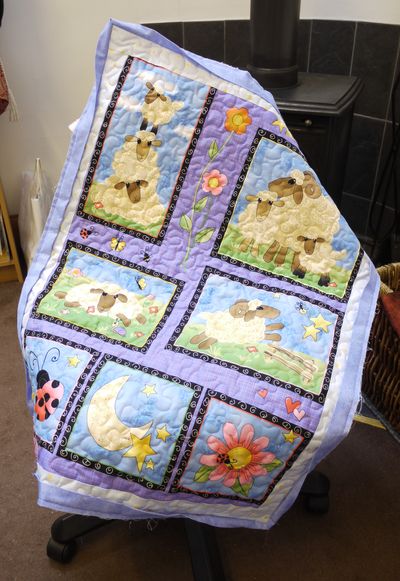 Maureen and I are off the Edinburgh in the morning for the Spring Quilt Fair at Ingliston.  We have raided our piggy banks, just in case we are tempted to by a fat quarter or two.  And we might stop at the Mayshade Garden Centre on the way home for a cuppa and cake - you know we have to have cake on Friday afternoons!!