The second Saturday of our holiday was a bit cool and wet, so we decided to visit the Caves of Drach ...... the Dragon Caves.  Our friends Lee and John in Sydney had recommended that we go to see them, as they had visited them when their cruise ship called in at Majorca.  We knew from their description that the caves were going to be amazing - but we hadn't imagined just how amazing!!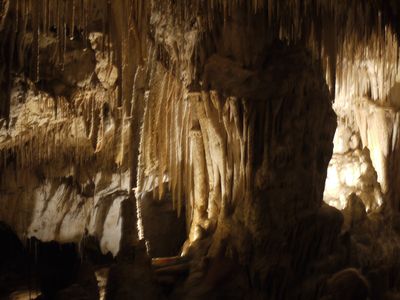 the lighting shows off all the stalactites and stalagmites to great effect, and you can easily imagine dragons lurking, waiting to pounce on unwary travellers!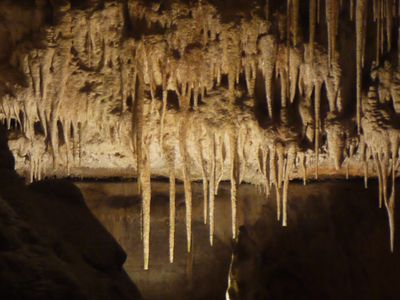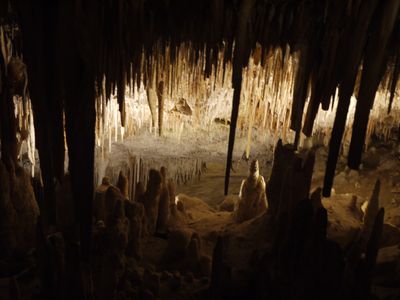 we wandered on, oohing and aahing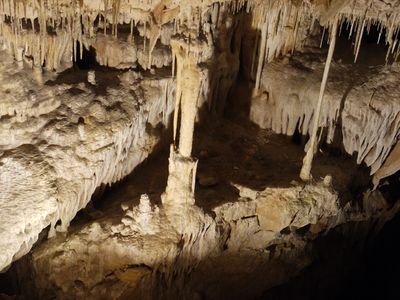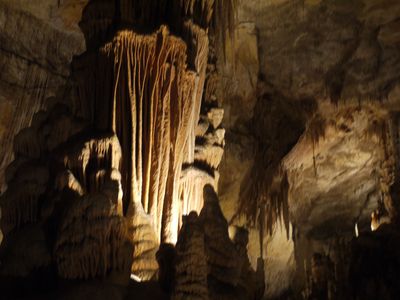 we arrived at a large chamber with a lake in it.  We were directed to rows of benches, and after everyone was seated (probably several hundred people), we were told that boats were going to appear, carrying musicians who were going to play some classical music pieces for us.  The lights were dimmed, and three boats appeared.  Unfortunately we weren't allowed to take photos during the perfomance, but I was able to snatch a quick snap as the boats left
it was an amazing place to visit, and I am sure we will go back next time we go to Majorca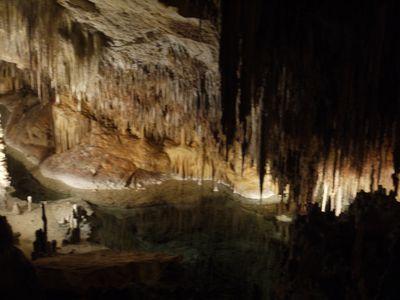 on our way to the caves, we had seen a sign for a restaurant, which said that it was in an ancient monastery.  We decided to call in on the way back for a late lunch. 
there didn't seem to much evidence of old buildings, but we didn't mind, as the food was so good.  We decided to share a "mixed meat grill"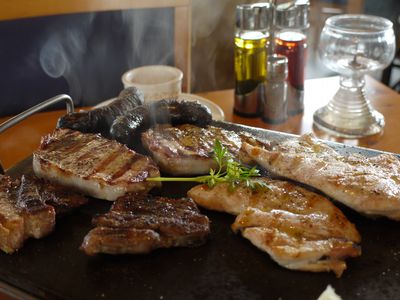 just as we manfully (and womanfully?) put the last helping on to our plates, the chef appeared with more!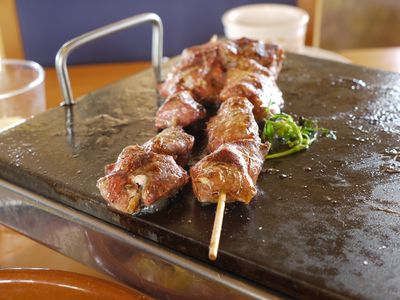 I had to admit defeat, so the delightful waitress took my plate away and came back with a doggy bag ...... whch we enjoyed for lunch the next day!  While we were eating, we could see this fine fellow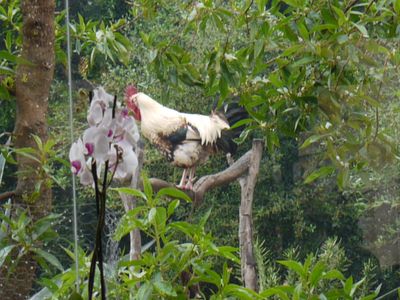 but when we left, he had tired of strutting about the branch, and had settled down for a snooze
to finish, my holiday sewing.  I finished the applique and embroidery on the April block for Lucie's "A is for Applique" challenge, and as I had decided to "quilt as you go", I made a start to the quilting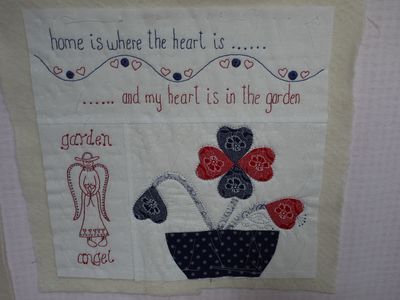 I had asked Lucie what the theme for May's block was, so that I could work on that one too.  It didn't take long to think of a block for "happiness is ....."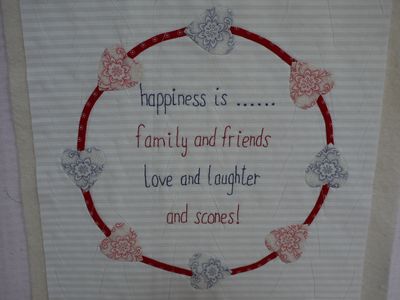 I'm off out this evening for Abbey Quilters monthly meeting - hopefully I will be able to take some photos to share with you tomorrow.